'Prashant has left us and it is really tragic. But I want to hold on to those little moments of happiness that he shared with me and with others whose lives he touched.'
Aseem Chhabra pays tribute to Patang director Prashant Bhargava, who passed away on May 16. He was only 42 years old.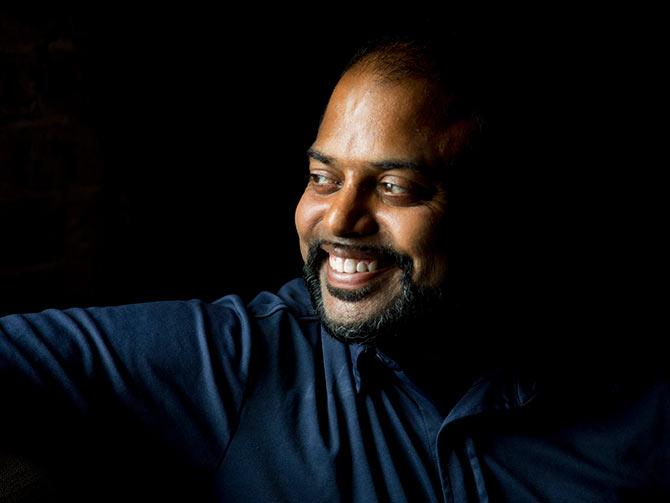 Image: Prashant Bhargava
In the summer of 2008, I visited Prashant Bhargava in Chicago.
Prashant was back from shooting his first feature Patang in Ahmedabad and he was staying in his parents' house in Chicago's South Shore, slowly editing the film.
I was invited to Chicago because Prashant and his producer Jaideep Punjabi wanted me to do some writing work as they were about to raise funds for the film's post-production.
Prashant and his father Vijay Bhargava picked me up from the airport and for the next two days, I interviewed them about the making of Patang. I stayed with the Bhargava family and as I have often joked, I slept in Prashant's attorney sister Anurima's childhood bed.
Prashant showed me some of the scenes he had cut -- a kaleidoscope of the magic of the Uttrayan festival in Ahmedabad and some lovely footage showing the strong acting moments of Nawazuddin Siddiqui and Seema Biswas.
The first evening, Prashant and I went for a walk along the Lake Michigan. At one point, we walked on a pier deep into the lake and sat on a bench as we talked about the casting of the film and the process by which he made his actors absorb the ethos of Ahmedabad.
It was a chilly cloudy evening. In a distance, I could see Chicago's high-rise buildings. And we were surrounded by the vast expanse of water, which seemed bigger than an ocean.
I will never forget that evening and the time Prashant spent with me sharing details about the making of Patang.
Two days ago, on Saturday morning, my phone rang at 3.35 am.
It was my friend Vishesh Sharma. He had some bad news.
Prashant had passed away after he suffered a heart attack.
I had barely managed to wake up. And then I heard this shocking news.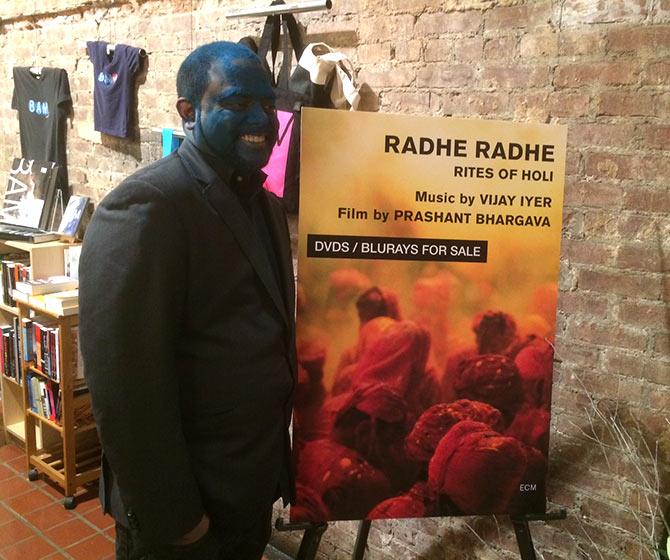 Image: Prashant Bhargava along with the poster of his film Radhe Radhe

What?
Prashant?
How is it possible?
Heart attack?
But I saw him last week -- practically every day of the week at the New York Indian Film Festival that I program. He was there on the opening night and he stepped up to help us by offering to do the post-screening Q&As for the film Haraamkhor and the short Seek & Hide.
I saw him at the closing night party. I said goodbye to him as I thanked him.
On Monday, he sent me a message on Facebook that read: 'Great job. Aroon (Shivdasani, the NYIFF executive director) & the community is blessed to have you.'
I thanked him, but said it was a very stressful festival.
He wrote back: 'Despite all the rough edges, celebrate getting through it and yourself.'
That was the last I heard from him. In less than a week, he was gone!
In New York City, we have a large community of South Asian writers, journalists, actors, filmmakers and musicians. We are one big family -- everyone knows everybody else.
We talk about arts, films and plays.
We watch and read each other's works.
We support each other and we are all growing up together.
Now, we are all devastated and mourning the death of our young, bright, talented star, Prashant Bhargava.
Prashant was the sweetest, nicest human being I have known. Always smiling, always willing to be the soul of the party.
Once he was upset at me about a piece I had written, but then very quickly he retracted and apologised. He never brought up the issue, never held a grudge. I never heard him say a bad word about anyone.
I cannot remember the first time I met Prashant. But it was certainly after his brilliant moving short Sangam premiered at the Sundance Film Festival in 2004. He wanted me to watch the film. His actor in the film, Hesh Sarmalkar, even gave me a DVD screener of the film.
I was blown away by the heart wrenching story of two Indian-American immigrants in New York City.
For the last two days, I have gone back to check the texts and Facebook messages we exchanged. The first Facebook message goes back to 2007 where I am congratulating him about an early Patang video he had cut to a song by the British Asian group Cornershop.
And a few years later, I saw Patang, first as a rough cut in Prashant's apartment in Brooklyn and then at its world premiere at the Berlin Film Festival.
I was so mesmerised by the film's powerful images, the rhythm of Uttrayan and its message of peace and love. I watched the film again at the Tribeca Film Festival, and programmed it for the Silk Screen Asian American Film Festival in Pittsburgh.
Later, when Patang had a theatrical release at New York City's Cinema Village, I did a post-screening Q&A with Prashant and Jaideep.
Patang is seeped in my soul and I still dream of the film. It is such a rewarding experience. The film was well received in the US by critics and the audience, but it is a shame that it never got a theatrical release in India.
Last year, Prashant shared another short he directed, Ammaji, a film that examined his grandmother's life as she cooked her favourite foods. Ammaji is a lovely film that connects us to our roots, through the stories that we can relate to and of course, the magical touch of food. I programmed Ammaji at NYIFF last year.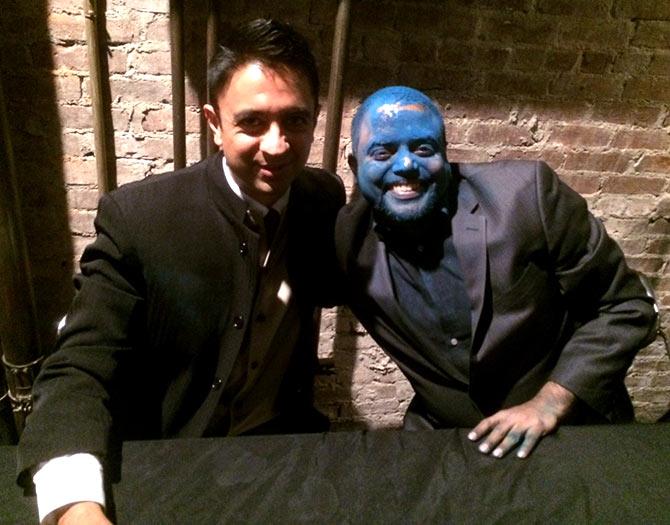 Image: Vijay Iyer and Prashant Bhargava

Late last year, I saw Prashant's recent work -- a short experimental film Radhe Radhe that captured the energy of Holi in Mathura and the Braj region. The highly-charged film played as a companion piece to jazz musician Vijay Iyer's composition, The Rite of Spring. It was a stunning presentation at the Brooklyn Academy of Music.
Prashant was ecstatic with the appreciation from the audience. Just last week, he mentioned that he wanted to share his Radhe Radhe film with director Vishal Bhardwaj, who was a guest at NYIFF.
During the festival, Pakistani-American filmmaker Iram Praveen Bilal spent a long evening with Prashant talking to him about what might be his next work. She recommended that he should watch the exceptional Bengali film, Labour of Love. In fact, as my friend Girimohan Coneti commented Labour of Love might have been the last film Prashant watched.
Then, there was Prashant, the friend.
I miss his presence.
I keep thinking about all the times we were together. There are so many memories, so many stories.
I first met Nawazuddin Siddiqui through Prashant and Jaideep. The actor and I had communicated by phone and text messages. I had also interviewed him while he was in India. But Nawaz and I first met face-to-face when he came to New York for the theatrical release of Patang.
Last year, I introduced Prashant to the actress Nimrat Kaur. I sat sipping coffee at a cafe; in Union Square listening to the two chat about working with Nawaz -- in Patang and in Nimrat's film The Lunchbox.
There is a moment towards the end of Patang where Seema Biswas says the following to the actor who plays her brother-in-law: 'If you think we are holding on to our past, with sadness, then you are wrong. We hold on to our happiness. Little, little happiness.'
Prashant has left us and it is really tragic.
But I want to hold on to those little moments of happiness that he shared with me and with others whose lives he touched. That is how I want to remember him, the beautiful soul who blessed all of us.