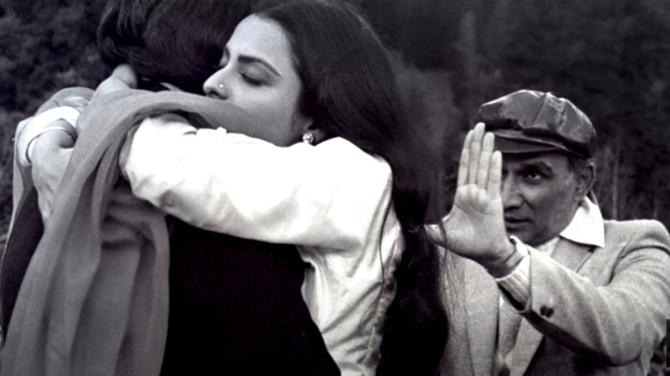 Did you know Aditya Chopra is a fantastic dancer? He was better than Hrithik Roshan at parties in their childhood.
And he is, in Abhishek Bachchan's words, a 'tyrant'.
In fact, their favourite game as kids was called 'Cheeni', which basically meant whenever any of the 10 odd kids spotted Aditya, they would scream 'cheeni' and flee.
Smriti Mundhra's documentary The Romantics has many, many gems about one of the Hindi film industry's most successful film-makers and more importantly, his iconic father, Yash Chopra.
It all started in 2019, when Smriti -- an Oscar-nominated film-maker based in Los Angeles and film-maker Jagmohan Mundhra's daughter -- got the idea to make a documentary on Yash Raj cinema.
"Growing up, all the films that I knew of Hindi cinema were actually Yash Chopra films; that ones that stood out for me were Deewaar and Chandni," Smriti tells Ronjita Kulkarni/Rediff.com.
"Chandni was my favourite as a child. Later, Dil Toh Pagal Hai and DDLJ (Dilwale Dulhaniya Le Jayenge) added on," she recalls.
Jagmohan Mundhra and his wife Chandra used to own a theatre in the years before Smriti was born -- they were the first exhibitors of Hindi films in LA -- and they even held a premiere for the Amitabh Bachchan-Raakhee starrer Kabhi Kabhie.
"I wanted to make some kind of documentary on Hindi cinema and Yash Chopra seemed like a great choice because his career spanned so many decades. His work was defining of the genre, and so iconic," she says.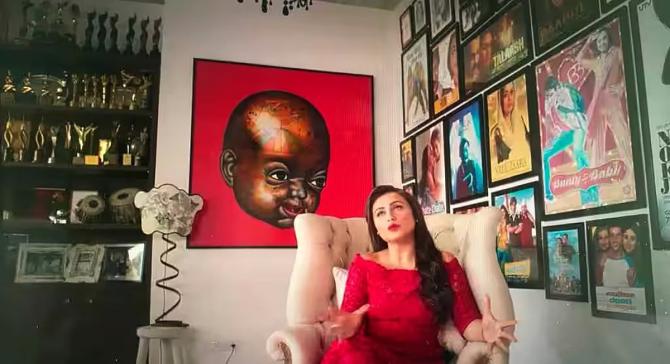 The documentary has incredible insights from as many as 35 stars, ranging across generations like Salim Khan and Amitabh Bachchan, Shah Rukh Khan, Aamir Khan and Salman Khan, Hrithik Roshan and Abhishek Bachchan, right to Ranveer Singh, Ranbir Kapoor and Ayushmann Khurrana.
There are quite a few women too like Madhuri Dixit, Kajol, Juhi Chawla, Katrina Kaif, Bhumi Pednekar and, of course, Aditya Chopra's wife, Rani Mukerji.
"What really surprised me about interviewing all these people was, firstly, they were all film fans," Smriti says.
"They were so excited to talk about the formative films that they watched as children, and what got them interested on their career path."
Just how did Yash Chopra impact the lives of these stars across generations?
"The older generation knew Yash Chopra as a contemporary, and Mr Bachchan spoke about his craft, you know, like the way he constructed the films and themes, and the way he worked as a film-maker," Smriti explains.
"The next generation spoke about the impact those films had on them, and the experience of working with him, in the formative stages of their careers, when he was already an icon in the industry.
"The youngest generation, some of them, didn't have an opportunity to work directly with Yash Chopra. They were making films with the studio, so they knew him in his grandfather years, when he was more of a mentor."
Women have always had an important role in YRF movies, and the actresses vouched for it.
"The one thing that actresses across the board said was the respect Yash Chopra had for women and his female characters, and how complex they were. A lot of his films centered around the female characters and that's, especially for those times, unusual.
"Not only did he make his heroines look glamorous and beautiful but also the characters that he created gave those actresses a lot to work with, in terms of mature, complex and nuanced roles..." Smrita says.
While she spoke to so many film folk, Smriti admits on missing out on some important voices.
"It was such a regret that I didn't have the opportunity to talk to Sridevi. There are many people that I would have loved to have spoken to. Like Lataji (Mangeshkar), but she was too ill to grant me an interview.
"Aishwarya Rai Bachchan would have had a great perspective, having worked on several Yash Raj Films and also because there was a time when she was the global ambassador of Bollywood to the world. To have her perspective about what that was would have been great.
"And. of course, Rekhaji."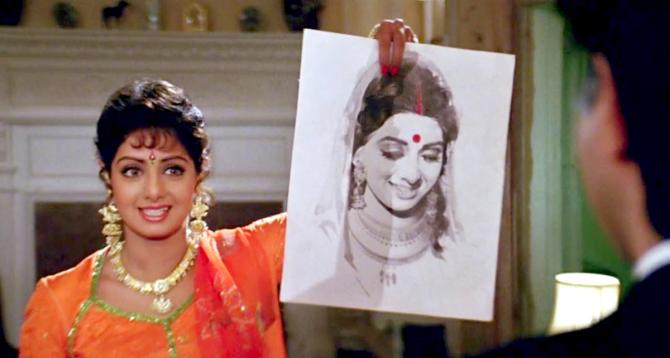 The documentary starts with 'that boy from Jalandhar', who came to Mumbai to work with his older brother, B R Chopra.
Yash Chopra's first film as a director was Dhool Ka Phool, a story about an abandoned child, which was way before its times.
It was a sign of the things to come.
Lamhe, that other Yash Chopra jewel, was also before its time, as it told the story of a boy falling in fall with an older woman. Later, her daughter falls in love with him. When it bombed at the box office, it really affected the director.
"The reason he's such a legendary film-maker is because he took risks," Smriti says.
"Sometimes those risks failed but what was harder for him to deal with was making films he didn't believe in. I think that's when he felt lost," she adds.
There was, in fact, a phase in Chopra's career, when he attempted action films like Mashaal, Faasle and Vijay, and all failed.
In an interview in 2006, Yash Chopra had told me, "You feel down when your films don't do well, especially when you get attached to them. I could not work for six months after Lamhe released. But that doesn't mean you stop making films. You have to come out of it by having faith in God."
"If he was taking risks, and those risks didn't work out, of course, it would hurt and he would get very depressed. But at least, he was operating from a place of his own instinct and, you know, his own heart. Yes, sometimes risks don't pay out but when they work, they really work and they leave a trail that can be felt for generations," Smriti says.
The film that did that, of course, was Chandni, one of Chopra's biggest hits.
"He started working on Chandni even while he was making Vijay because he felt so lost in this process of trying to make something to appease the market. And Chandni was a huge risk at that time. Everyone advised him against it. It was also a huge financial risk for him, but that film changed history," she says.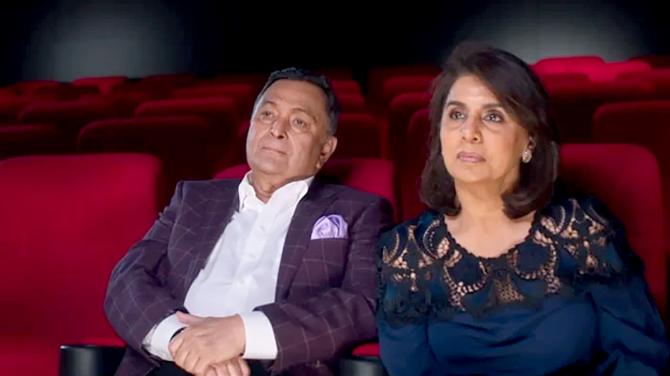 Mention Chandni, and Rishi Kapoor's eyes light up in the documentary.
"It brought Switzerland back on the map!" he exclaims.
The interview sees Rishi Kapoor share the frame with his wife Neetu Kapoor, and was shot just a month before he passed away in April 2020.
"It was almost like there was a glow around that day, around that interview. You would never guess that he was sick. You would never guess that in a month, we would lose him. He was energetic and vibrant.
"When you sit and speak with him, he will just charm you.
"He was also very eager to talk and share. Obviously, a lot of that has to do with the fact that he has so much love for Yashji, and this was an opportunity to reminisce about their shared legacy."
Chandni was Aditya Chopra's first film as an assistant director, and the start of another magnificent career.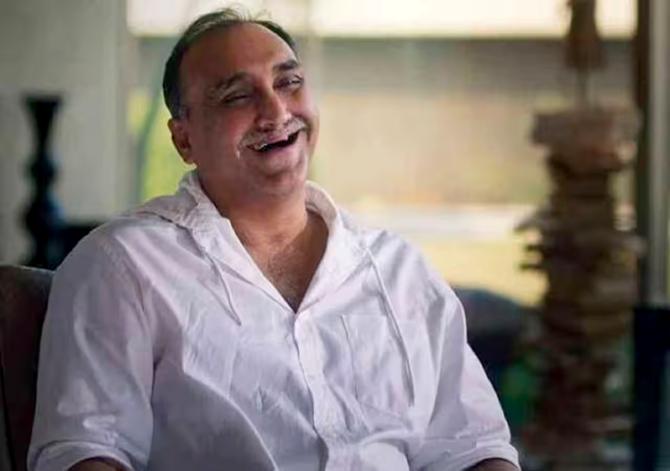 One of the best parts of The Romantics is watching Aditya Chopra talk movies.
Dressed in white, the director is not camera shy at all. He even has a sense of humour, and laughs often.
It's fascinating to get finally a chance to peek into his mind -- the last time he gave an interview was 25 years ago and it's probably never going to happen again.
"When I first started this series, I was told that, you will have the full cooperation of the studio, any archives you need, any films, music, anything that is under the control of the studio, except Aditya Chopra. He was willing to do off-the-record conversations, just so I can have background and context but him appearing on the series was a hard no," Smriti says.
"Eventually, he relented, because as we started putting together the series and the vision became clearer, it also became clear that there couldn't be a definitive tribute to his father without his perspective.
Even though Aditya's childhood was steeped in movies -- he says in the documentary, "I thought everyone's father made films because I only met film people" -- it was surprising that his early influences were English films and music.
But there came a time in his life, when he realised that unless he changes, he would never connect with the "common man".
'I forced myself to become desi,' Adi says in the documentary, and threw his favourite Bruce Springsteen and WHAM CDs out, replacing them with the Hindi film music of those times.
"It was inevitable; Aditya was destined to become a film-maker," Smriti says.
"Yash Chopra was an auteur. He made those big, sweeping romances and dramas and things like that. When Aditya took over the studio, the studio proliferated into many other types of films, which is what a studio needs to survive.
"It can't be just the taste or the vision of one person, it has to serve to a varied and wide audience. It has to evolve with cultural changes and economic changes. And you see that in the 2000s, with the Dhoom franchise and the Tiger franchise... that's as far as a departure from the Yash Chopra aesthetic as you can get.
"But that's what makes Yash Raj Films so exciting, the constant reinvention and evolution."
Like his father, Aditya is an adventurous producer, willing to take risks.
"He also adapts to what's happening in the industry and in the world. Like, when multiplexes were suddenly coming up, he had the foresight to see, oh, we're going to have to make films for this audience. It's not just like the one film, you know, now we have 20 screens to fill. He was at the forefront of thinking about how those changes were going to impact the way films are made. That is visionary," Smriti says.
Oh, and did you know another thing about Aditya Chopra?
He stammers.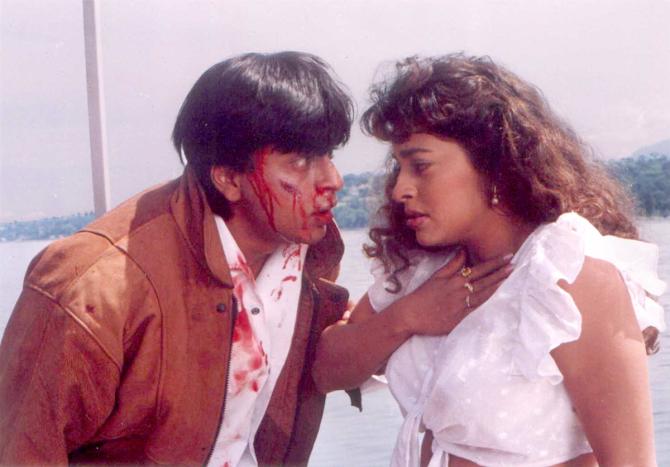 It was this stammer, in fact, that gave Bollywood one of its most iconic dialogues: K..K..K...Kiran.
"Shah Rukh Khan gave a really interesting interview because his career was built through Yash Raj Films in so many ways. There was a big career pivot for him, going from Baazigar and Darr to DDLJ, and then launching into this romantic hero, which became his defining thing," Smriti says.
"But he also has a very personal connection with the Chopra family, so it was really interesting to get his perspective as not only one of the major stars of the studio and one of the major stars of these iconic films, but also just someone who had a really personal connection with Yash Chopra, and almost looked at him like a father figure."
Khan had a close rapport with Aditya too, and in those early years, the duo would discuss character back stories together rather than taking it up with the very senior Yash Chopra.
'We were like filters, who kind of help each other with Yashji,' Shah Rukh says in the doc.
It was Adi who suggested that Shah Rukh try stammering, 'K..K..K..Kiran' in Darr.
One of the Smriti's favourite parts in the documentary is how Dilwale Dulhaniya Le Jayenge was made.
It was the film that made Shah Rukh a hugely successful romantic hero rather than the action hero that he preferred to be at the time.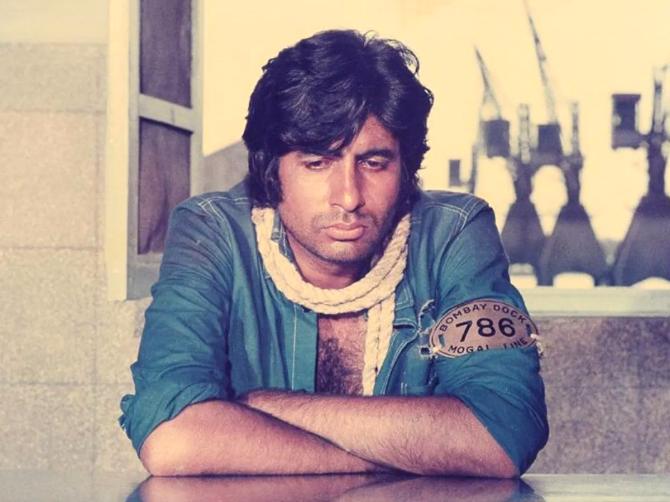 Bollywood's other Khan -- Salman -- may have started working with Yash Raj much later but he has known the father-son duo from a very young age.
"A lot of what we talked about were Salman's memories of Yash Chopra because his father (Salim Khan, who wrote films along with Javed Akhtar) had a long relationship with him. So observing them work and as someone who has watched those films and been impacted by them even though he wasn't a part of them in those early years, it was really interesting. For him, it was really like family," Smriti says.
One of Salim Khan's films with Yash Chopra -- Deewaar -- was, ironically, quite different from the fare Chopra was usually known for in those days. And yet, it was not.
'People thought Deewaar was an action film, but there's only one action scene in the entire film,' Salim Khan says in the documentary.
Besides, Chopra adapted the 'ruggedness', as Amitabh Bachchan describes it, to the beauty he was familiar with.
So a gun scene, Bachchan narrates, shifted to a bouquet of flowers because Chopra felt, 'Achcha lagta hai.'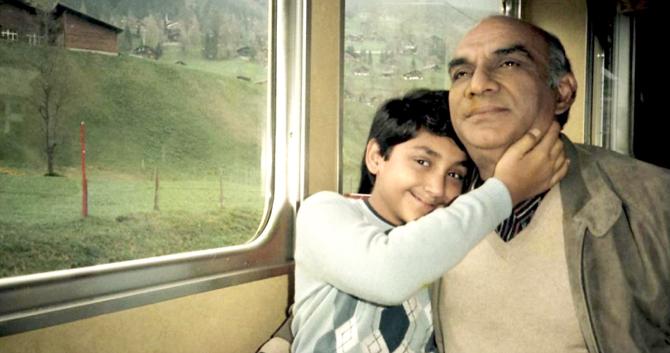 Besides the interviews, the documentary also has a lot of scenes from the Chopra family's lives.
Watching Yash Chopra's wedding to a shy Pamela is a treat. And whatever Pamelaji may have told us later, the only star shown dancing at the wedding was Mumtaz.
Aditya and Uday's childhood, especially an insight into the former's genius mind even at the tender age of 12 and 13 is a revelation.
He used to study and predict the box office fates of films, trying to gauge what worked and what did not.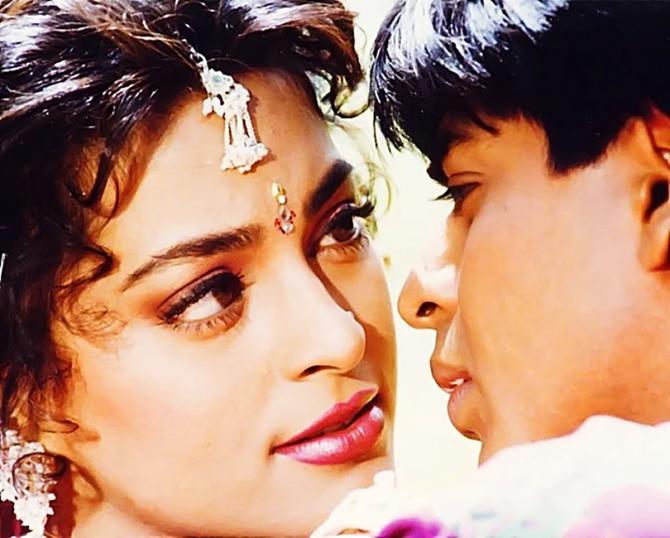 There are many nostalgic clips of scenes from Yash Raj movies, behind-the-scenes moments and old interviews that make it documentary gold.
But there was a lot that the four-episode series had to cut out too.
"There's a lot of unused footage because we had to cover 70 years in four hours! We had great perspective on the later years, when, with Dhoom 2 and 3, the Yash Chopra heroine became sexier. We didn't get to fully include those kinds of shifts in Yash Raj," says Smriti.
Perhaps there will be a season two.