Cartoon characters created and developed in local animation studios are enchanting Indian kids like never before, says Vanita Kohli-Khandekar.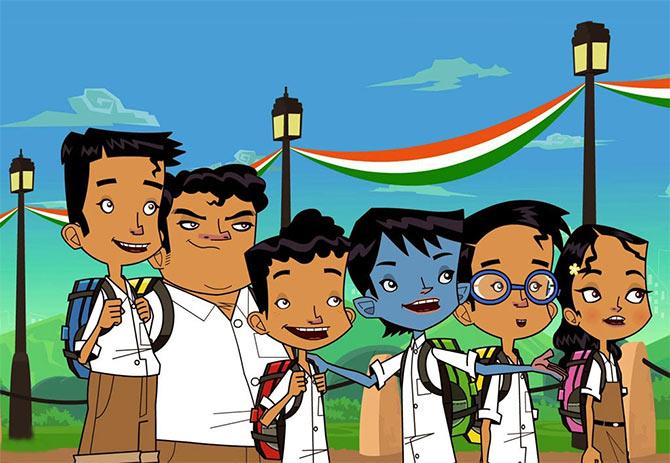 It is fun time, says blue boy Kris (above) every time he wiggles his peacock feather and trashes Kanishk Sir.
'Bacha nahin kehna, Uncle (Don't call me a kid),' says nine-year-old Shiva before pressing a button on his watch, launching a gadget and getting the bad guys.
'Khaali pet mere dimaag ki batti nahin jalti (I can't think on an empty stomach),' says the balding, paunchy Motu, before gobbling a plateful of samosas and bashing the bad guys.
Meet some of the top characters on kids' television these days. They are funny, action-oriented males who live in small towns and are unabashedly Indian.
Chhota Bheem stays in Dholakpur, loves Tun Tun Mausi's laddoos and gets super-human strength every time he eats them.
The baddies are characters too.
Chaya Maya, Jwalasur, Chakram, Pathrasur, Besur Das are among the scores of asurs (monsters) that Kanishk Sir calls upon, in his bid to crush Kris in Roll No 21.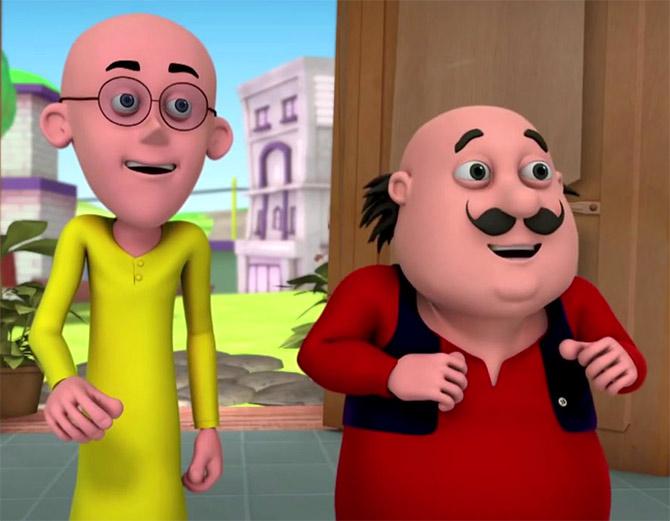 All of the supporting cast comes with a heavy Hindi film hangover.
So Inspector Chewing Gum (pronounced 'chingum' in a play on the blockbuster Singham) of Motu Patlu (above) speaks in the caricatured South Indian accent of the 1980s.
Laddoo Singh, the policeman in Shiva, is a take-off on Asrani from Sholay with some Gabbar Singh dialogues thrown in.
The foot-tapping music is composed and written by some of the industry's best.
For example, Gulzar has written, Sajid-Wajid have composed and Wajid has sung Shiva's full-blooded title song that makes you want to jump onto a bicycle and go exploring.
Chhota Bheem, Motu-Patlu, Shiva and Kris are among the top 10 characters on kids' television channels in India today.
And unlike Doraemon (which remains number one) or Tom And Jerry, they are researched, developed and created in local animation studios.
Hear a school choir in Chennai sing the title song for Motu-Patlu in Hindi, queue up outside the Chhota Bheem shop at Mumbai airport or simply go to a local park and watch kids use the lines, voiceovers and characters from these shows in their games.
It will give you a clear measure of the popularity of these and a dozen more such characters/shows: Arjun, Kisna, Mighty Raju, Luv Kush, Pakdam Pakdai and Chorr Police, among others.
From almost nothing five years ago, anywhere between 40 per cent and 55 per cent of the programming on Viacom18 (Nick, Sonic), Turner (Cartoon Network, Pogo) and Discovery Kids is now local, homegrown characters.
A bulk of it is in three local languages: Hindi, Tamil and Telugu. English is more or less over as a language of broadcast for kids.
"What has worked is the context of Indianness: the samosa, the laddoo, what they are called, how they speak," says Shailesh Kapoor, CEO, Ormax Media, a consulting firm that helps broadcasters pre-test shows and concepts.
Vijay Subramaniam, head of content, media networks, Disney India, puts it in perspective. "Kids love to be entertained by relatable characters. The reason Japanese animation worked is because it was very relatable to Indian kids. Doraemon had Nobita, mom, dad, homework. It was not just dubbing but the cultural context that helped. Two years ago, local animation (in India) meant only mythologicals. Now you see a lot more local characters because the ecosystem that supports local animation is coming of age."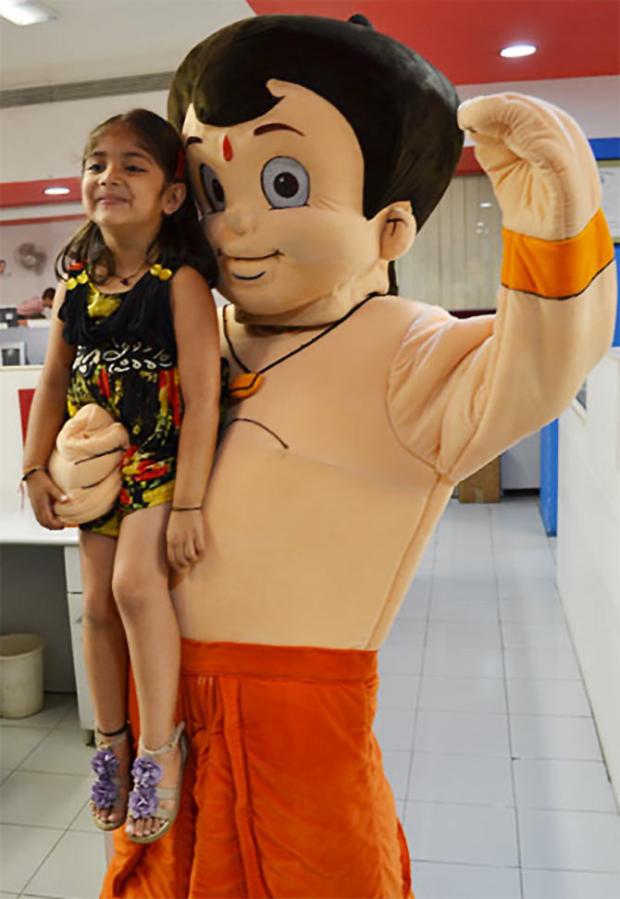 IMAGE: Chota Bheem with a young fan at the Rediff office. Photograph: Nadisha Daniel
When it came in 2006 and struggled for over two years to find an audience, Chhota Bheem was an audacious bet: A dhoti-clad kid who ate laddoos, lived in a village, was friends with a monkey, among others and spoke English.
But Rajiv Chilaka and Green Gold Animation's creation worked because Turner kept telecasting it on Pogo and even stepped in to co-produce it.
"Because the content takes so much time and money, kids' channels (unlike general entertainment ones) do not offer 2 to 3 hours of fresh programming every day. They run on libraries. The child may like a new show. But the true test is how will he react the tenth time he sees it. The success of the show is evident only after the sixth month," explains Krishna Desai, executive director and network head-kids, South Asia, Turner International India.
Till Chhota Bheem came, "making local content was tough and expensive at $30,000 per episode for original production and no recovery. So Indian animation studios stuck to doing outsourcing work," says Anish J S Mehta, CEO, Cosmos Maya.
Inspired by Chhota Bheem, Maya, Toonz and other studios found it worth their while to shift from low-end outsourcing to original shows.
Turner's backing created a trend. Almost all of the big local characters are co-owned or co-produced by broadcasters.
That is very unusual in the Indian market where 80 per cent of television content is commissioned at cut-throat rates and owned by the broadcaster lock, stock and barrel.
The involvement of the broadcasters has meant a lot more research and testing of concepts.
"Typically, we try and look for a need gap in the category. Comedy is core to the genre. But we found a gap in action/adventure. Therefore, Shiva is a guy with a cool bicycle. That came from research. Kids wanted these aspirational gadgets," says Nina Elavaria Jaipuria, business head, kids entertainment, Viacom18.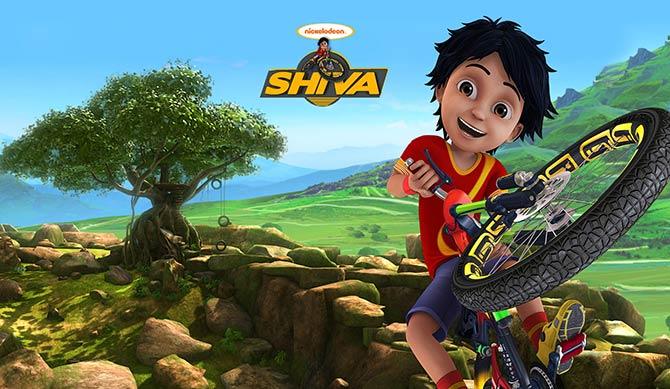 Shiva's (above) cycle can do remote shooting, has a turbo booster, magnetic wheels, video camera, a GPS device, a parachute, helicopter blade, among other things.
So it flies, glides, floats, goes over mountains when Shiva has to fight the bad guys who attack VedasCity, where he lives.
"These (all the local character driven shows) have universal stories of good versus evil," points out Desai.
The stories may be universal but they are meant for and watched largely by boys.
Rajiv Bakshi, vice-president, female and family entertainment products, Discovery Networks Asia-Pacific (South Asia), says: "We don't see enough production for girls, most of it is for boys. We did do Sally Bollywood and Maya The Bee. But the viewership is skewed to boys 60:40."
This is because, apparently, girls mature faster and move onto general entertainment channels. That makes "5 to 9-year-old boys the biggest market for kids' television," says Bakshi.
There is some strange justice in this.
As they grow older, women dominate television viewing in general.
Let the boys have the remote till they are 10.