Mahipal, who worked with actresses like Madhubala and Meena Kumari, established himself as a hero in the mythological genre.
Prakash Bhandari salutes the superstar on his birth centenary.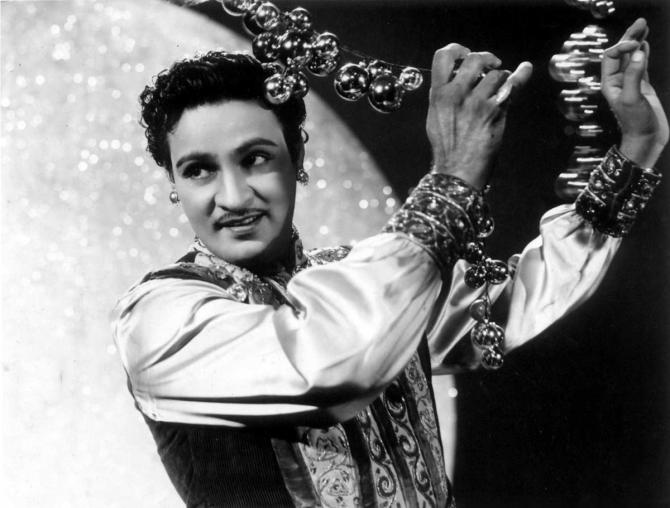 December 24 ends the birth centenary year of Mahipal, the superstar of historical, mythological and fantasy films in the 1950s and 1960s.
Those were the days of black and white cinema.
Mahipal Chandra Bhandari, better known as Mahipal, lost his mother when he was six years old.
His father Mahadev Chand was in business in Calcutta then, so the young boy was raised by his grandfather, Bajrang Chand. They would watch Ramlila shows in Jodhpur and it was here that Mahipal's love for acting and dancing began.
'In the '40s, when I completed my graduation from Jodhpur's Jaswant College, Producer Anand Behari Khandelwal and Director G P Kapoor, who wanted to make Nazrana, came in search of new talent. They planned to make their film in Marwari language, titled Nizrano. It was the first Marwari film ever made,' Mahipal had said in an interview.
'After an interview and trail acting performances, my friend Kailash Shivpuri, the elder brother of character artist Om Shivpuri, and I were chosen for the film. We were called for shooting in Bombay. Later, they decided to give me the lead role.'
'I was hired by the film company on a salary of Rs 125. But the film, which released in 1942, flopped miserably and I gave up all hope of continuing as an actor. But since I excelled in dance, drama, poetry and acting since my school and college days at Jodhpur, I tried to become a lyricist.'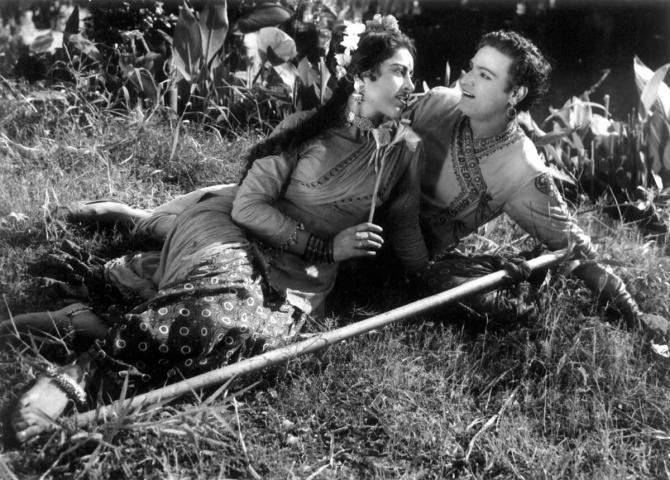 His lyricist friend Pandit Indra introduced him to director Chaturbhuj Doshi, who was making a mythological film, Shankar-Parvati.
Mahipal was signed on a remuneration of Rs 4,100.
This Ranjit Movietone film proved to be a roaring success.
Thus, after a year of struggle, Mahipal was back on track.
It was V Shantaram, who recognised his poetic talent and hired him to work for his company, Rajkamal Kalamandir, on a salary of Rs 300. It was a fortune in the 1940s.
This was the time when a majority of the artists were Marathi-speaking and Mahipal helped them speak correct Hindi while delivering dialogues.
The late actress Nanda's father, Master Vinayak, was also trained by Mahipal.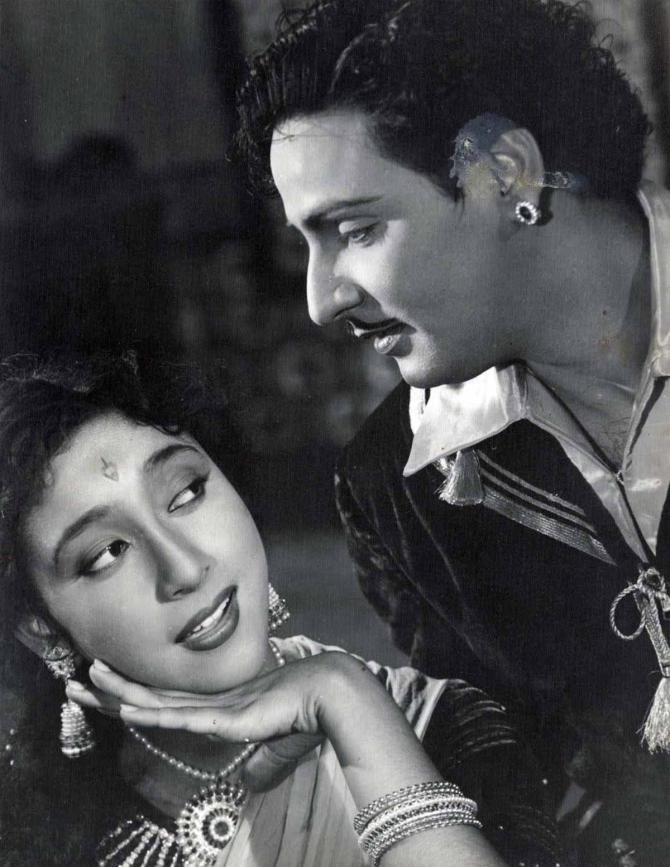 In 1944, when Shantaram made Maali, Mahipal not only wrote songs for the movie, but also played the role of Vishnu. This film was also an instant success.
Not many people know that Lata Mangeshkar's first song as a playback singer in Hindi was the song Paa Lagoon Kar Jori Re, whose lyrics were penned by Mahipal.
This song in 1947's Aapki Sewa Mein was based on raag thumri.
Mahipal wrote eight songs for the film made under the banner of Chandrama Pictures and the music was composed by Datta Dawjekar. The song was picturised on the actress Rohini Bhate.
In 1937, Mahipal recited an inspiring Hindi poem, Jo Jag Ko Ann Pradan Kare (the farmer, who gives the world food grains through his hard work) at a kavi sammelan in Udaipur. It was hailed as a revolutionary poem.
In 1990, when the BJP MP Guman Mal Lodha recited Jo Jag Ko Anna Pradan Kare, the then Lok Sabha Speaker ordered that the poem should be placed on record.
Mahpal's earnings as a lyricist were not enough.
He had to return to Jodhpur, as he was not earning enough in Bombay.
After leaving his wife Akkal Kunwar, and their daughters Sushila and Nirmala in Jodhpur under the care of his uncle, he returned to Bombay.
After some struggle, he managed to get two films -- a mythological called Narsinh Avatarand a comedy called Daulat, where he played the lead role opposite Madhubala.
Both films did average business.
While Madhubala rose to become a top actress with Mahal, Mahipal's struggles weren't over yet.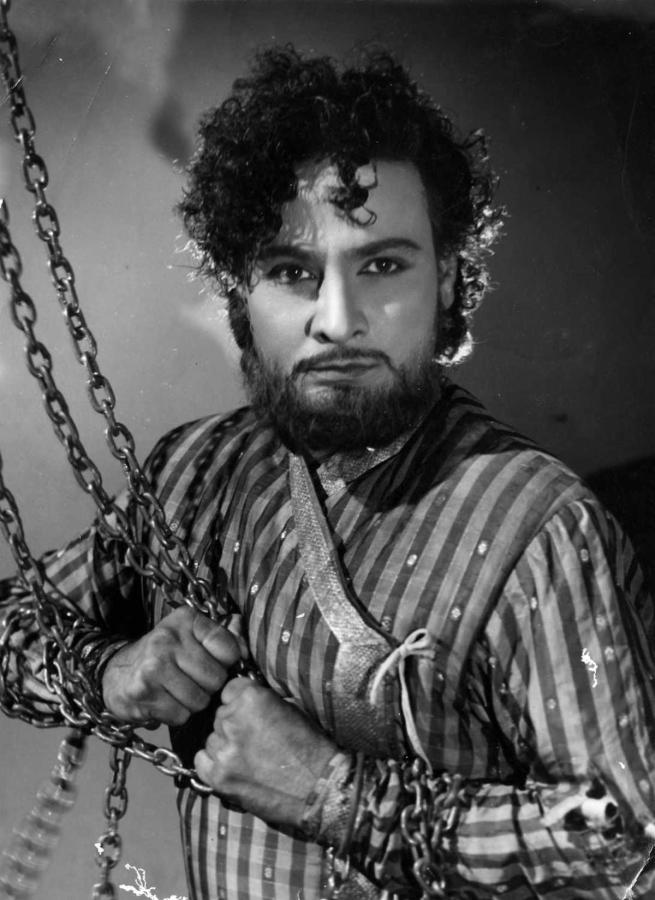 Mahipal got a call from leading film-maker Homi Wadia, who gave him his first big break in the mythological film, Shri Ganesh Mahima (1950).
The film was a success and Mahipal established himself as a hero in the mythological genre.
That was the time when a number of cinema houses mushroomed in the country and mythological films were trending.
Then, Mahipal acted in a fantasy film, Alladin Aur Jadooi Chirag (1952), where his leading lady was Meena Kumari.
It was a jubilee hit and the lead couple went on to star in another film, Laxmi Narayan, a mythological.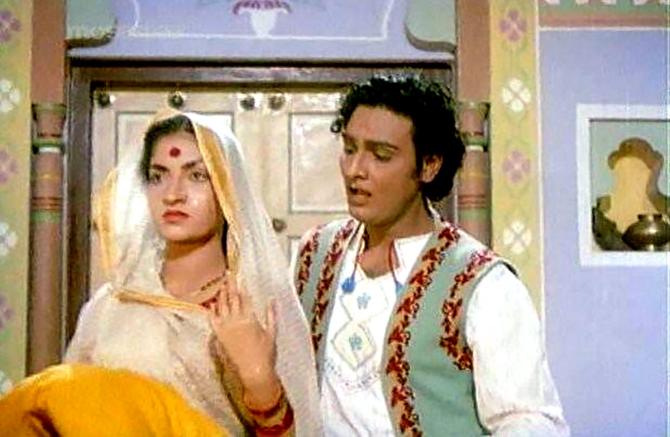 V Shantaram had high regard for Mahipal and considered him as a versatile actor and lyricist.
When he decided to cast him in Navrang (1959), opposite Sandhya, this became big news.
Shantaram asked Mahipal about his fees, and since the latter was indebted to the film-maker, he asked for Rs 1 and four annas, and a coconut.
Navrang was a super hit with a silver jubilee run. Its music was a hit too.
In the film, Mahipal, the writer who is misunderstood by his pragmatic wife, takes refuge by escaping into a land of fantasy, transforming the down-to-earth wife into a beautiful muse.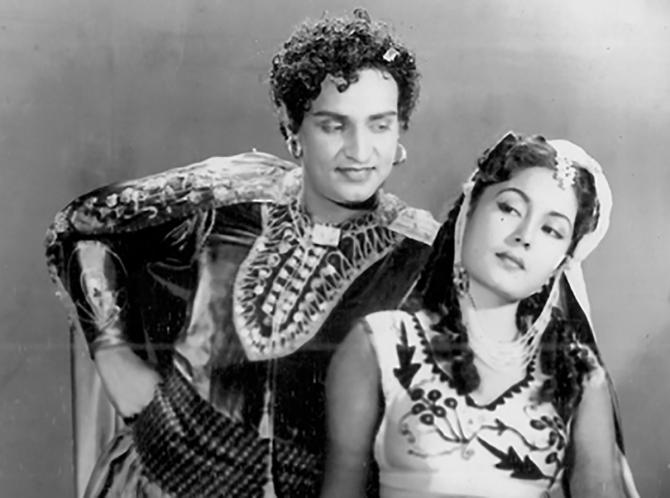 This was Mahipal's most successful film and catapulted him to stardom.
It also put debut singer Mahendra Kapoor in the limelight, thanks to the songs, Aadha Hai Chandrama and Tu Chupi Hain Kahan.
The film has won two Filmfare awards in Best Sound and Best Editing categories.
Mahipal became the highest paid actor of such films.
He went on to buy a luxurious flat in Marine Lines, south Mumbai.
He worked in a number of musicals and challenged the convention of old Hindi movies, where only female characters danced. His heroines were said to be reluctant to perform with him, for fear of being outshone.
He also did a series of fantasy films based on Arabian Nights including Alibaba and 40 Thieves (1954), Aladdin Aur Jadui Chirag (1952) and Alibaba ka Beta (1955).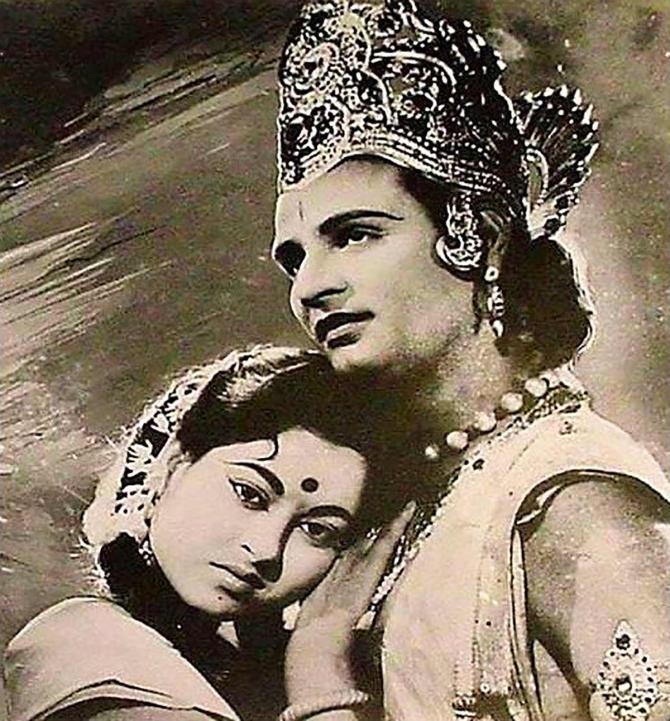 Mahipal's filmography includes Shri Ram Sampoorna Ramayan (1961),Naag Devata (1962), Shree Ganesh (1962), Sati Savitri (1964), Mahashivratri (1972), Shri Krishna Arjun Yudh (1971), Shri Krishna Arjun Yudh (1971), Sampoorna Teerth Yatra (1970), Veer Ghatotkach (1970) and Shree Ram Bharat Milap (1965).
His movies, many of them musicals, were known for their classical dance and memorable songs.
He worked in films with actresses like Nirupa Roy, Mala Sinha and Shyama.
He also portrayed minor characters in films like Shankar Parvati (1943), Banwasi (1948) and Laxmi Narayan (1951).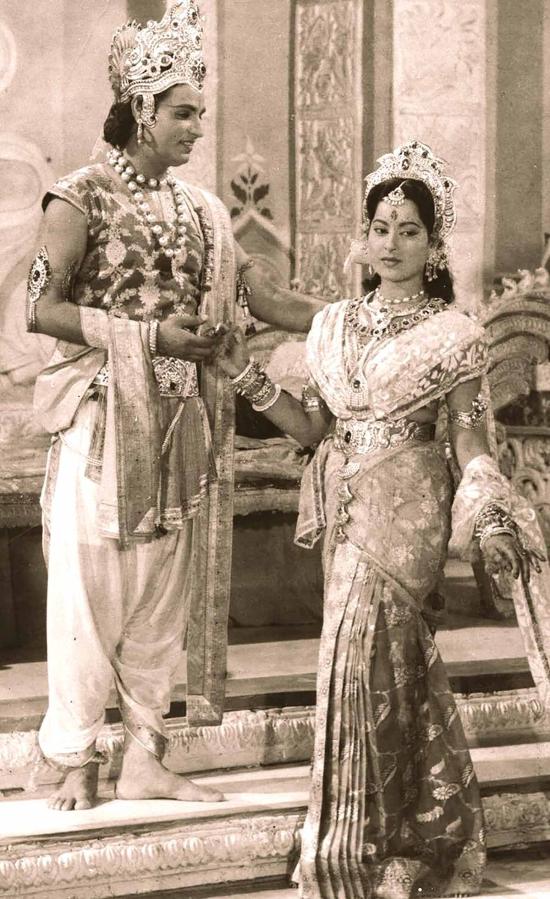 Babubhai Mistry directed Parasmani in which Mahipal was the hero with& Southern actress Geethanjali as his heroine.
It needs special mention as this 1963 film saw the debut of music directors Laxmikant-Pyarelal.
The film became the greatest musical hit of that era.
Lata Mangeshkar's songs Mere Dil Mein Halki Si, Ooi Maa Ooi Ma Kya Ho Gaya, Hansta Hua Noorani Chehra, Chhori Chhori Jo Tumse Mile, Woh Jab Yaad Aye Bahut Yadd Aye and the Mohammed Rafi song Salamat Raho are still popular.
Mahipal's Jai Santoshi Maa (1975) will go down in history as the highest-earning and longest-running mythological film. This was his last film as lead.
But by the 1970s, the appeal of mythological and fantasy genres was on the wane.
Mahipal had to make a major change in his screen persona and he went on to play character roles in films like Rani Aur Lalpari (1975) and Do Chehre (1977).
After his retirement from films, he devoted his time to his family and travel.
He died of cardiac arrest in 2005 at the age of 86.