Despite a few flaws in the film, Yash Chopra distinguishes himself, says Dinesh Raheja.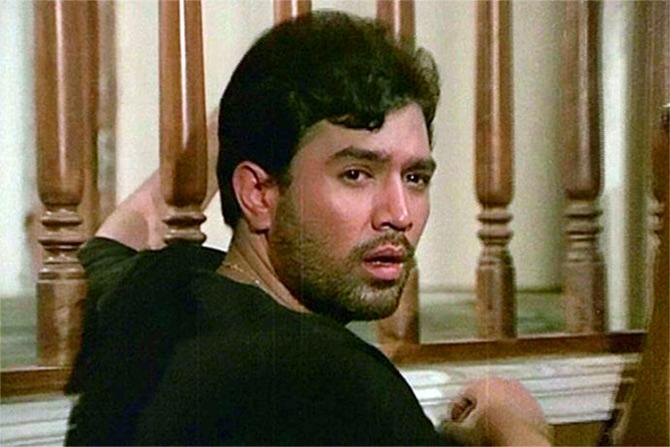 Ram Gopal Varma made waves for daring to film a songless Bhoot (Ajay Devgan, Urmila Matondkar, Fardeen Khan, Rekha, Nana Patekar).
But B R Chopra showed similar gumption decades ago when he made two successful films without songs in the 1960s -- Kanoon (1960) and Ittefaq (1969).
It is also apparent to any avid filmgoer that Varma's earlier film Kaun (Urmila, Manoj Bajpayee) had a hangover, conscious or otherwise, of Ittefaq.
Acclaimed for its experimentalism at the time of its release, Ittefaq was planned by Chopra as a modestly budgeted, offbeat quickie primarily because his big-budgeted Aadmi Aur Insaan (Dharmendra, Feroz Khan, Saira Banu) had been delayed.
He assigned the direction of this songless film -- always a rare phenomenon in Hindi cinema and even more so in the song-saturated 1960s -- to his younger brother, Yash.
The thriller begins with painter Dilip Roy (Rajesh Khanna) returning home to find his wife Sushma (Alka) murdered.
His belligerent sister-in-law Renu (Bindu) accuses him of having killed his wife in a fit of rage.
When Dilip breaks down and laughs hysterically during a court interrogation (in a Kafkaesque scene relying heavily on shadow-play to convey the court setting), he is sent to a psychiatric ward for treatment.
Dilip has the choice to do time either in prison or in a lunatic asylum.
He creates a third option and escapes -- in a rather clumsy and amateurishly shot scene. Even in later years, action scenes have often proved Yash Chopra's Achilles heel.
CREDITS

Producer

Director

Music

Cast

B R Chopra

Yash Chopra

Salil Chaudhary

Rajesh Khanna, Nanda
With the police hot on his heels, Dilip gatecrashes into a mansion inhabited by a housewife Rekha (Nanda, wearing a figure-hugging chiffon sari throughout the film) and holds her at gunpoint.
The hapless lady nervously divulges that she is alone as her businessman husband, Jagmohan, is in Kolkata.
For the next couple of reels, the film escalates the tension to fever pitch as the overtly sexy Rekha tries to free herself from Dilip's grip.
She lunges for her husband's revolver, sneaks a phone call to the police station when a drenched Dilip excuses himself to change into her husband's clothes, and flashes a torch on her drawing room windows.
She even keeps back a visiting doctor (Gajanan Jagirdar) and a police officer (Sujit Kumar) by offering them cups of coffee.
But all her efforts come to naught.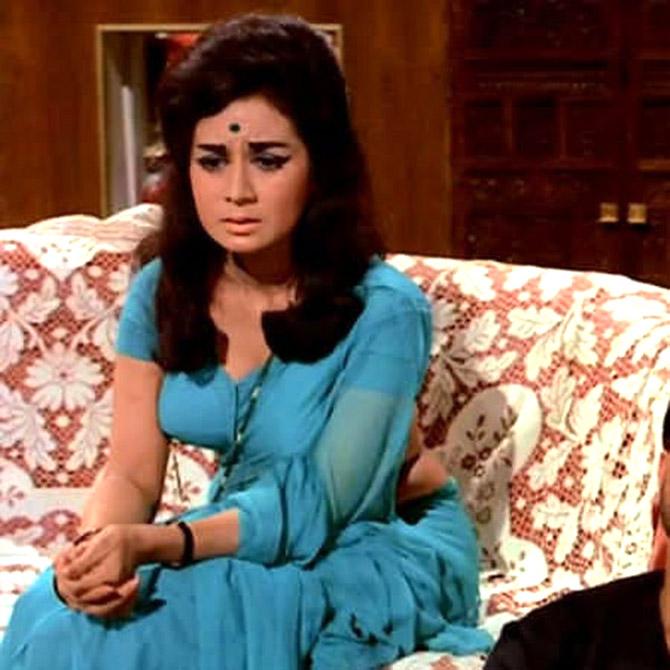 Finally, Rekha changes her strategy. She decides to befriend Dilip.
At this juncture, the director downplays the thriller aspect and concentrates on the subtle seduction game, with its undercurrent of carnal passion.
Dilip and Rekha exchange intimate notes about their on-the-rocks marriages, while sipping whiskey and sherbet respectively. This portion of the film is as slow as a well-thought-out chess move, yet involving.
The film regains its pace when Dilip discovers Jagmohan's body in the bathtub. He hysterically accuses Rekha of murdering her husband. Resorting to physical force, he forces Rekha to look into the tub -- but there is no body!
An enraged Rekha convinces Dilip he is hallucinating. But a phone call from Kolkata, inquiring after Jagmohan's return, reignites his suspicion.
In a high-strung climax, the police break into Rekha's house to find Dilip and Rekha exchanging a flurry of allegations.
A nail-biting battle of wits ensues.
In keeping with the tone of Bollywood's golden age, when sinners received just punishment for their onscreen acts, the film concludes with the murderer killing himself/herself.
The combative spirit between a seasoned performer like Nanda and the keen-to-prove himself novice Rajesh Khanna gives the film an edge.
A pre-Aradhana Rajesh is, by turns, effortless and overly excitable. His easygoing affinity works like a charm.
Nanda is the spellbinder here. Her character seems to be constantly in a state of emotional meltdown and she conveys it with a carefully controlled performance.
The lack of a glitzy supporting cast -- Sujit Kumar, unfortunately, is more wooden than a totem pole, Alka and Bindu were unknown names in those days -- works to the film's advantage because it leaves one clueless about the characters' ulterior motives.
A cameo by Shammi, as a nosy neighbour who descends on Nanda while Rajesh is holding her captive, effectively serves as an air pocket in the breathless thriller.
Salil Chaudhary's background music, in retrospect, sounds like it's come from the Jurassic age. The sounds of suspense have undergone many tonal changes since Ittefaq.
This essentially two-actor film is basically a director's litmus test.
Despite a few flaws in the film, Yash Chopra distinguishes himself.
Some of the two-character scenes seem like stage-acting classes.
The night scene, after the lights are switched off, could have been lit a shade less brightly.
Also, Ittefaq's theme offers scope for intimacy rather than spectacle. Yash, however, lays emphasis on gloss and stylish treatment, often leaving you wishing for more subtext and psychological insights.
The plus factor is that the thriller keeps you guessing till the very end and has a satisfying climax.
The ability to startle is the key to Yash's central characters. Besides, he casually plants details that pay off later.
And he creates just the right ambience by employing rain-swept streets and a huge, curtained house as the backdrop for the often claustrophobic story.
Abetted by cameraman Kay Gee, he adventurously indulges in a lot of technical bravura.
A low-angle camera offers us a view of an anxiety-ridden Rajesh as he is being walked to his cell by policemen, while a handheld camera staggers ahead of him to show us the reactions of the crowd assembled at his home after his wife is murdered.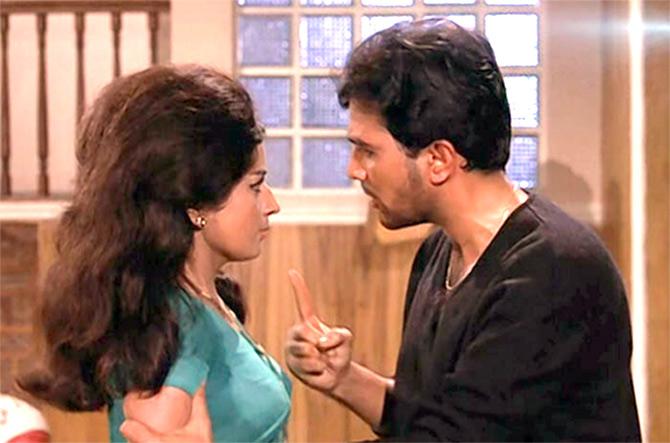 Sidelights:
* Ittefaq won Filmfare awards for Best Director (Yash Chopra) and Best Sound Recordist (M A Shaik).
* Mala Sinha, a favourite actress with the Chopra camp, was considered for the role of the adulteress.
* Rajesh Khanna and Nanda were paired in two more films, a comedy, Joru Ka Ghulam, and a thriller, The Train.
* Ittefaq was completed in a couple of months. Since Rajesh Khanna was sporting an unshaven look in Ittefaq, he had to sport a stubble in Do Raaste (co-starring Mumtaz), which was being shot simultaneously.
Music highlights:

* Salil Chaudhary, who had earlier composed the background music of Chopra's songless courtroom drama Kanoon (also a Nanda-starrer), was roped in once again for Ittefaq.
He was renowned for his mastery over the background score.
After Madan Mohan's untimely death, he also composed the background score of Gulzar's Mausam.