How a bus conductor named Shivaji Gaekwad became the mega-phenomenon called Rajinikanth.
A fascinating excerpt from Naman Ramachandran's Rajinikanth: The Definitive Biography.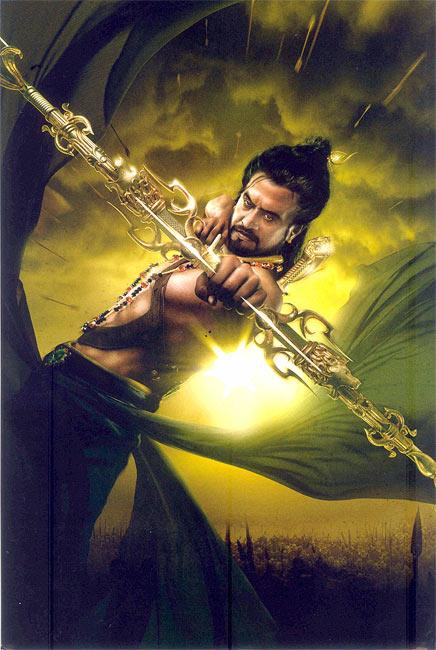 Vanivilas Hospital is located at Bangalore's Krishnarajendra Road near the busy Kalasipalyam bus station.
The new hospital was exclusively for women and children, and had 250 beds. It is on one of these beds that a son was born to police constable Ranoji Rao Gaekwad and his wife Ramabai.
The Gaekwads were of Marathi heritage from the then Bombay state (now divided into Maharashtra and Gujarat), but had lived for a long time in Bangalore, with Ranoji being born in the city.
During her pregnancy, Ramabai's face had an almost effervescent glow, something that was noticed by the women occupying the neighbouring beds.
The baby was named Shivaji after the revered Maratha warrior who enjoys an almost divine status amongst the Maharashtrian community.
The child Shivaji, born on Tuesday, December 12, 1950, had no inkling that in his youth he would be forced to labour as a coolie at Kalasipalyam, at a striking distance from his birthplace, or indeed that he would be accorded the near-divine status of his namesake as he grew older.
Shivaji had completed his twelfth standard at Acharya Pathashala and was devoting more and more time to acting in plays. With Ranoji inquired about the possibility of university, Shivaji's reply was that he had lost interest in further education.
Then, Shivaji worked briefly at Mysore Machinery in Bangalore's Seshadripuram locality. Later, a relative gave him a job loading sacks of rice onto trucks at 10 paise per sack.
The hours were long, the work was hard and the pay was, of course, a pittance, but at least Shivaji was earning some money.
Satyanarayana (his elder brother) decided to intervene at this moment.
'Rather than him roaming around doing plays and odd jobs and not knowing when he was coming or going, or just sitting around idly, which was not correct, I spoke to a relative of ours called Venkoba Rao who was a senior inspector of police, and he got him a job as a bus conductor,' says Satyanarayana.
It wasn't as simple as a recommendation from Rao and the job being granted; Shivaji had to sit for an entrance exam and obtain a conductor's licence.
Shivaji cleared the exam, got the licence and received a bus conductor's badge from the Bangalore Transport Service, still known locally as the BTS though the official name now is the lofty Bangalore Metropolitan Transport Corporation. The year was 1970.
Shivaji remembers clearly his time of flux before he joined the BTS. 'I'm an ordinary person. Before I was a bus conductor, I was an office boy, a coolie, a carpenter,' he recalls.
It was at the BTS that Shivaji met the person who he describes today as his best friend. Raja Badhar was the driver on the bus on which Shivaji was the conductor.
The driver-conductor pair was thrown together a lot, working the grueling early morning shift that began at 6 am and ended at 2 pm.
'There was no one faster than him in issuing tickets,' remembers Badhar. 'He would give out tickets with a flourish, return change in style. It was all about style. Passengers would look on an amazement.'
Laughingly, he adds, 'He would always flick back his forelock in those days, that's why he is bald today.'
Passengers would let earlier buses go empty and wait for the bus where the entertaining conductor was on duty and crowd in. Shivaji definitely knew how to work a crowd and play to the gallery even then.
After duty, Shivaji and Badhar would go to their respective homes and rest for a while.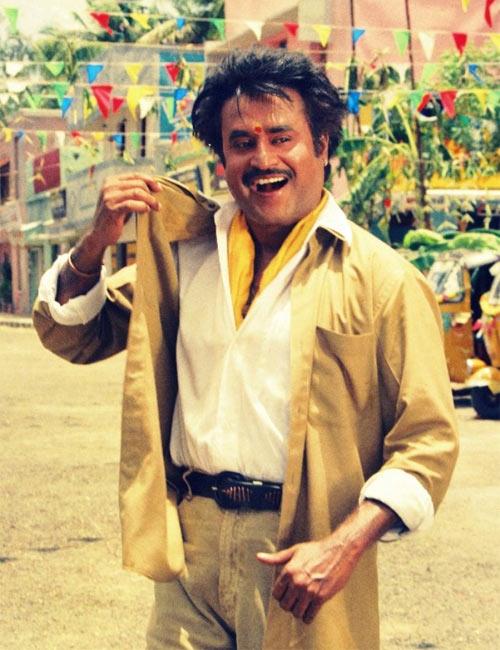 Shivaji would make his way over to Badhar's home in Hanumanthnagar every evening and they would go to rehearse for the plays they acted in from time to time which were organised under the aegis of the BTS Association.
Rehearsals were in a hall next to the Chamrajpet police station and would go on from 5 pm till 8 pm. After that, they would walk over to the market in Kalasipalyam and have a few drinks.
'He would drink arrack and I would drink beer,' recalls Badhar. After drinking they would walk back and eat dinner at their respective homes.
The long conversations that the friends had were almost exclusively about cinema. They would watch almost every film that released each week, with Shivaji continuing to enjoy Sivaji Ganesan, Rajkumar and MGR starrers. After watching the movies, Shivaji would enact scenes in the manner of these stars.
Paying tribute to the late Ganesan, Shivaji says, 'I watched him, I imitated him. He is the reason I am in the cinema industry.'
Shivaji acknowledges the role theatre played in shaping his acting career. 'The stage is my mother,' he says.
'When I was a conductor, after I'd acted in more than 25 plays, my friends, the drivers and other conductors asked me why I shouldn't go into cinema. You'll become a famous villain, they said. They gave me a boost. But I didn't know what to do, as I've never liked to ask anyone for any favours.'
'And what would I say to anyone, as I'm not good-looking. With what background could I ask anybody for a chance? If I would tell them that I'm a conductor, please give me a chance, would they?'
Badhar and Shivaji's other friends advised him to enroll in the newly formed Madras Film Institute. It was sound advice as Madras was the epicentre of the south Indian film industry then.
At the time, Shivaji knew only a smattering of Tamil, having picked up a few words from watching movies and from friends. 'He asked me for my permission to join the institute,' says Satyanarayana. 'I told him not to worry about the family. He should come up in life with his acting. And with the blessing of Lord Raghavendra, we decided to send him.'
Thus, Shivaji decided to join the Madras Film Institute, taking casual leave and later unauthorised leave from the BTS, not wanting to lose the security blanket of a government job should he not make it in the world of cinema.
Badhar, Satyanarayana and a few others pooled in some money to send Shivaji to Madras, enough for his fees and expenses.
However, Ranoji wasn't very happy with his youngest child's decision. He would rather have had Shivaji stay in Bangalore and grow into a senior position at the BTS.
Ranoji's view, says Satyanarayana, was that since Shivaji had already given up his studies, he should at least hold on to his decent job and get married and settle down.
The task of convincing Ranoji fell to Satyanarayana and the argument he used with his father was that the family should not stand in Shivaji's way; it was his progress that was important.
But the practical Ranoji was also concerned at the potential loss of household income, as Shivaji had been contributing most of his monthly pay packet to the family kitty.
'I told our father that we would adjust. Instead of eating three meals a day, we would mange with two,' says Satyanarayana.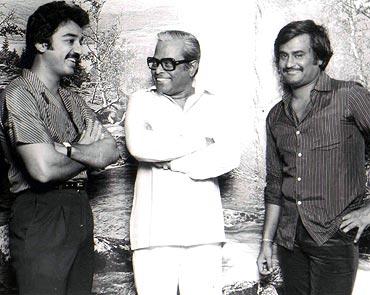 One of the guest lecturers at the institute was the esteemed director Kailasam Balachander, a man who with one snap decision would change young Shivaji's life forever.
When Balachander came to deliver a lecture at the institute, he came with a high reputation backed by box office success, and his class was packed with students hanging on to every word of his.
The lecture made a profound impact on Shivaji and he wanted to meet the great man.
His time at the institute was coming to an end and he wanted to meet the great man, and explore opportunities in cinema.
'My two years at the institute gave me a background,' says Shivaji. 'I could tell people I've got this talent, please take a look. Please give me a chance. The institute training was like a visiting card, so to speak. That's why I had joined the institute.'
Balachander laughs when asked about his discovery of an actor who would become a superstar.
'That's an old story. He had come to the institute as a student. He wanted to meet me and he expressed his desire to one of the lecturers there. The lecturer was known to me and he told me there was one boy named Shivaji Rao and that he would like to see you for a few second. "Will you see him?"
I had gone there for a practical examination. And he was in the Kannada wing. I had met all the Tamil boys,' Balachander recalls.
'So I met him. Somehow or the other, I was thrilled by the fellow's fragile health and powerful eyes and his chiseled face. These were the good things. And, of course, his skin colour, you know. The dark skin I thought was an advantage, because again it is different from others. All the people who are very fair and all that, they have an easy entry into films. Why shouldn't I take this boy, give him a good role, and see what can be drawn out of him?'
'Balachander had readied a script called Apoorva Raagangal (Rare Melodies),' says Satyanarayana. 'And he thought, why shouldn't he give a part to Shivaji? He told Shivaji, "It's a small but interesting part. You must do it. I have decided. But you need to learn Tamil."
Shivaji agreed instantly and touched his feet.'
Shivaji returned post-haste to Bangalore and told his brother and Raja Badhar, his best friend, about his stroke of good fortune.
Lady Luck, in the form of K Balachander, had smiled upon him, with the caveat that he learn Tamil. Conversations with Badhar -- a native Tamil speaker -- hitherto exclusively in Kannada, were now conducted solely in Tamil.
'He learnt the language very fast, in 20 days flat,' says Badhar.
But first, the business of his name had to be taken care of. There could be only one 'Sivaji' in the south Indian film industry and that was the senior actor Sivaji Ganesan.
K Balachander did not cast about long for a screen name for Shivaji Rao; he chose a character name from his own film, Major Chandrakanth. A V M Rajan had played a character named Rajinikanth in the film, and Balachander christened Shivaji Rao with this name.
And thus was born Rajinikanth, soon to be a household name.
The name literally means 'colour of night'; it was a comment on the colour of Shivaji Rao's skin.
Ever the contrarian, Balachander was casting Rajinikanth against type.
'In those days, no other director would select a boy who was very dark, for any type of role,' he remembers. 'Even for a small role, they'd not take a dark chap. I am quite dark, you know. My father was even darker than me. So, I thought, why not introduce a dark-complexioned fellow as a new character? Especially as the main villain? And it worked out. It worked out wonderfully.'
It was on a full-moon night, on Holi, the festival of colours, that Balachander christened Shivaji Rao as Rajinikanth. Both actor and director remember this vividly.
On Holi day every year, Balachander thinks fondly about his famous discovery.
For around eight years after his debut, Rajinikanth would make an effort to meet or at least speak to his mentor on Holi day. This tailed off gradually as he got bigger and busier.
The actor is apologetic about this today, and says he has never forgotten that magical day.
Excerpted with permission from Penguin Books India from the book Rajinikanth: The Definitive Biography by Naman Ramachandran. Penguin Viking/Rs 699.
This feature was first published on Rediff.com in January 2013.