Advertisement
June 13, 2007 17:35 IST


There are two people Rajnikanth [Images] always meets when he visits Bangalore -- Raj Bahadur and Raghunandan. While the latter is an associate director, Raj Bahadur is a bus driver.

Bahadur was the driver of the routes 10 and 10 A in the days when the superstar -- then known as Shivajirao Gaekwad -- worked as a bus conductor. The bus route was from Srinagara to Majestick and it is said that the two friends had a gala time in those days.

Bahadur knew about his friend's desire to act in films, and encouraged him to pursue his dream. In fact, it was he who helped him go to Chennai and study at the Adyar Film Institute. Shivaji had to resign from his job from KSRTC, and Bahadur helped help him in many ways.

"I had watched Shivaji's (Bahadur still calls Rajnikanth Shivaji) performances in some mythological plays at the KSRTC club. I was his great fan right from those days. I told him many times that he was wasting his talent as a bus conductor and that he should go and secure a place in the film industry. I was fortunate enough to get some extra income through a milk dairy I was maintaining. I supported Shivaji when he went to Chennai. Our friendship has become stronger in the last 40 years," says Bahadur, who has taken  voluntary retirement now.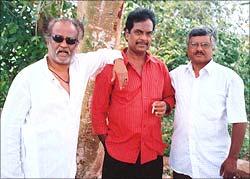 "Shivaji told me that his new film was appreciated by the Censor Board and some of them even congratulated him. He also told me that director Shankar's family members highly appreciated the film. But Shivaji had not seen the film yet," Bahadur continues.
Though Bahadur knows the film's story, he refuses to talk about it. "I won't tell you," he grins. "Watch the film on June 15. I will see the film on that day too."
Whenever Rajnikanth visits Bangalore, he sends a message to Bahadur who still does not carry a mobile phone. "Earlier, a large number of his childhood friends and friends from the film institute would visit him. Now, Raghunandan and I are the only regular visitors. We always keep his visits a secret. We generally meet him in his flat or the hotel where he puts up. When we feel like going out, he puts on an interesting disguise, and we go out. It is difficult even for me to identify him then!
"We also attend functions that are held at his residence in Chennai. Recently, I spent three days with him. I also attended the 15th anniversary celebrations of the school run by his wife," Bahadur says fondly. 
Bahadur has also cameoed in a Rajni film called Valli. Rajni gave him Rs 200,000 as deposit, which still fetches him a monthly interest.
Ever since Rajni went to the Sachchidananda Ashram in the Himalayas a few years ago, he has been visiting the mountains regularly. "He has told me that he has seen saints who have been living there for more than 2,000 years. And it was his encounters with some of the spiritual gurus that made him make Baba," he says.
"Shivaji has achieved success because he is hard-working," Bahadur says. "He always thinks about his roles and how to please his fan following. I like the way he dances and fights. Shivaji is compassionate and helpful. His heart bleeds for poor people. I have seen him getting out of his car if he sees an old person on the street and give him thousands of rupees. He does all that silently without anyone knowing. That is his greatness."