If Rajesh Khanna was the greatest star of Hindi cinema, the songs played a major part in his superstardom.
Some may prefer Mukesh and Raj Kapoor. But to me, the best actor-singer combination was, by far, Kishore Kumar and Rajesh Khanna.
Sure, Kishoreda vibed fabulously with Dev Anand too. But it was Rajesh Khanna who ushered in the 'IT' factor in Kishore Kumar Ganguly's career.
After Kishoreda sang Roop Tera Mastana and Mere Sapnon Ki Rani for Rajesh Khanna in Aradhana, there was no looking back.
Mohammed Rafi who two years prior to Aradhana sang for the hero Shashi Kapoor while Kishore sang for the hero's father Bharat Bhushan in Pyar Ka Mausam, was eased out.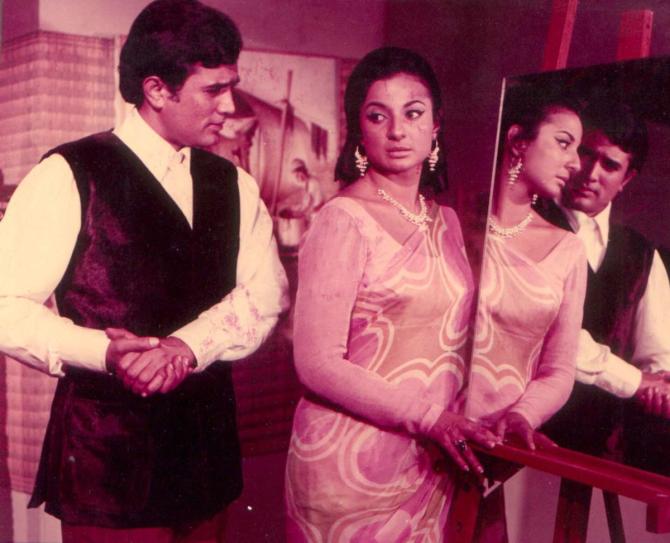 The Kishore Kumar-Rajesh Khanna combo gave us the most imperishable love songs of all times: Yeh Sham Mastani (Kati Patang), Chingari Koi Bhadke (Amar Prem), Oh Mere Dil Ke Chayan (Mere Jeevan Saathi), Zindagi Ek Safar Hai Suhana (Andaz), Jeevan Se Bhari Teri Aankhen (Safar), Zindagi Ke Safar Mein Guzar Jaate Hain Jo Muqaam (Aap Ki Kasam)...the list is endless.
But there are also the ones in the treasure trove that got eclipsed for various reasons.
The title track in Shakti Samanta's Mehbooba, for starters.
We all know Mere Naina Sawan Bhadon. But do you know Kishore Kumar sang a rock concert styled number Jisski Jheel Si Gehri Aankhon Mein Mera Dil Dooba Main Usska Mehboob Banunga Woh Meri Mehbooba...
It's a solid track obliterated by the fact that it was used along with the credit titles in the film and kept out of the film's soundtrack album.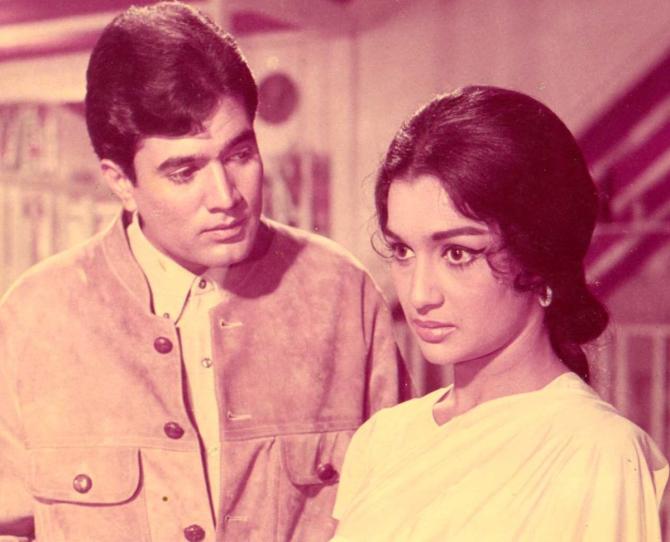 And what about Ram Kare Babua Hamaar Phulwa Ko Hamri Umar Lag Jaye? Sachin Dev Burman composed this folksy gem for Rajesh Khanna's guest appearance in Shakti Samanta's Anurag.
Another guest appearance with a terrific Kishore Kumar track was Fauji Chala Gaon Mein in J Om Prakash's Akraman.
The song, celebrating the homecoming of a soldier from a long battle composed by Laxmikant-Pyarelal, still has a goosebumpy quality.
Sometimes, there were so many sparkling Kishore Kumar gems in a Rajesh Khanna starrer to choose from, a real classic would get left behind.
This is what happened in Mere Jeevan Saathi where R D Burman (another very close ally of Rajesh Khanna and Kishore Kumar) created the timeless Chala Jaata Hoon Kisike Dhun Mein, Kitne Sapne Kitne Armaan and, of course, Oh Mere Dil Ke Chayan, which Lataji once told me was among her most favourite songs of her beloved Kishoreda.
But hang on! Do you know Kishore Kumar sang a beautiful bhajan for Rajesh Khanna in Mere Jeevan Saathi: Aao Kanhaai Mere Dham Ke Subah Se Ho Gayi Shaam...
If you haven't heard this Bhajan you haven't really tasted the best of the KK-RK combination.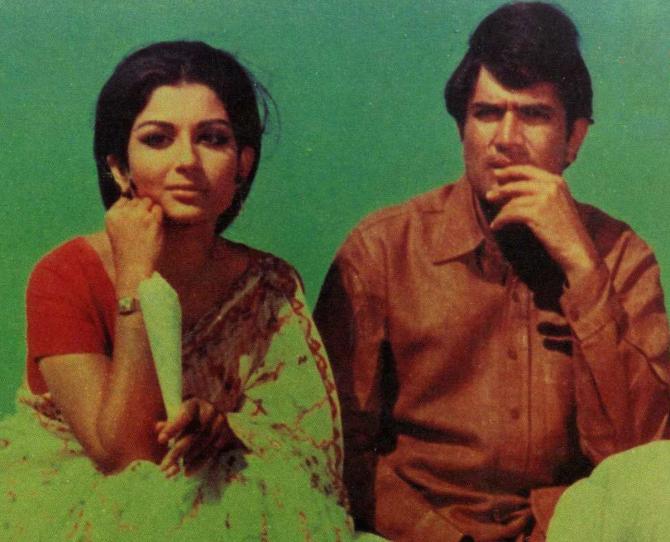 Then, in a flop Rajesh Khanna starrer called Humshakal, Kishore Kumar sang a lullaby Rasta Dekhe Tera Vyakul Mera. It makes you wonder, did God create Kishore Kumar for Rajesh Khanna?
To end with my most favourite neglected gem of the Kishore Kumar-Rajesh Khanna partnership: Jab Dard Nahin Tha Seene Mein Tab Khaak Mazaa Tha Jeene Main Abke Shaayad Hum Abhi Royen Saawan Ke Mahine Mein in Shakti Samantha's Anurodh.
Take a bow, Anand Bakshi, Laxmikant-Pyarelal and Kishore Kumar.
If Rajesh Khanna was the greatest star of Hindi cinema, the songs played a major part in his superstardom.
Agreed Kishore Kumar's superstardom started with Rajesh Khanna. But the vice versa is equally true.
Feature Presentation: Rajesh Alva/Rediff.com