The 'Shatrughan Sinha of the South' plunges into politics.
Nikita Puri reports from Bengaluru.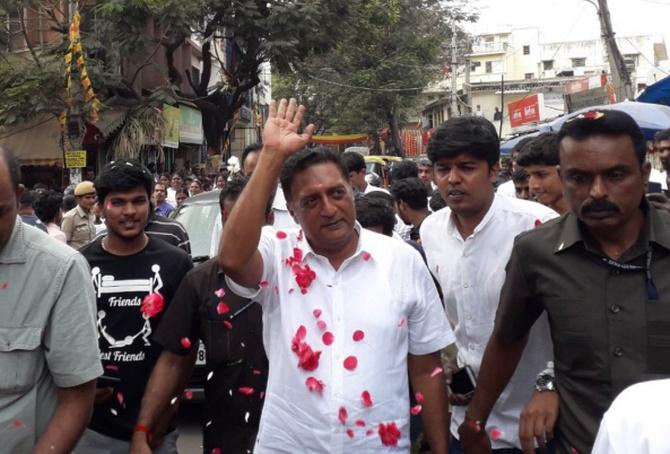 In a few minutes, surprised at the crowd's enthusiasm and the khaki presence, the barfi-seller steps back. "Who has come?" he asks in Hindi. "It's Gani Bhai, the villain from Wanted," says a bunch of boys as they climb onto a scooter to get a better look at "Gani Bhai".
Known across the country as Prakash Raj, closer home in Bengaluru and across Karnataka, the actor-producer is still known by his birth name, Prakash Rai.
Over the past year-and-a-half, 53-year-old Raj has made headlines as a voice of dissent against right-wing politics. His #justasking campaign, which raises concerns on everything from governance to the murder of his friend, journalist Gauri Lankesh, has largely been targeted at Prime Minister Narendra Damodardas Modi.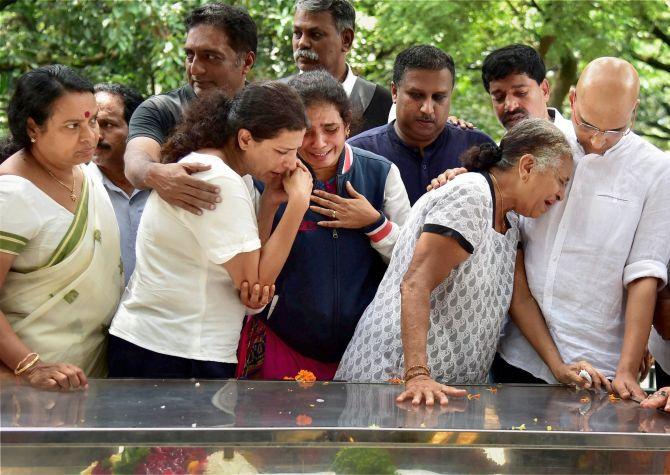 "When Gauri (Lankesh) and I were still children sitting in her father's study, we had strong mentors who were often harsh in their criticisms against society. But except for during the Emergency, we didn't see voices being silenced like we are seeing today," says the actor.
"People from all religions, castes and places have brought me to the place I am at. Now it's my responsibility to use my voice and empower them, especially when death has come to our doorstep," says Raj, referring to the assassinations of Gauri Lankesh and rationalists M M Kalburgi and Govind Pansare.
In the warm afternoon sun, a young girl wonders if a film shoot has brought the actor to her neighbourhood. "He's here for the election, just look at the poster," her father says, pointing at the placard-holding few who accompany the cops walking alongside Raj.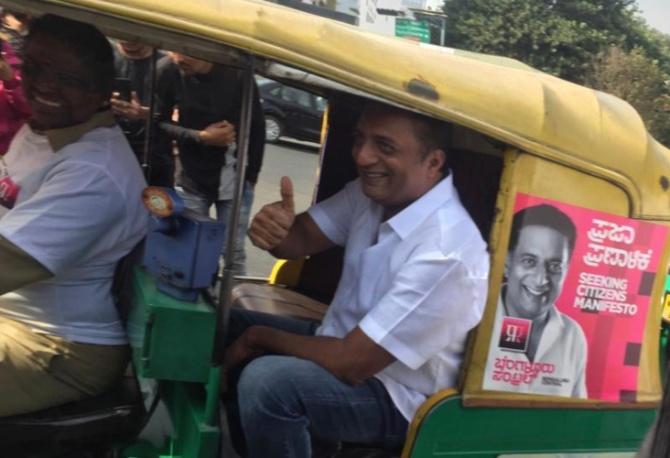 After announcing his decision to enter electoral politics in early January, Raj flagged off eight autorickshaws, all driven by women, to officially mark the beginning of his campaign in Bengaluru.
The three-wheelers were meant to take inputs for what Raj, his aides and the Aam Aadmi Party refer to as a people's manifesto. "We shouldn't be arrogant enough to assume that we know what the people want," says the actor.
Raj has the backing of Arvind Kejriwal's AAP, but he will contest as an Independent.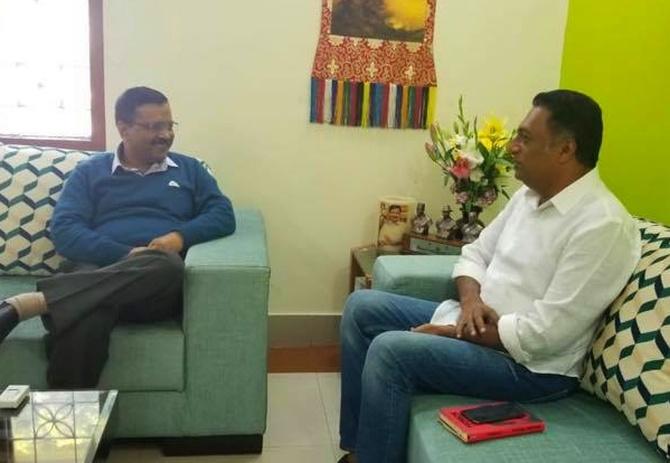 Raj wants to collect grievances from all the eight segments that come under Bengaluru Central, the constituency he will contest from for the coming Lok Sabha election.
Raj and his team intend to cover as much ground in all these segments and meet as many of his potential constituents as possible.
"Raj's challenge as an independent candidate is that his campaign will not be cadre-based, but issue-based," says brand guru Harish Bijoor. He refers to the actor as the "Shatrughan Sinha of the South".
"Unless the issue is a really big one, cadre-based campaigns do better than issue-based campaigns." Raj's manifesto is presently in the works.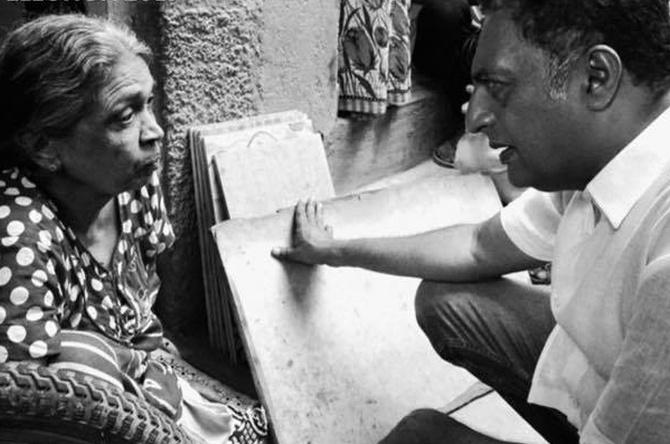 In 2015, Raj established a non-profit called the Prakash Raj Foundation through which he helped build a government school in Telangana (Kondareddypalli), and five in Karnataka (he also brought in new teachers and theatre activities to the latter).
The foundation has also adopted two villages, Kondareddypalli, and another in Chitradurga, Karnataka.
His desire to give back, he says, also owes to the fact that his mother Swarnalata and her siblings found themselves in an orphanage when she was only 12.
"Some people helped her and she was able to study and become a nurse. We help others as a way of repaying the support that came to us," he says.
Gani Bhai, the antagonist in the Salman Khan starrer, is just one of the many names Bengalureans call him by on the campaign trail as they hang out of their balconies and navigate narrow lanes and narrower staircases to get a glimpse of the actor.
There's good reason for this: Bollywood films make up only a minuscule portion of the hundreds of films multilingual Raj has starred in over three decades.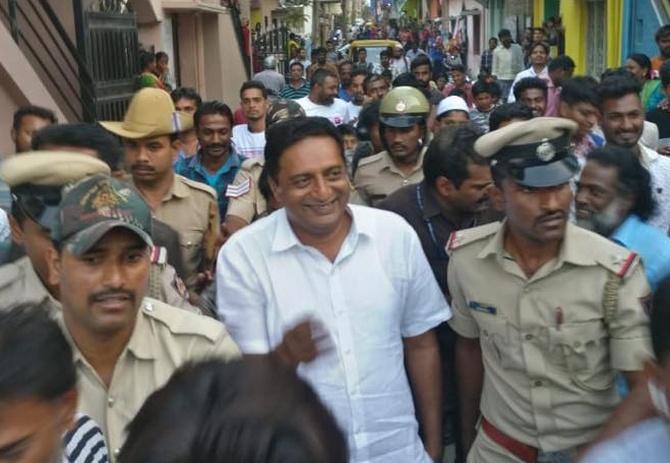 Raj is Jaykant Shikre in Bollywood's Singham, and the cobra in Kannada film Nagamandala (penned by Girish Karnad).
He's the protective father Aravind in the Telugu feature Bommarillu, and the fierce Tamizhselvan in Mani Ratnam's political Tamil drama Iruvar, a role for which he won one of his five National Awards.
While Ratnam's Tamizhselvan is an atheist, the man that portrayed him on screen doesn't follow any particular faith.
But politics that divides people on communal lines is an intensely personal issue for him: His wife, Pony Verma, is Hindu, his mother is Christian.
And while Tamizhselvan is fiercely proud of his language (Tamil), Raj has a robust proclivity for all South Indian languages (and literature).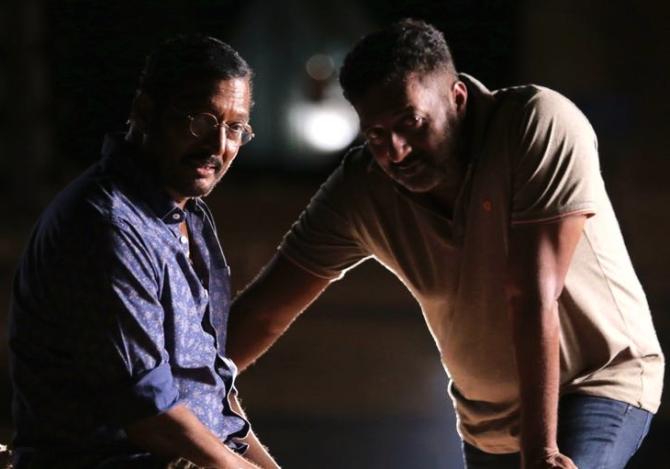 Raj describes his respect for languages as dating back to his theatre days. This was also the time, before his film career took off, that Karnataka's cultural stage was being shaped by modern literary stalwarts such as Karnad, B V Karanth and D R Nagaraj, all people who encouraged free speech.
Raj's towering build and distinctive baritone have helped him pull off character roles as much as his propensity for languages in the South Indian film industry.
That same talent helps him connect with people as he effortlessly glides between Kannada, Hindi and Tamil during his campaign.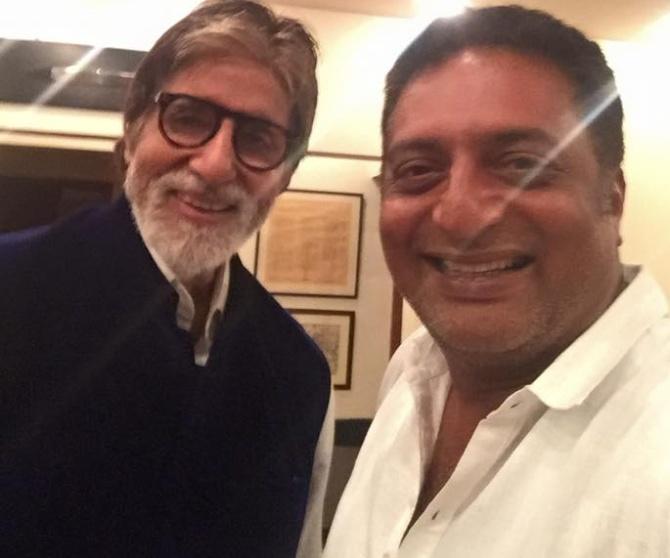 On average, the on-ground campaign runs for four-five hours without a break, often in areas where the tapering lanes can't accommodate both people and long-eared goats, both of which there are many.
But nothing slows Raj down as he tells people he's standing for elections, allows for a few selfies and then moves along.
"I have so many questions for him," says Farhana, one of the young women Raj has just obliged with a picture. "But it all happened so quickly I couldn't ask him anything."
Mustthaita, a feisty woman who lives next door to Farhana, rushes to Rai's defence. "Give him some credit, he has to cover the whole area," she says.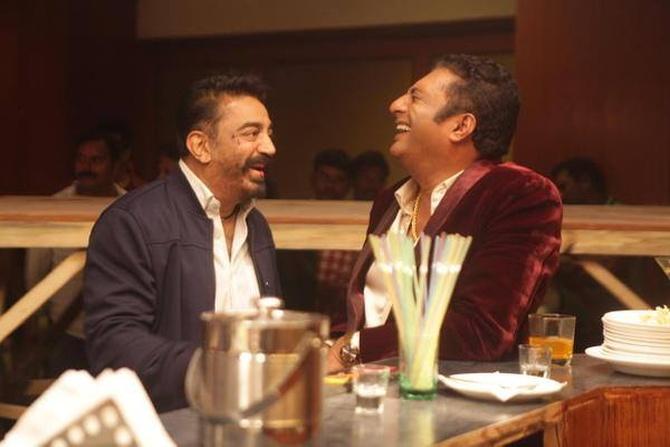 Only a few minutes ago, Mustthaita had wiggled her way into the crowd and convinced Rai to return and step into her home. "She's actually our leader here," says Farhana. "We'll all vote according to what she says."
Another woman, who's been watching the scene unfold, asks Mustthaita the questions that have crossed everyone's mind: Raj is Independent now. But will he join a party in the future? Will he join the Bharatiya Janata Party? Shoulder shrugs are the only answers.
By the time Raj moves into a Tamil neighbourhood in Shivaji Nagar, the call for the late noon prayer rings out from the mosque.
Biryani and kebabs have given way to samosas frying in kadhais. When their bosses aren't watching, even the cops walking along sneak a picture with the actor.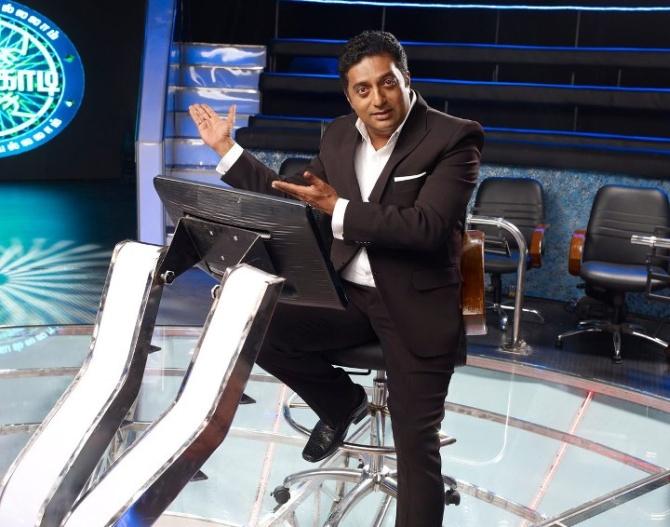 A young man drops his ladle into the pan of hot oil as he rushes out to see the actor who is accosted by an elderly man hoping to wish Raj luck.
Later, when the crowd moves on with the actor, the elderly man, Narayana, says, "My family has been supporting the Congress for five generations," he says. "And mine for six," chimes in his friend Karnamurthy.
When asked if Raj stands a chance in the game, the two men shrug. "Who knows with politics?" they say.
Led by local leaders, Raj, his aides and the policemen soon move into another ward, another area.
People change, lanes widen up slowly, but the conversations and selfies remain the same. And everywhere he goes, he leaves behind people comparing pictures they've taken of him, and asking in Hindi, "Can a film's villain become a real-life hero?"