Among Hindi cinema's leading men of the last century, Sunil Dutt, who passed away 16 years ago on May 25, did not hesitate in doing women-oriented films which addressed the issues of their upliftment, empowerment and equality.
Subhash K Jha lists Sunil Dutt films where the actor played a reformist.
Sujata, 1959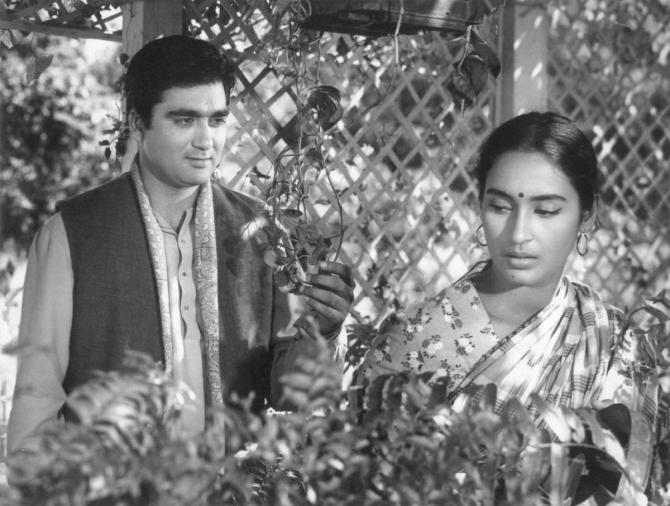 Sunil Dutt and Nutan shared a special onscreen rapport that stretched into six films, none as relevant as Sujata.
In this Bimal Roy directed drama on the upliftment of an adopted Harijan girl, Duttsaab played Adhir, a progressive poet, who insists on marrying Sujata even as his conservative aunt (Lalita Pawar) threatens to disinherit him.
Who can forget the lovelorn hero singing Majrooh Sultanpuri's Jalte Hain Jisskke Liye Mere Khwabon Ke Diye over the phone to the tearful heroine?
Sadhana, 1958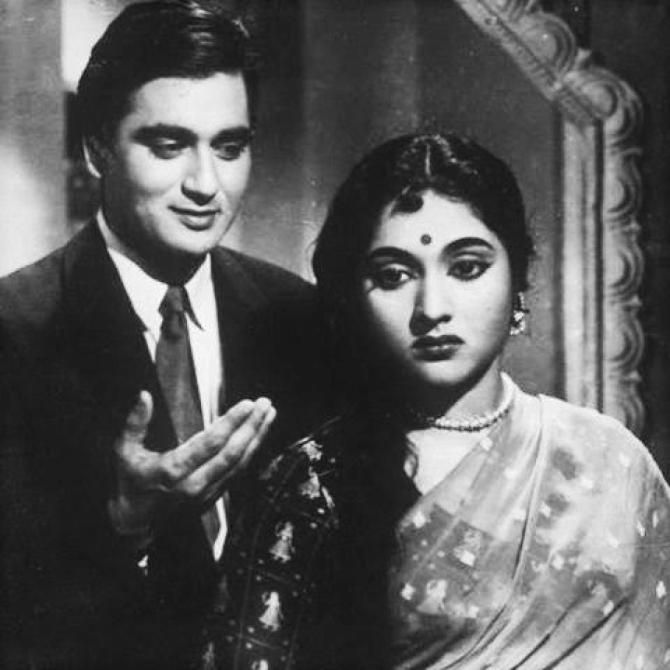 A year before Sujata, it was Vyjanthimala in Sadhana whom a righteous professor brings home from a kotha and presents her as his wife to his ailing mother.
In the end, Duttsaab insists on marrying the tawaif.
Even though samaaj thinks she doesn't deserve a second chance, he does.
Sahir Ludhianvi's hard-hitting poetry against the perverse practice of patriarchy still rings true: Aurat ne janam diya mardo ko, mardo ne use bazar diya. jab jee chaha masla kuchla, jab jee chaha dutkar diya.
Vyjanthimala, who did three films with Dutt, says, "He was a true gentleman and a progressive man and a rational artiste. The way he conducted himself with Nargisji made every woman in India wish he could be their husband."
Nartaki, 1963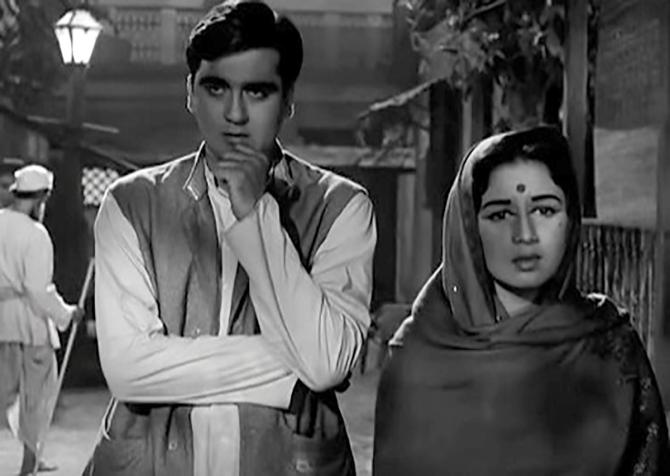 Again, the reformist. The man who doesn't only mouth feminism, he practises it.
In this neglected film directed by Nitin Bose, Duttsaab was Professor Nirmal Kumar, who won't let an uneducated daughter of a prostitute suffer her mother's fate.
He tutors Nanda into an enlightened world.
Dharmendra echoed Duttsaab's role in Sharafat and Chaitali.
Chirag, 1969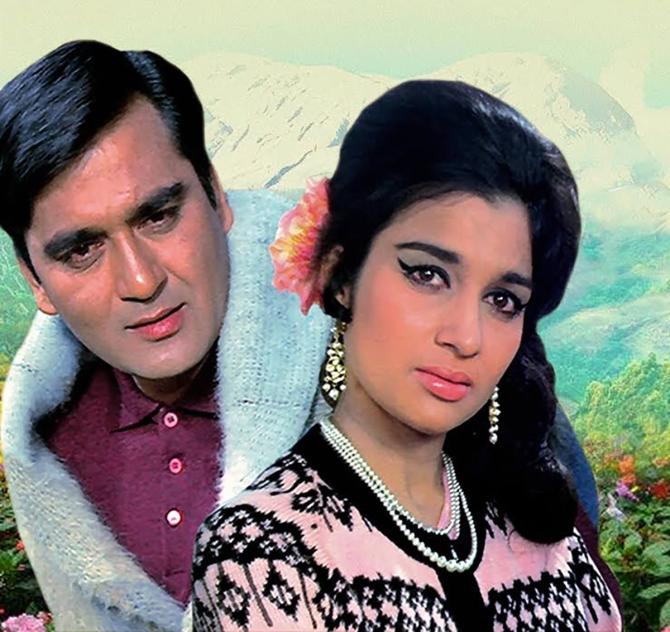 When Asha cannot conceive, her mother-in-law (Lalita Pawar) insists that her son throw his wife out and remarry.
No prizes for guessing who plays the man who won't listen to his mother's evil plans.
Sunil Dutt stands by his wife and even looks after her when she loses her eyesight.
Asha Parekh, who played Asha, recalls Sunil Dutt fondly: "He was my friend and a very supportive co-star. Once when we were shooting together for Chhaya, I hid his chappals in the studio. He had to go home barefeet. He was full of hope and encouragement, kind considerate and generous. One felt safe when he was around."
Darpan, 1970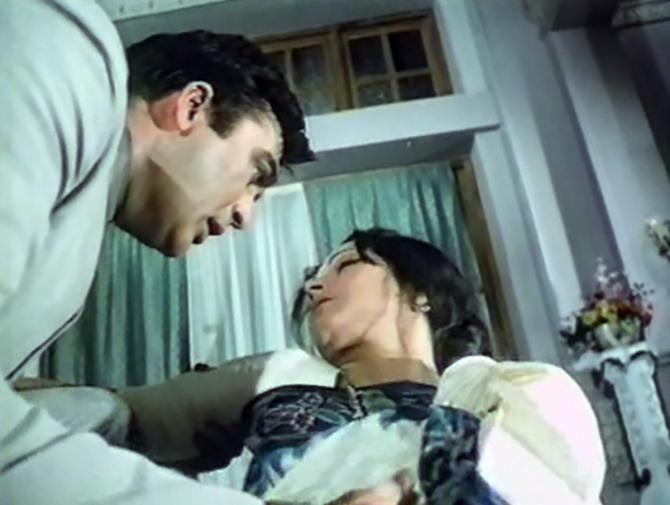 Duttsaab marries a prostitute (played by Waheeda Rehman) and brings her home.
Trouble starts when men, who had slept with her in the past, begin to sneer at the marriage between a Ideologue and a Fallen Women.
The film shows Duttsaab fighting social and familial opposition to stand by his wife.
Adhurthi Subba Rao, who earlier directed Duttsaab in the superhit Milan, insisted on naming his character Balraj Dutt.
That was the actor-MP's real name.
Zindagi Zindagi, 1972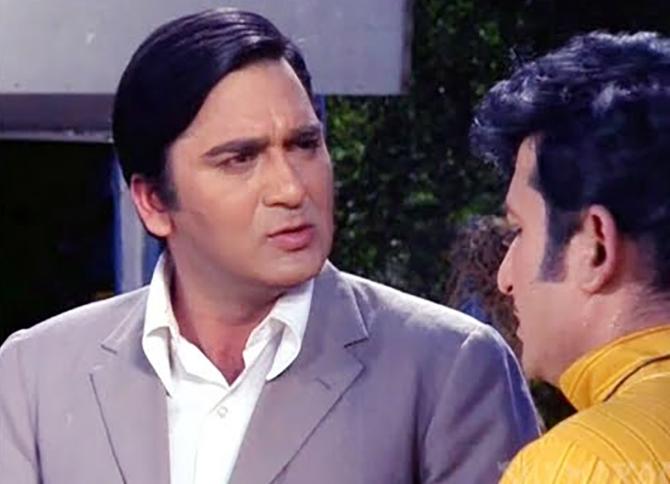 Dr Sunil has a visitor from his past.
The woman he was once in love with is widowed and returns to his life. He then insists on marrying her.
Bengali legend Tapan Sinha's only Hindi film was a reformist drama about widow remarriage.
Waheeda Rehman, who played the widow, says, "It was always a pleasure working with Dutt Saab. I was directed by him in the great Mujhe Jeene Do and Reshma Aur Shera. I co-starred with him in several films. He was a thorough gentleman, chivalrous and courteous."