Here are Aseem Chhabra's picks -- 'films that mattered to me, entertained me and will stay with me through the year.'
With nearly 400 films in several different sections, this year's Berlinale was a treat for the senses of film lovers.
February is a cold month in Germany and so as in the past Berlin's heated movie theatres became a refuge for film fanatics.
This was my ninth year at the Berlinale and I ended up breaking my own record. I watched 39 films -- some exceptionally good, while others decent or even mediocre.
I saw old classics -- Chariots of Fire, A Clockwork Orange and The Shining -- part of a homage to Italian costume designer Milena Canonero and some favourites from recent festivals in Sundance and Toronto. And there were many world premieres.
Selecting 10 best films was a difficult task because but here are my picks -- films that mattered to me, entertained me and will stay with me through the year.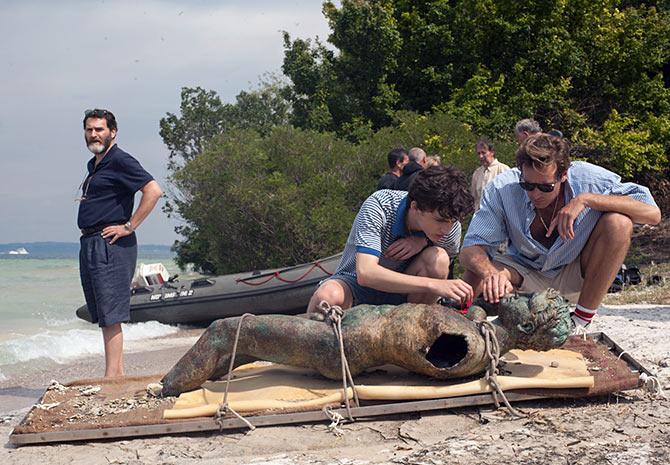 IMAGE: Call Me By Your Name: 'The setting is as spectacular as the narrative.'
Call Me By Your Name (France/Italy/US)
A beautifully made film based on a novel by the Egyptian-born writer André Aciman (he is a professor at the City University of New York) Call Me By Your Name was much celebrated at this year's Sundance Film Festival.
And Berlinale did well to programme this heartbreaking story about a gay romance between a 17-year-old bright Italian-American Elio (Timothée Chalamet) and a 24-year-old research scholar Oliver (Armie Hammer).
Over the summer in 1983 when Oliver is assisting Elio's father, the two young men develop a friendship, bonding that culminates into romance.
Italian director Luca Guadagnino is known for lush productions including I Am Love (2010) and A Bigger Splash (2015).
Call Me By Your Name is set in a beautiful small Italian town, where the summer days are long, people sit out, eat elaborate meals, talk, swim, get drunk, dance and naturally fall in love.
The setting is as spectacular as the narrative.
Guadagnino and Walter Fasano co-wrote the script with the 88-year-old American master James Ivory (he is also one of the film's producers), and the result is no less than some of the best Merchant Ivory films of the past few decades.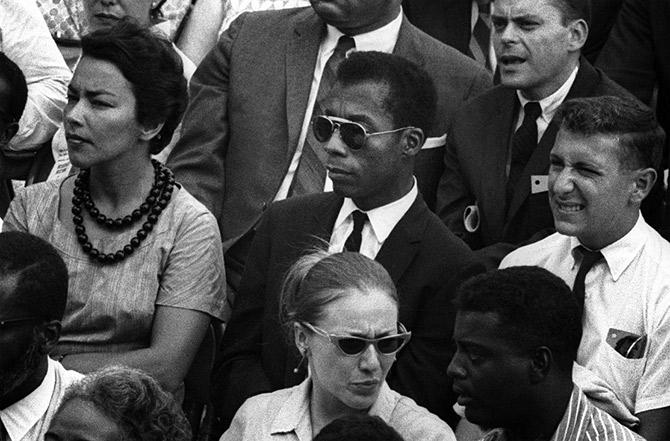 IMAGE: The novelist James Baldwin, in dark glasses, in I Am Not Your Negro.
I Am Not Your Negro (France/US)
In the late 1970s American author James Baldwin (Giovanni's Room) sat down to write his memories of three of the slain African American civil rights leaders -- Medgar Evers, Malcolm X and Martin Luther King.
The unfinished piece compares the lives, times and works of these men with Baldwin's own experience as an African American growing up in Harlem.
Filmmaker Raoul Peck took Baldwin's text, added archival footage and images, and made a deeply moving and disturbing film about what it means to be black in American over time -- and especially now.
Winner of the documentary audience award at the Berlinale, I Am Not Your Negro is one of three documentaries on the state of African Americans, which are nominated for an Academy Award.
Whether it wins the Oscar or not, this film will remain a seminal document for those who want to understand race relations and the causes for the disparities in present day America.
I Am Not Your Negro needs to be seen by as many people as possible.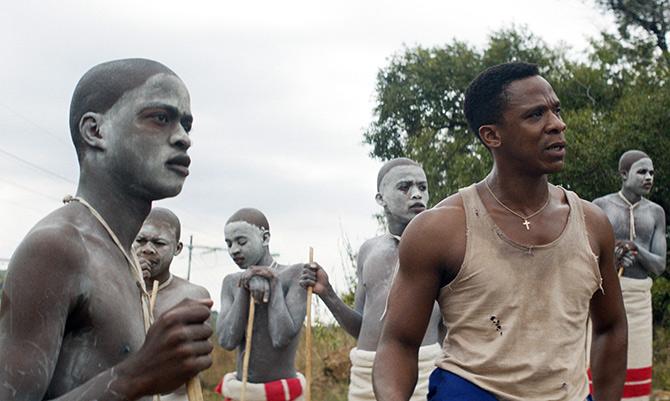 IMAGE: The Wound: 'A powerful story of forbidden love, a rare film from a part of the world that we know so little about.'
The Wound (South Africa)
For his debut film South African filmmaker and New York University graduate John Trengove takes up the difficult subjects of a male circumcision ceremony, the notion of machismo and homophobia in the country's black Xhosa tribe.
The result -- a powerful story of forbidden love, a rare film from a part of the world that we know so little about.
The film is terrifically acted by an ensemble cast made up entirely of men, including the lead Nakhane Touré, who is also a writer and a musician.
Like the Oscar nominated Moonlight, The Wound also examines masculinity among the black community. But the two narratives take very divergent paths.
Moonlight, for all its sadness and account of a lonely black gay man, ends with a sense of hope.
The Wound set in a society that is struggling with tradition and modernity is shocking and devastating, which is why it is a very strong film.
IMAGE: Queen of Spain: A madcap comedy.
Queen of Spain (Spain)
In the midst of many dark and tragic films, this year's Berlinale also offered some fun comedies including this large ensemble piece with terrific Spanish and American actors, including Penelope Cruz, Javier Cámara (both regulars in Pedro Almodovar's films), Mandy Patinkin and Cary Elwes.
In the mid-1950s Penelope Cruz plays Macarena Granada, a Spanish actress who has a successful career in Hollywood. She returns to Spain at the height of fascist leader Franco's rule to act in an American production about Queen Isabella.
There she meets a number of former colleagues, has an affair with a young crew member and works out a crazy plan to rescue a well known director who has been jailed by Franco's police force.
Directed by Fernando Trueba (he won the foreign language film Oscar for Belle Epoque in 1998), Queen of Spain is a madcap comedy and a thoroughly entertaining film.
IMAGE: Daniela Vega, a trans woman in her first screen role, gives a deeply felt performance in A Fantastic Woman.
A Fantastic Woman (Chile)
Winner of the Silver Bear for best screenplay, this Chilean film is directed by Sebastián Lelio (who earlier directed the international hit Gloria).
A Fantastic Woman is the story of a young trans woman Marina (Daniela Vega) who is in a relationship with an older man Orlando (Francisco Reyes), once married and with an adult son.
Orlando now plans to spend the rest of his life with Marina. But his sudden death right towards the beginning of the film messes up Marina's life as she is left alone to defend herself and against Orlando's angry relatives, including his ex-wife.
Her one concern -- to grieve for her lover -- is ignored by people who are fearful of her sexuality.
Vega, a trans woman in her first screen role, gives a deeply felt performance as Marina. Wonderfully crafted, A Fantastic Woman gives dignity and affection to a character who would often be marginalised in our society.
It is a must see film.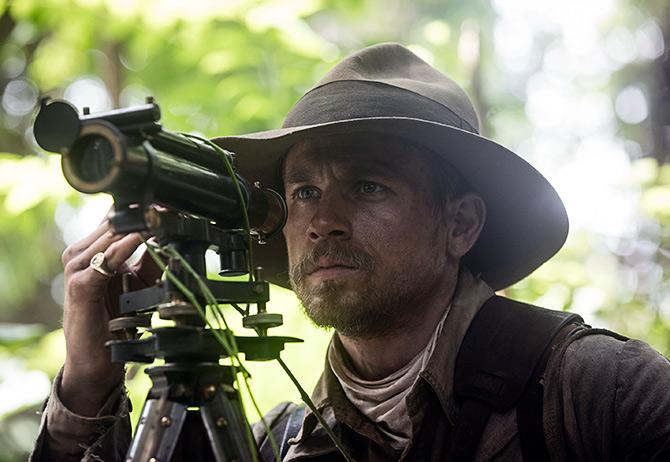 IMAGE: The Lost City of Z: 'Beautiful cinematography... gripping story.'
The Lost City of Z (US/UK)
Western men taking risky journeys in regions where no white folks have been is a theme often repeated in literature and cinema, including in Joseph Conrad's Heart of Darkness and its cinematic adaptation, Francis Ford Coppola's Apocalypse Now and the poetic Oscar-nominated Colombian film Embrace of the Serpent.
James Gray's adventure story The Lost City of Z follows the true life of a British soldier Percy Fawcett (Charlie Hunnam) who is first sent to the Amazon region in South America to draw the border between Bolivia and Brazil.
His subsequent trips are sponsored by Britain's Royal Geographical Society and he is accompanied by another soldier Henry Costin (an unrecognisable Robert Pattinson).
The Lost City of Z at times feels like a conventional film. But with its beautiful cinematography, the dangerous adventures of the explorers and the lives they leave behind (Sienna Miller is wonderful as Fawcett's wife Nina), the film is a gripping story of a man's obsession with discovering an ancient civilisation.
IMAGE: The Singer and her songs: Chavela Vargas in Chavela.
Chavela (US)
Singer Chavela Vargas was born in Costa Rica but she made her name singing in small clubs in Mexico where she never shied away from declaring that she was a lesbian.
By her admittance she was one of the first women in Mexico to wear pants.
Catherine Gund and Daresha Kyi's documentary explores the life and times of the legendary and most charming Spanish singer in Mexico, including her romantic relationships.
Chavela had an affair with painter Frida Kahlo and even wrote songs about her.
She attended Elizabeth Taylor's wedding with Mike Todd in Acapulco. That night people got really drunk and many ended up having sex with each other.
Chavela woke up in Ava Gardner's bed.
Her drinking addiction affected Chavela's career and the singer withdrew from public life, but only to resurface as a singer in Madrid where she became a friend and muse of Pedro Almodovar.
She appeared and sang in many of Almodovar's films.
Chavela the film is a delightful and entertaining take on one of the most colourful musicians of our times.
She died in 2012 at the age of 93, but her voice still lives on.
Almodovar used one of her songs for his latest film Julieta.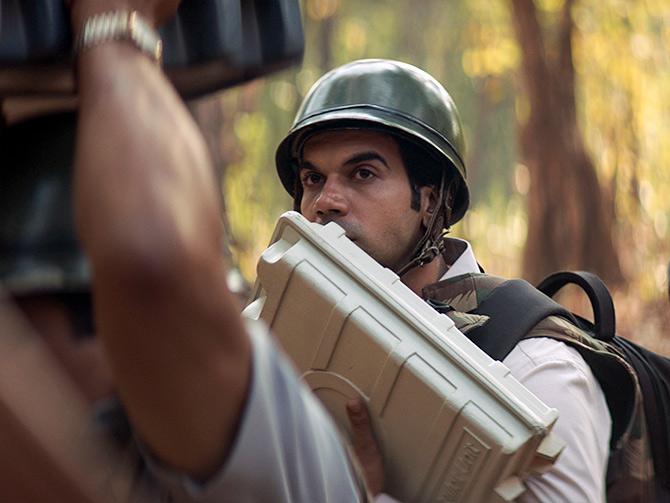 IMAGE: Rajkummar Rao in Amit Masurkar's Newton: A 'very Indian story with universal appeal.'
Newton (India)
Indie filmmaker Amit Masurkar's Newton is one of the best films to be made in India in the recent years.
Taking the Preamble of the Indian Constitution to heart, Masurkar has crafted a satirical film about a young election officer who is sent off to conduct polling in the middle of a jungle in Chhattisgarh.
Newton (played with the utmost sincerity by Rajkummar Rao) lands with a team of junior election officers and a handful of police personnel in a Maoist infested region.
And so none of the local villagers show up to vote.
Most of the film then has Newton making all out efforts with police support to get the villagers to exercise their right to vote as is guaranteed by the Constitution.
Newton won the CICAE Art Cinema award at the Berlinale.
While this is not the main jury award, it is still a major recognition for a film that narrates what may seem as a very Indian story, but still has universal appeala very Indian story, but still has universal appeal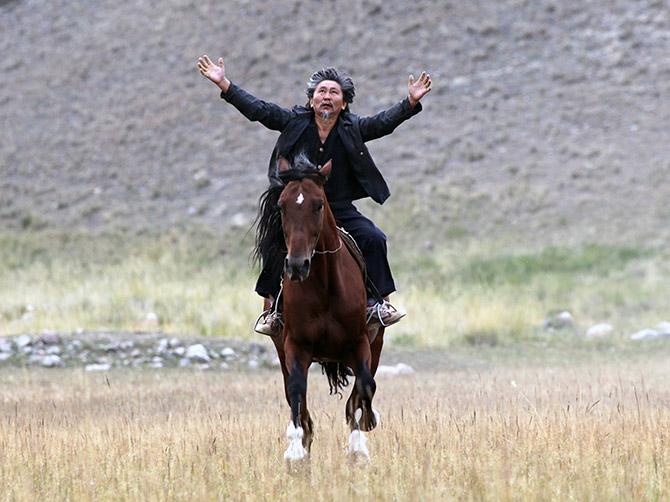 IMAGE: 'Centaur's quiet narrative has old world charm.'
Centaur (Kyrgyzstan)
Centaur comes from an unlikely place -- a former Soviet republic -- Kyrgysztan.
The story of a horse thief (played by the director Aktan Arym Kubat) is blended with local folklore, customs and the prominence of Islam in the region.
And the vast sweeping landscape -- mountains, rivers and lush green valleys -- adds to the rich experience of watching the film.
And for people in India -- especially those who love Hindi cinema -- the film provides a special treat with a homage to Raj Kapoor.
The horse thief or Centaur also runs a movie theatre and the most popular film he has played over the years is Raj Kapoor's Sangam.
At a time when Hollywood is making big technically advanced films packed with CGI, Centaur's quiet narrative has old world charm.
And that is what makes it so special.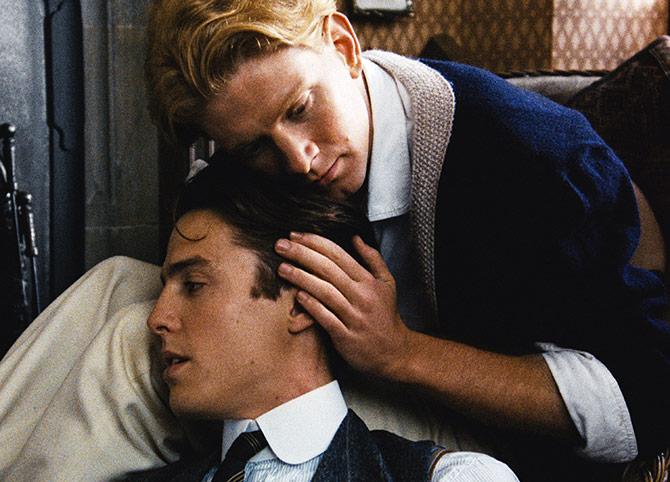 IMAGE: Maurice is a lovely film and 30 years after its initial release it remains very relevant.
Maurice (US/UK)
In addition to his scripted Call Me By Your Name, James Ivory had another presence at this year's Berlinale.
His 1987 classic Maurice based on E M Forster's unpublished novel has been given a new look -- a 4K restoration by the Cohen Media Group, which now has the rights to all of the Merchant Ivory films.
Maurice showed in the Berlinale Classic section which also included a restored version of Woody Allen's Annie Hall.
Gorgeously shot, Maurice is a heartbreaking tale of two young men -- Maurice Hall (James Wilby) and Clive Durham (Hugh Grant) who meet at Cambridge University in the early 1900s.
Their meeting results in intense love and a deep friendship.
But Clive is fearful the negative impact the gay relationship might have on the political career he is planning to embark on.
The two eventually take very different paths with Maurice realising that he cannot but live a gay life.
Maurice is a lovely film and 30 years after its initial release it remains very relevant.
Things may have changed a lot in the West, but Maurice is a stark reminder that the LGBT communities worldwide often have to continue living lives that are neatly packaged in lies.