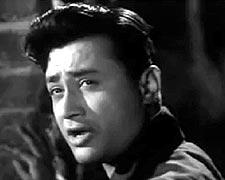 'Dev Anand was the king of my generation -- Western in his sensibilities and very carefree. I was in love with those movies and the promise of the exciting world that they presented,' recalls Aseem Chhabra.

The first Dev Anand film I fell in love with was Hare Rama Hare Krishna. The year was 1971.

I was about 15 and remember seeing the film with my parents at the Eros movie theatre in south Delhi. It was perhaps the first Hindi language film that truly spoke to me -- a modern tale of a brother and sister from a divorced family, living on separate continents.
It was an entertaining but also a tragic story of the brother searching for his sister, amidst the drugged-out hippies and others living on the edge of the society, in a paradise called Kathmandu.

Listen to Dev Anand's songs here

Until then, I had lived a rather sheltered middle class life in Delhi, but Hare Rama Hare Krishna made me understand what it meant to rebel. No, I did not start to take drugs or run away from home, but there was magic and so much of angst in the lyrics of the song that sort of became the anthem of the youth of that decade -- Duniya Ne Hum Ko Diya Kya? Duniya Se Hum Ne Liya Kya? Hum Sab Ke Parwa Kare Kyon? Sab Ne Hamara Kiya Kya?
There were two stunning, sexy actresses (Zeenat Aman and Mumtaz); there were the songs; and this spirit of being free, although supposedly it was all happening in Nepal.

In my own small way, I did rebel after seeing Hare Rama Hare Krishna. I saw the film twice and the second time without telling my mother. And perhaps that was my first big lie to her. Dev Anand had made me rather bold for my age.

A feew years later I saw his other projects -- Heera Panna, and Ishq Ishq Ishq -- that featured a whole slate of young actors, including his nephew Shekhar Kapur, Kabir Bedi, Shabana Azmi, fresh from her intense role as a wronged untouchable woman in Ankur, and of course, Zeenat.
Dev Anand was many decades older than his co-stars, but he was the king of my generation -- Western in his sensibilities and very carefree. I was in love with those movies and the promise of the exciting world that they presented.
Dev Anand taught me what it meant to be hip, cool and Indian.

It was also in the 1970s that I discovered the earlier Dev Anand -- the handsome, suave romantic movie star, quite unlike his other peers. It was the Dev Anand who would visit our living room occasionally on Sunday evenings on Doordarshan's one film night and on the half-hour long Chitrahar show (in Mumbai it was called Chaya Geet), that I would eagerly wait for every Wednesday.
I remember less of his acting -- although there was great, heartbreaking drama in films like Guide, Bambai Ka Babu and Hum Dono, one of the few Bollywood films with a real justification for a star to play a double role.
There were the early romantic thrillers -- Jaal and Baazi -- and later his pairing with some of my favourite female stars of the black and white era -- Waheeda Rahman, Sadhana, Nanda and Mala Sinha.

It is a common practice in India for film fans to associate a star with the songs he or she lip syncs on the screen. So we have many, many Dev Anand songs. It is not an easy task to run a countdown of the best songs he portrayed on the screen. I was always drawn to the sadder songs -- Hum Bekhudi Mein Tum Ko Pukare; Kabhi Khud Pe Kabhi Haalat Pe; and Dil Aaj Shayar Hai (although that brought Dev Anand into the awkward colour era, with garish costumes and a silly false moustache).

From these songs I learned the sense of tragedy, loneliness, and the pain of being betrayed. Then there were two winning songs from Kala Bazaar -- the playful, yet meditative Apni To Har Aah Ek Toofaan Hai and the romantic, free-spirited masterpiece Khoya Khoya Chand that captures mountains and open space way better than anything from the house of Yash Chopra.

Living in New York I do not subscribe to any of the Indian cable channels. So I do not see old Indian films on television. But the power of the Internet has made it possible to revisit Dev Anand's songs at all times. I can smile watching Dev Anand breaking into a small dance with Mala Sinha to Tasveer Teri Dil Mein, and feel a momentary sense of heartache with Chal Ree Sanjni Ab Kya Soche. And the world feels like an okay place to live in.

There was another Dev Anand that I was aware of in the last few decades -- the man who had become a victim of the myth of the evergreen hero, who made poorly conceived films with unknown actors that no one seemed to appreciate.
The list was long -- four films in just this past decade. How many people saw Chargesheet, Mr Prime Minister, Love at Times Square, and Censor?
It is not considered good to talk ill of somebody who is no longer with us, but watching Dev Anand from a distance (I did see in him person a few years ago when he came to New York to launch his autobiography), I could not help think that he was no longer in touch with reality. His refusal to age gracefully was a part of the problem.
In recent years the so-called youthful Dev Anand had become a caricature of the man who taught me the meaning of being young.

I was disappointed with the man in recent years, but I am indebted to him for his huge contribution to who I am today.

He enriched my life, and filled my heart, mind and soul with so many songs. That rebellious song from Hare Rama Hare Krishna still speaks to me -- Chaahe Jiyenge, Marenge/Hum Na Kisi Se Darenge/Hum Ko Na Roke Zamana/Jo Chahenge Hum Karenge.

Please post Your Tributes to Devsaab here
More tributes:
What made Dev Anand different from Raj Kapoor, Dilip Kumar?
'You will always remain our Hero, Devsaab'
Dev Anand, The Star who became the Sun