Action flicks and catchy songs are synonymous with each other. Composer Pritam knows it very well. After scoring chart-toppers for Dhoom and Dhoom: 2, the man is back at the helm of another thrilling drama, Race.

The Abbas-Mastan film starring Anil Kapoor, Saif Ali Khan, Akshaye Khanna, Bipasha Basu, Sameera Reddy and Katrina Kaif revolves around romance, double cross and murder against the backdrop of horse-racing.

The twin CD pack features the original soundtrack and its eccentric club and lounge remixed version by DJ Suketu.

So does the Jab We Met music director make Dhoom this time as well? To some extent.

Race saanson ki opens with a pulsating guitar whiff which sounds straight out of a Deep Purple ditty. Strings aside, the high voltage cracker is as kick ass as it gets with its beaming intensity and unmistakable verve, courtesy Neeraj 'Bhool Bhulaiyaa' Shridhar and Sunidhi Chauhan. The immense oomph factor of this track is repeated in another version of the same with its high-on-English lyrics.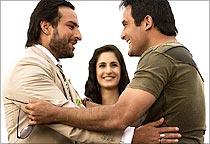 The title track is followed by the beauty, Pehli nazar mein. One doesn't have to be an Atif Aslam fan to enjoy the suppleness
of his rendition or the dreamy air of this love-at-first-sight number. The romance-filled winner smoothly grows on its listener and bears tremendous repeat value.

Vivacity can do wonders for the most mundane of songs. Dekho nashe mein is a case in the point. Shaan, Sunidhi and KK pump up the dancefloor with their energetic performance to this otherwise ho-hum Pritam creation. There's an alternate Latin Fiesta mix boasting of additional Latino beats and an accelerated pace. As the lyrics emphasise, there's a whole lot of 'shor' (noise), nothing more, nothing less.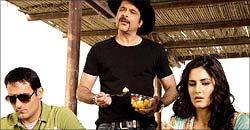 Taz, Apache Indian and Sunidhi join hands for this part reggae-part bhangra concoction, Mujhpe to jadoo. The curious combination while nothing ground-breaking is harmless enough to enjoy a uninterrupted play in the backdrop.

If Dhoom 2 had Alisha Chinai crooning Touch me, Race features Monali at her sizzling best in Zara zara touch me. Pritam's song of seduction moves at a flirtatious tempo but isn't exciting enough to keep the listener hooked for long. The Asian RnB mix of the same is content being stylish and doesn't aim for that killing extra something.

The mysterious objective of this action thriller is articulated through a heavily electronic instrumental Race theme.

Bottom line: Two rocking numbers, four run-of-the-mill songs and a whole bunch of eclectic remixes is the best Race has to offer.
Rediff Rating: