In What's Love Got To Do With It, Shekhar Kapur makes the simple point that when it comes to love, nothing else matters, observes Deepa Gahlot.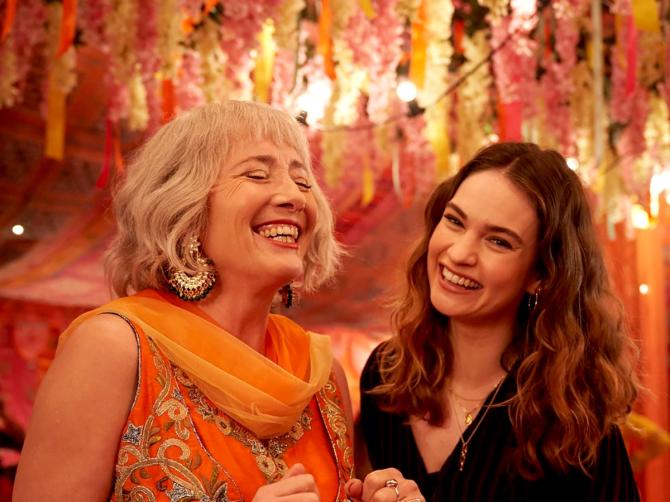 This is multi-cultural Britain, where the Khan family of Pakistani origin and a white British family live next door to each other, without any overt signs of racism.
However, even if food is exchanged and festivals celebrated together, the idea of an inter-racial relationship seems unimaginable.
Shekhar Kapur's romcom What's Love Got To To With It, working with Jemima Khan's script, cleverly places the classic When Harry Met Sally tropes into a contemporary cross cultural skillet, tosses some Bollywood masala in and sees what sizzles.
At least some of the enjoyment in watching the film is knowing exactly how it will end, but still being curious about how it will get there.
Kazim 'Kaz' (a handsome Shazad Latif, with heart-stopping dimples) is a Britisher of Pakistani origin, a doctor, who is just on the right side of tradition -- he smokes, he drinks a bit and his best friend is neighbour Zoe (a radiant Lily James).
But when it comes to marriage, he is willing to go with an arranged match, just like his brother -- 'assisted marriage' as they now call it now, he explains to her.
Zoe, an award-winning documentary film-maker, is aghast that he will marry a woman he has never met. In response, Kaz quotes divorce rates of love versus arranged marriages (75 percent and 6 percent).
Zoe decides to make a documentary on this event, right from the meeting with Mo The Matchmaker (Asim Chaudhry), whose slogan is 'Don't Date, Don't Cohabit, Get Married' to the pull-out-all-stops wedding in Lahore.
Kaz's parents Aisha (Shabana Azmi) and Zahid (Jeff Mirza) had an arranged marriage, and she believes it is better to 'walk into like and fall into love'.
Unlike the individualistic Westerners, the Khans also care for their crotchety Nanijaan (Pakiza Baig), who had disowned Kaz's sister for marrying a white man.
Much to her mother Cath's (Emma Thompson) dismay, Zoe's love life is a mess.
Probably inspired by the neighbours, Cath tries to hitch Zoe with a handsome vet, James (Oliver Chris).
Dating apps are also a kind of arrangement the film says, and slyly references Prince Charles' arranged marriage to the royally approved Princess Diana.
Meanwhile, Kaz has a few video chats with the demure Maymouna (Sajal Ali) and decides that she is the one.
With her mother in tow, Zoe travels to Lahore to capture the wedding ceremonies.
As Cath gets into ethnic outfits and joins the Bollywood dance number at the mehendi, some stereotypes about Pakistanis are busted.
Kaz is more affected than Zoe because she had no pre-conceived notions about life there. (Kapur manages to fit in a rousing Rahat Fateh Ali Khan devotional song, into a quick guidebook tour of Lahore's colourful bazaars).
By using the device of Zoe shooting the wedding, Kapur observes the chaos with slight detachment. For him, with his Bollywood past, it is nothing new. Through Zoe, he can see it with a fresh perspective since she is delighted and awed with the festivities.
Jemima Khan's first script is competent, if not genre-bending.
Kapur wisely takes no sides in this arranged versus love debate though what he believes is clear by the end.
Till he steers the viewer there, he fills the screen with vibrancy (shot by Remi Adefarasin, nominated for an Oscar for Kapur's Elizabeth) and wonderful actors like Shabana Azmi, who lends her Aisha a strength and serenity that is often seen in women from conservative families, aware that they are actually the glue that keeps the clan together; and Emma Thompson, who visibly enjoys the joie de vivre of the character.
Kapur keeps the tone light and does not entangle himself with heavy arguments about cultural differences, though Kaz does talk about the sense of belonging that Zoe takes for granted because she is British, not just British-born like him.
Kapur makes the simple point that when it comes to love, nothing else matters.
Heck, Bollywood always knew that!
What's Love Got To To With It Review Rediff Rating: