A few facts about Jodi Kya Banayi Wah Wah Ramji: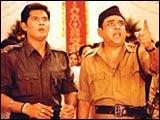 Director Raman Kumar's name does not find mention in the credits. The producers reveal they had creative differences with the director. The director says he dissociated himself from the film because the producers didn't want to redo a few patchwork scenes.
Result: a jerky film.
Novelist Ramprasad (Paresh Rawal) gets an ultimatum from his publisher (Rakesh Bedi). Suspense thrillers do not work anymore he is told. He has to write a love story if he wants his work to see the light of the day.
Doesn't seem like a Herculean task now, does it? All he has to do is ask his neighbours -- Vishal (Amar Upadhyay) and Priyanka (Reema Sen) -- for help. The neighbours are willing on the condition that Ramprasad returns the favour.


| | |
| --- | --- |
| | More on Rediff: |
| | |
Vishal and Priyanka's fathers (Tiku Talsania and Gulshan Grover respectively) are best friends and business partners. To seal the bond further, they decide to get their children married. 
Twist in the plot: Vishal and Priyanka can't stand the sight of each other.
If Ramprasad helps them break the engagement, the incompatible couple promises to help him with his love story. The plan can only work if Vishal and Priyanka's dads cease to be friends. But none of Ramprasad's schemes work.
What now? Get a lookalike of Priyanka's father, but of course!
By the time Ramprasad succeeds in cracking the friendship, the warring children fall in love. How original!
A series of torturous seqeunces in the name of movie-making follow which make you want to tear your hair apart.

Jodi Kya Banayi Wah Wah Ramji makes you wonder how redoing some patchwork scenes would have helped the film. It is a disaster from the word go. Be it the acting, the characters, the screenplay, the music or the dialogues.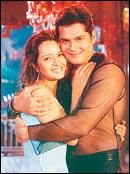 Amar Upadhyay should stick to television if this is what he has to offer. Hopefully, J P Dutta's LoC will bring him better luck. As for Reema Sen and the rest of the cast, the less said the better.

Paresh Rawal looked as if he would rather be some place else. By promoting it as a Paresh Rawal comedy, the makers have tried to cash in on the latter's popularity after movies like Hera Pheri, Awara Paagal Deewana and Hungama. Unfortunately for the viewers, they forgot that it takes more than just a seasoned actor for a film to work.

Credits
Cast: Paresh Rawal, Amar Upadhyay, Reema Sen, Gulshan Grover, Tiku Talsania, Rakesh Bedi, Avtaar Gill
Director: Raman Kumar
Producer: Arc Entertainment Ltd.
Music: Anand Raaj Anand
Lyrics: Dev Kohli
Writers: Umesh Shukla, Anurag Prapanna