Vishwaroop 2 gives one's nationalistic adrenaline a high, feels Syed Firdaus Ashraf.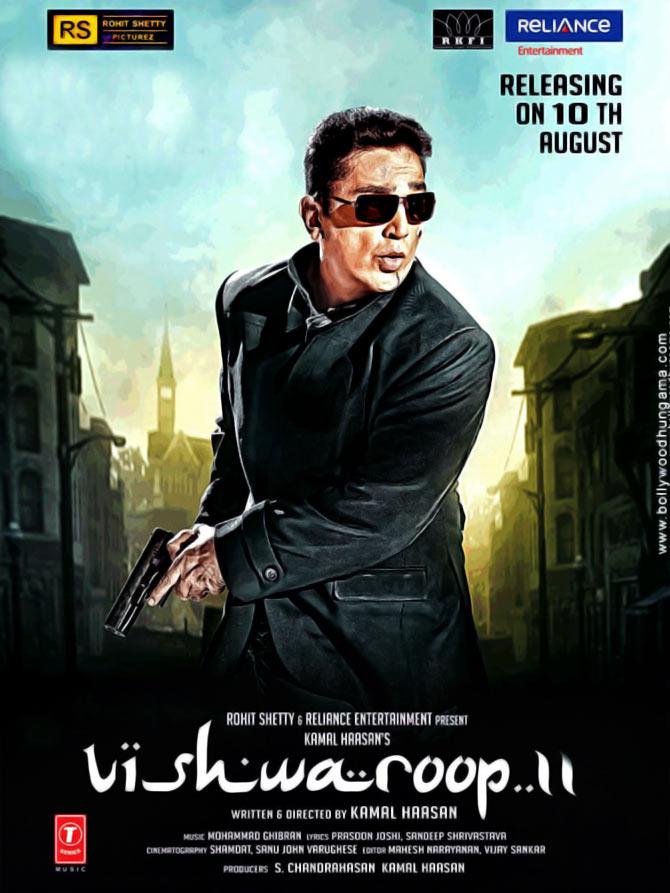 'All Muslims are not terrorists, but all acts of terror are committed by Muslims.'
Those who suffer from Islamophobia often quote this line, knowing fully well that you can't paint an entire community with a terror tag. Still, they use it while describing Muslims.
Kamal Haasan -- the star and director of Vishwaroop 2 -- has come up with a new version of his own Islamophobic dialogue in the trailer for his new film: 'Musalaman hona gunah nahin hai par aap jaisa insaan hona haraam hai (It is not a sin to be a Muslim, but a person like you is evil).'
Of course, we don't know if the person he is speaking to is a Muslim.
And Priyanka Chopra, please note, no one is protesting yet. Let's wait and see if Kamal Haasan has to apologise or not.
The Vishwaroop 2 trailer also talks about locating a hidden bomb.
Indian spies are looking for it. Needless to say, Kamal Haasan will find it before anyone else does.
So the star fights evil on the ground, in the air, on a chair, near a chopper, under the sea...
There's also a liplock.
Movie legend Waheeda Rehman is a surprise element in the trailer.
In these times of competing jingoism, Vishwaroop 2 gives one's nationalistic adrenaline a high.
Vishwaroop -- the first movie in the series despite its hardline against Islamic terror, what with scenes in Afghanistan, a cinematic bin Laden making a cameo appearance -- didn't do well at the turnstiles.
Vishwaroop 2 may not set the box office alight, but it could be the perfect launch for Kamal Haasan's political career -- which really hasn't taken off despite all the hype -- before the next assembly election in his native Tamil Nadu.