Syed Firdaus Ashraf is unimpressed by the Uri trailer.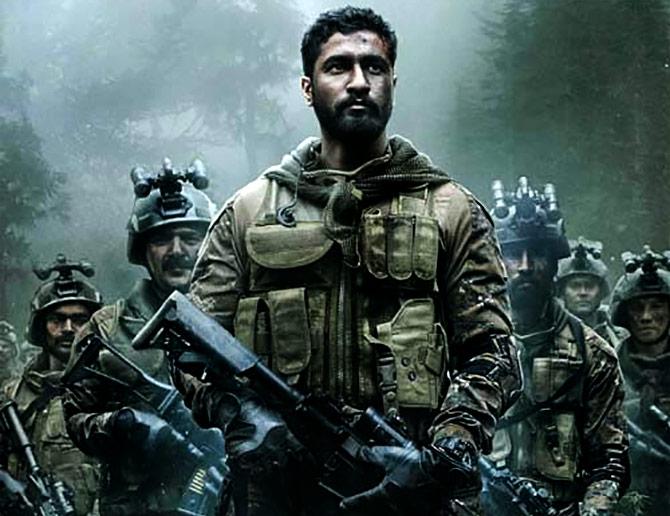 Sarhad par tanav hai kya?
Kuch pata karao chunav hai kya.
Rahat Indori's verse rings true: When it's the season of war, elections are probably around.
An apt verse for a peacenik like me who does not understand the business of war.
On the night of September 28-29, 2016, our special forces entered Pakistan occupied Kashmir and killed terrorists in retaliation for the attack on the Indian Army camp in Uri 11 days earlier where 19 soldiers had died.
What should have been hailed as an achievement for the Indian Army was turned into a political gimmick for the BJP.
Posters with the prime minister's visage on it reportedly appeared across Uttar Pradesh ahead of the assembly election in that state with the line 'Hum tumhen marenge aur zaroor marenge (We will kill you and we definitely will).'
The BJP won an unprecedented majority in the UP election in March 2017.
A few months before the 2019 general election comes Uri, which releases on January 11.
Not surprisingly, actor-turned-BJP MP Paresh Rawal plays the sutradhar in the Uri teaser, spewing dialogues like, 'Yehi mauka hai unke dil mein dar bithane ka', 'India will no longer keep quiet' and 'This is the new India. This India will invade their homes and hit them where it hurts.'
Vicky Kaushal is brilliant in the few glimpses you see of this fine actor in the Uri trailer.
The battle scenes have been picturised well.
I doubt Uri will answer my question though: Did the terrorist attacks end after the surgical strike?
In 2017, 83 of our soldiers were slain by terrorists. Seventy one soldiers have perished so far this year.
So what did this 'new' India achieve, Pareshbhai? More dead bodies of our soldiers?
The time has come to recast Rahat Indori's verse for these strange times: Bollywood mein desh bhakti ki film chal rahi hai kya, kuch pata karo chunav hai kya.