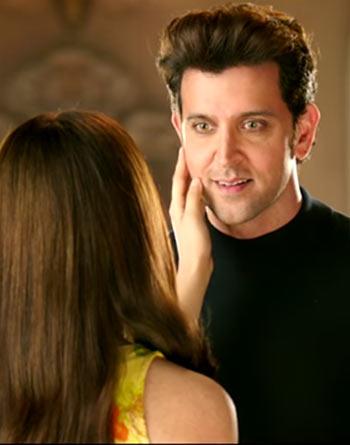 Hrithik Roshan and Yami Gautam are blind and beautiful in Kaabil.
Rediff.com's Syed Firdaus Ashraf reviews the trailer.
As a child, when we watched a blind Moushmi Chatterjee sing Woh Kya Hai Ek Mandir Hai in Anuraag (1972), my aunt commented, 'How come this blind heroine has set her hair so well? I have tried to do it many times, but haven't managed.'
Times don't change in Bollywood.
In the trailer for Sanjay Gupta's Kaabil, I saw a smart looking blind couple -- Hrithik Roshan and Yami Gautam -- change their clothes some 11 times in two minutes, 22 seconds!
Hrithik is so slick and clean shaven that one feels he's doing an ad for a shaving cream.
Yami's shining white teeth look like she's promoting Patanjali toothpaste.
The trailer tells you some sort of tragedy has struck this happy couple.
Hrithik is preparing to get to the bottom of it by 'playing a game which has no life lines.'
Looking at the trailer, I feel the real tragedy will strike the producers of Kaabil on January 26, when the film releases.