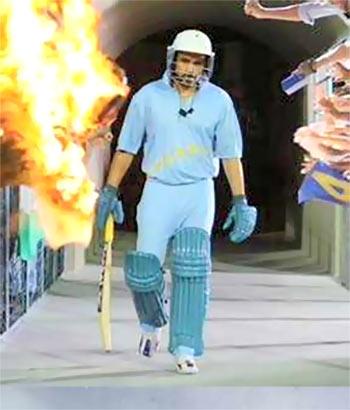 On the evidence of a first teaser, it doesn't look like Emraan Hashmi's Azhar trying hard enough.
The man with the golden wrist, Mohammad Azharuddin will be remembered for many things: his wristwatches, his hastily mumbled "boys played well" speeches, his flair, and a captaincy so long-running that Pepsi made an ad to show how everything changes in Indian cricket except for Captain Azza.

Those are all memories we created before we learnt he'd sold out, fixed matches, broken a nation's heart.
It has always been a mythic rags-to-riches-to-infamy tale, one that could definitely make for a truly compelling sporting biopic.

Azhar, releasing May 2016, could be that film but right now, on the evidence of a first teaser, it doesn't look like it's trying hard enough.
All we see is a man in India blues stride out of the pavilion with his collar up. As he walks out to boos and hisses, a spectator jumps him and turns his collar down in anger.

All this while Emraan Hashmi gives us a weird voiceover as how he, Azhar, is known for three things: that he's Muslim, that he's married, and that he's fixed matches. This is a confounding set of highlights, by any measure, save for the final, inevitable one: he wasn't our first Muslim captain, and certainly not the first wristy stroker of the ball to be married, but hey.

This is made all the worst 'cause Hashmi uses his regular speaking voice and doesn't even remotely try to sound -- or to intone -- like that notoriously inarticulate but rather distinctive mumbler. If this film, directed by Blue director Tony Singh, doesn't even get the speech right all we have left is a corrupt guy with swagger and sunglasses.

Oh, and the collar.

In itself, the collar thing isn't bad imagery -- though it is overdone, and Azza's collar, while eternally raised, was up in a loose, chilled sort of way. This one's too stiff.
Let's hope the film isn't.