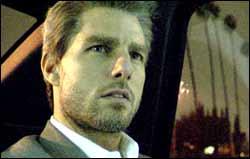 Moving with red hot speed, Collateral grabs attention right from the start, and though it limps a bit towards the end, it still emerges as formidable entertainment.
Though the film may attract mainly a male audience because of its violence, it could have a wild box-office ride, giving the summer a grand farewell.
The movie, which unfolds over a merciless night in Los Angeles, was written by Stuart Beattie. But you feel as if Raymond Chandler and Michael Connelly, superb writers belonging to different eras, breathed more life into the script, endowing it with darkness and black humour.
Even then, don't expect an existential ride into hell like Martin Scorsese's New York saga Taxi Driver or a deeply felt Los Angeles crime drama like Roman Polanski's Chinatown.
This is a feverish, slick ride. Nevertheless, it is a ride that is not easy to forget, at least for a few days.  
With a solidly crafted performance from Jamie Foxx (last seen in India in Ali) that could easily catapult him into the class of character artists such as Samuel L Jackson, the gritty film offers surprising twists and turns as the bodies pile up. 
Foxx's character, the cab driver forced to drive around with a contract killer, has to devise means to save at least one life, apart from his own.
Several times in his career Tom Cruise has accepted movies like Rain Man, perhaps suspecting that fellow artists such as Dustin Hoffman will overshadow him. But Cruise does not seem afraid of being outsmarted by his co-stars. His charisma is formidable, even when he plays a smiling cold hearted villain in Collateral.
Foxx plays Max, a somewhat naive Los Angeles cabbie who does not initially suspect anything is wrong with his latest fare, Vincent (Cruise). His night had begun interestingly thanks to a ride by an alluring woman (Jada Pinkett Smith), a high ranking official.
But as Vincent, who earlier tested Max for his ability to negotiate Los Angeles streets on a tight schedule, starts his killing spree, bumping off federal witnesses, the cabbie feels hopeless. The script conceives a couple of interesting scenarios that bond Max and Vincent in a surrealistic way. There is even a slightly amusing scene in which Max is ordered to visit his
hospitalised mother (the ever-so wonderful Irma P Hall), pretending all is well. And there is a chilling sequence in which Max is forced to pretend he is Vincent to a druglord (a menacing Javier Bardem seen in a handful of scenes).  
Mann has made several crime movies like the 1986 Manhunter (the precursor to the Hannibal Lecter films) and the 1995 hit Heat (Robert De Niro and Al Pacino) -- plus emotional thrillers like Last of the Mohicans and The Insider, apart from Ali.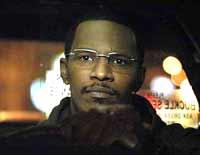 Collateral is one of his better crime films. It is more streamlined and has far more arresting and well-defined performances than most films currently in theatres.
Foxx's performance gains considerably because like characters in Mary Higgins Clark's novels he too is an ordinary man pushed into extraordinary circumstances for no particular reason.
As the story unfolds, we see his exasperation, fear and finally, determination to save his life -- and stop another killing. That the story unfolds in an eerie Los Angeles heightens its impact.
Jada Pinkett Smith turns up again in the last half hour or so, and the story becomes an even more urgent survivor drama. 
While it is easy to applaud Foxx for his riveting performance, one can't ignore Cruise's dynamic work as a ruthless cobra that knows exactly when to strike.
Mark Ruffalo, one of Hollywood's most impressive young character artists, has a small but key role as a cop. It take some time to recognise him but once you know who it is, you admire his ability to fly under the skin of varied characters in film after film.      
Collateral
Written by: Stuart Beattie
Starring: Tom Cruise, Jamie Foxx, Jada Pinkett Smith, Mark Ruffalo, Peter Berg, Irma P Hall, Javier Bardem
Directed by: Michael Mann
Running time: 1 hour, 58 minutes
Rating: R for violence and language
Distributed by: DreamWorks