War is an ode to star power, which pits Hrithik Roshan and Tiger Shroff together for the first time and capitalises on their famous idol-idoliser energy to draw us into a world of espionage, action and camaraderie, says Sukanya Verma.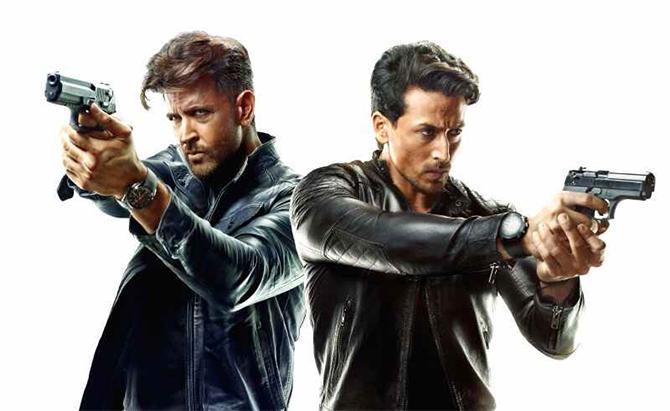 There's an unofficial genre of Hindi movies.
Some may confuse it for masala.
But not everything excessive or logic-defying is masala. Its requirements are much more wide-ranging and wholesome than it gets credit for.
I am referring to the star vehicle.
Under this sub-genre, who headlines the movie is enough to determine the bang for your buck.
It could be utter baloney (like an intelligence officer learning his subordinate has blind spot in right peripheral vision, cut to a energetic Holi dance in a mountain) and you'll still not budge, such is its bizarre influence.
Empowering lazy filmmaking since time immemorial, it is a testament to silver screen magnetism.
War is an ode to such star power, one that pits Hrithik Roshan and Tiger Shroff together for the first time and capitalises on their famous idol-idoliser energy to draw us into a world of espionage, action and camaraderie.
There's little time to roll your eyes between War's hectic itinerary of exotic globetrotting, hi-tech gizmos and ambitious set pieces proceeding at breakneck speed across Portugal, Italy, Finland, Sweden and, occasionally, India.
Planes, cars, boats, bikes... no automobile is spared to further its fast and furious aspirations.
Big studio students and spies are seldom dowdy.
The ones in War clean up nice in hip haircuts, nipple-popping tight shirts, snazzy linens and the grooviest variety of military-inspired fashion.
The cheapest car you'll spot is probably a Mercedes.
Every bulging bicep on display, including a Khal Drogo knock off, appears to be on a strict diet of protein shakes and quinoa salad.
Director Siddharth Anand is the only one allowed cheat days.
His story -- for which he shares writing credit with producer Aditya Chopra and a screenplay co-written by Shridhar Raghavan -- is heavily influenced by Hollywood fare like November Man and Mission: Impossible 2 with a touch of desi bringing Aakhri Raasta, Don: The Chase Begins Again and master kahani-mein-twist givers Abbas-Mustan to mind.
Abbas Tyrewala's dialogues pitches in his brand of dramatic eloquence to the show.
Or should I say spectacle?
Originality was never director Siddharth Anand's forte –- the scene when Vaani Kapoor is en route to meet a dubious fella on a motorboat is done in the same, slow-motion fashion way Thandie Newton did in MI 2, down to the last flying strand of hair.
Getting viable, valuable stars on board is.
It's frustrating how he squanders his talent for textbook casting and lavish budgets in a threadbare plot that leaves one of its leading men high and dry and the other on to his own devices.
It's almost as though Anand was so pleased to have two perfectly suited actors on board, he decided he should leave it at that.
What ensues is a large-scale mess only the hardnosed will notice while the rest of us are busy getting enamoured by Hrithik Roshan.
The man has never looked this steely.
Roshan's green-eyed intensity breathes fires into his smouldering, sinewy, sunburnt physicality while his steady authority lends him a formidable, foxy air that's ideal for the inspiration he's meant to offer Tiger Shroff.
Tiger is a bit of a paradox.
It's not really his fault. He matches Hrithik Roshan step by step in dance and dishoom dishoom.
They have an unmistakable chemistry, underdeveloped as it may be, which has its moments.
'Get in line,' Tiger winks at yet another Hrithik aficionado (look at how every guy in the frame gazes at him in his entry scene) when she expresses her admiration and intention to elope with their Greek god boss.
Tiger builds up an emotional arc around his starry-eyed interactions to win the trust of his superior and comfort his mum (Soni Razdan in a brief but solid turn). But he's short-changed to accommodate a stale twist in War's wayward movement.
He's still better off than Vaani.
She has more clothes than scenes in War.
There's no time to feel sorry for either when all your focus is taken up by the star who looks like he hasn't had let his hair down in a long, long time.
After all, everything is fair in you know what.
Rediff Rating: