'I am actually fighting to become the center of attraction because Hrithik and Tiger are getting all of it!'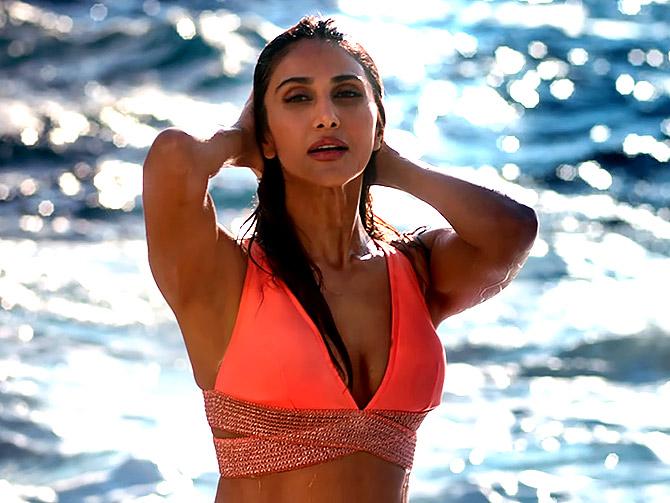 Vaani Kapoor is thrilled to work alongside gorgeous hunks like Hrithik Roshan and Tiger Shroff in Yash Raj Films' War.
"It's amazing to get a chance to work with such co-actors in my career," she tells Rediff.com Contributor Divya Solgama.
War is an action movie with two lead actors taking centerstage. Where do you fit in?
My character has a graph, which is nicely linked to the story.
So even though it is driven by the two megastars, there is a lot of story behind it.
How do you feel being the center of attraction in this film?
I am actually fighting to become the center of attraction because these two are getting all of it! (laughs)
But on a serious note, they are phenomenal when it comes to the acting, looks, action, dance, everything...
It's amazing to get a chance to work with such co-actors in my career.
Do you have any action sequences?
I can't talk about that, unfortunately.
But I love watching action films like Charlie's Angels, Naked Weapon...
I love superheros.
Actors like Akshay Kumar, Hrithik Roshan and Tiger Shroff are so good at action films.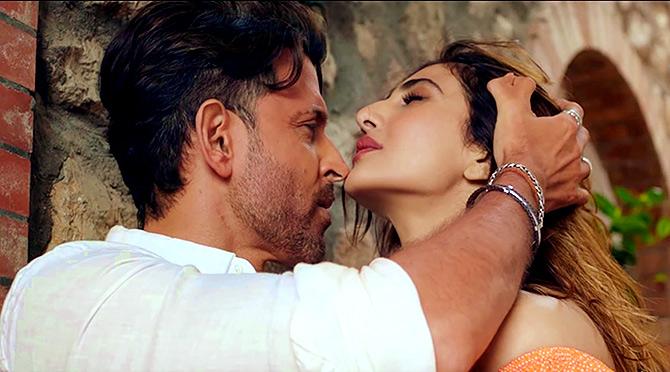 Were you nervous about dancing with Hrithik Roshan?
Yes. I still remember that we were doing a groovy step for a song, and he asked me to be calm and have fun while dancing.
But when we cut, I saw myself on the monitor and realised that he was not having fun.
He was doing it properly.
I was the only one having fun while dancing! (laughs)
Jokes apart, it was a lot of fun dancing with Hrithik.
Tiger says he's Hrithik's fan. Did you see that on set?
I don't have any scenes with Tiger but have seen them off set.
He is very sweet, polite and honest.
How did you get War?
I was prepared to be auditioned by Sid because I have been auditioned for all my films.
But we met once and everything was finalised.
In fact, Adi also asked Sid to audition me. He wanted to be sure about selecting the right actress.
In YRF, you get films via auditions unless you are Ranveer Singh and Anushka Sharma.
So I was all set for the audition but Sid just liked me.
How was your experience experience with director Siddharth Anand in War?
Sid is super-cool in nature.
Adi (Aditya Chopra, who directed her in Befikre) is cool but he's someone I respect.
Adi is more grounded in real life while Sid is very flamboyant.
I feel he's of my age and I can gel with him.
But even though Sid is relaxed and easy-going, he can still make a larger-than-life film with two superstars.
War is shot abroad but your next film Shamshera is set in India. Was the travelling tough?
I love travelling!
I have been travelling for every film of mine, like Shuddh Desi Romance, Befikre and War.
I have never really shot in Bombay.
But for Shamshera, we are shooting a lot of scenes in Bombay. I'm relieved to be back.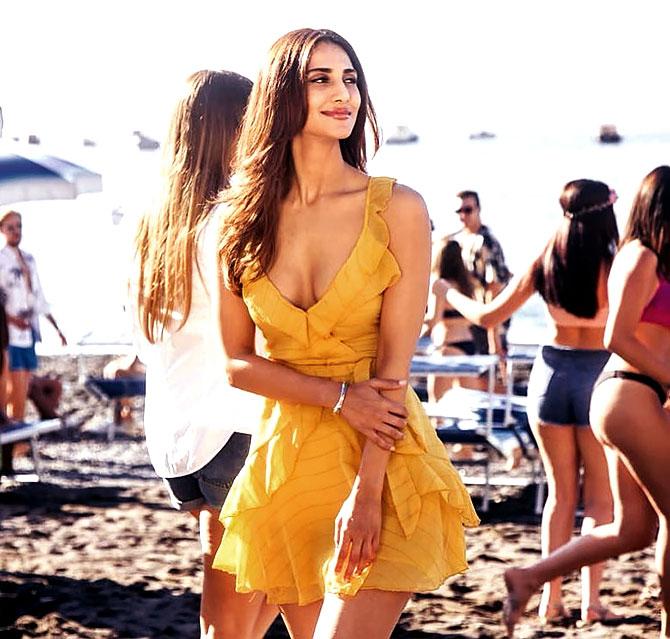 How was your working experience with Ranbir Kapoor and Sanjay Dutt during Shamshera?
It was amazing!
Sanjay sir is adorable. He's like a little child under the big exterior.
He is super-sweet, kind-hearted and very soft as a human being.
I love watching Ranbir on screen.
When I worked with him, I realised that he was such a normal guy with no superstar baggage.
He does not have a diva or star-like behavior and that makes my life so much easier.
I don't have to focus on anything apart from my acting.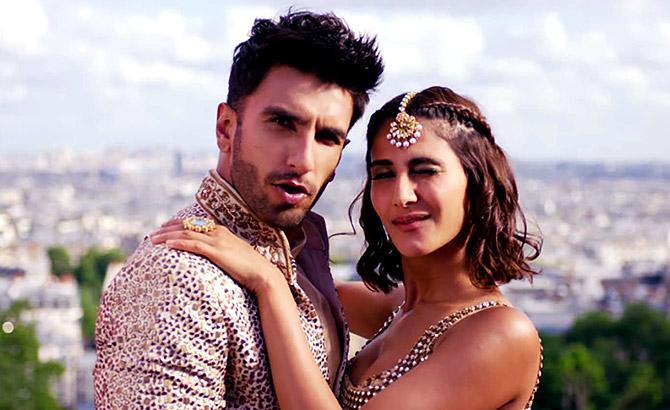 Your last film Befikre was in 2016. Why did you take a gap of three years?
I was choosy, that's why I took three years to do another film.
I was offered many scripts but there was something or the other that I didn't like about them.
It's not like I am a megastar and have an insane amount of scripts to choose from.
But I thought it was better to wait for something better to come.
How the industry changed you as a person? Have you made any friends?
I have evolved as a person.
But I don't know many people in the industry.
I haven't socialised that much.
I've made friends with those I have worked. For instance, Ayushmann and Ranveer are super nice.
I have hung out with Anushka.
(Filmmaker) Maneesh Sharma is still a friend of mine.
Are you considering films outside the Yash Raj banner?
Yes. There are so many people in the industry that I want to work with.
I'm being offered various scripts; I am reading and evaluating them.
Are you a foodie?
I am super foodie person.
I have a cheat meal everyday, which is very horrible! (laughs).
I love chocolates; they make me happy!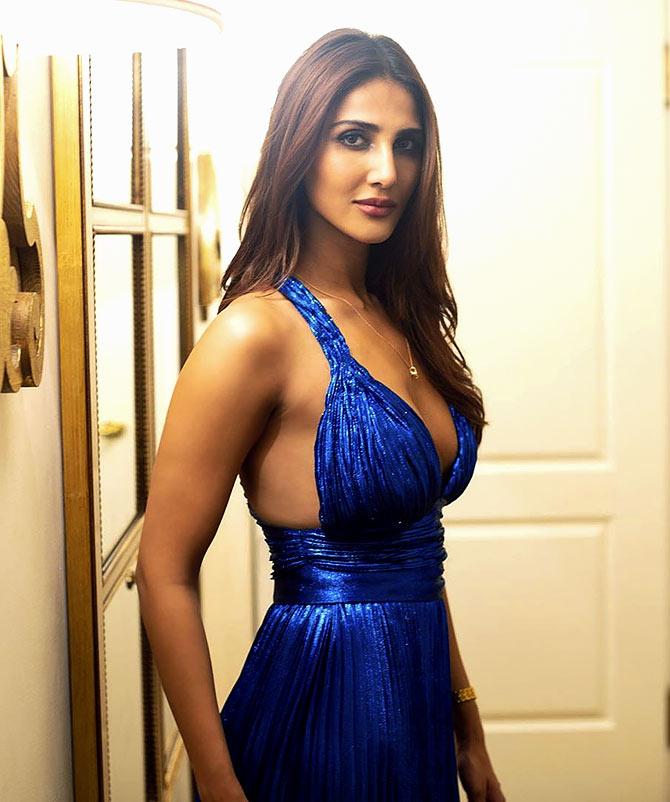 What's the best advice you have received from Aditya Chopra?
He tells me to be who I am, and not be under any pressure.
He says, never do something your heart doesn't feel right about.
People tend to give a lot of advice like don't let go of opportunities, be more visible, socialise...
When I told Adi that this was not happening organically, he said you don't have to do such things.
He would I would attract like-minded people, who would appreciate the kind of work I do.
Were you ever intimidated by him?
Actually, I was scared of Maneesh Sharma, more than Adi.
He was the director of Shuddh Desi Romance and had that judgy look!
Also, I never understood my character Tara and her whole thought process.
But I am extremely proud of that film, and it's all because of Maneesh Sharma.
He made me play that character somehow.
I am very grateful to him.