The Tattoo Murders doesn't make for relaxed viewing, but you can give it a dekko if you dig the genre, says Joginder Tuteja.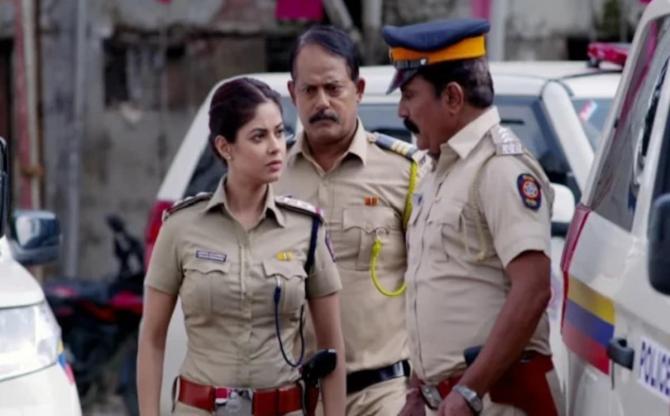 A female cop (Meera Chopra) goes through endless heaps of real garbage to look at a dead body.
The young women who play prostitutes stand next to dingy by-lanes to recreate a scene of solicitation.
The villain (Tanuj Virwani) spends his life in a tiny prison cell despite, as the master of all the mayhem, dealing in lakhs of rupees.
The Tattoo Murders -- it was earlier titled Kamathipura -- is both realistic and disturbing. To be honest, this Shravankumar Tiwari-directed Web series is not for everyone. It doesn't make for easy viewing.
If last year's Paatal Lok touched the bottom of the barrel, then this one explores the dirt under it was well.
There aren't any moments of relief because of which The Tattoo Murders turns out to be way too dark, even depressing at times.
In Pataal Lok, there were bits of wry humour due to the manner in which the narrative unfolded. Also, the visuals went from dingy to bright as characters from different walks of life made their appearance.
Since 80 per cent of The Tattoo Murders is set in Kamathipura or similar places, there is no such hope.
Fortunately, there is control over the language. Yes, there is a cuss word or two but they don't liberally pepper the script.
That means even as three prostitutes are killed in mysterious circumstances and left with a scorpion tattoo on their wrist, neither Meera nor Tanuj go out of control.
Meera maintains her cool disposition as she works in conjunction with her senior (Anang Desai), while Tanuj tries to figure out who is bumping off his prized possessions every second night.
A psychological angle is thrown into the mix as well and it occupies a good part of the narrative. However, it would have had a much better impact had it been cast, and directed, better.
The woman who plays the psychologist is out of place and pulls down the graph of every crucial scene she appears in. In fact, the bane of many such scenes is that they do not feature the principal cast.
The supporting cast in this Web series is very weak (barring the cop who plays Meera's junior) and that reduces the impact of some of the good scenes as well.
Thankfully, the pace here is largely uniform and the credit goes to Composer Amar Mohile. His filmi spin is in your face; he does not leave room for subtlety.
Also, the twist in the climax is quite good; not many will see it coming but it fits well in the story.
Tanuj has come up with a credible, subtle act. It is quite different from the work he has done in Inside Edge, Code M and Poison. His dialogue delivery is good.
Meera, as the protagonist, holds her own. That said, she comes across as rather vulnerable and, since her real personality is such that you feel protective about her, playing a tough cop must have been challenging. The good part is that she understands the graph of the character and keeps it consistent till the end.
That holds true for the Web series as well. Though on the dark and disturbing side, it is consistent from the start to the end. It doesn't make for relaxed viewing, but if you dig the genre, you can give it a dekko.
Rediff Rating: