Pranaam leaves you even more disappointed, writes Karan Sanjay Shah.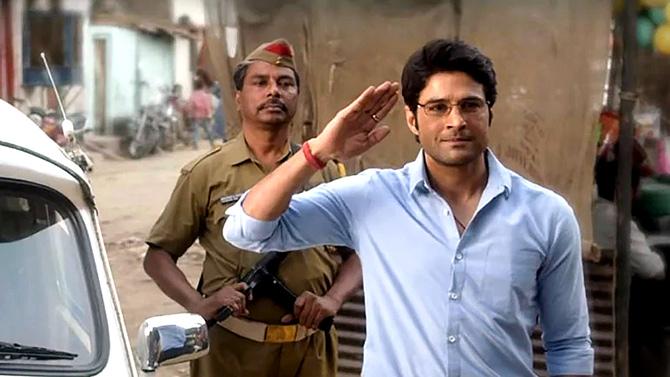 You'll want to say goodbye, not Pranaam, to Rajeev Khandelwal's new film.
We all know the actor from his hit television serial, Kahiin To Hoga, which he followed up with two impressive outings in Bollywood, Aamir and Shaitan.
But he could not live up to his image in the films that followed.
Pranaam leaves you even more disappointed.
The film starts off with an injured Ajay Singh (Rajeev Khandelwal) driving to his father's house, which is a hut in some part of Lucknow.
He enters, closes the door and goes into flashback.
From there on, we follow the story of a poor, aspiring IAS officer, who is on a mission to fulfill his father's dream. Even his love story with a beautiful girl and aspiring IAS officer Manjri (Sameksha Singh), cannot stop him from achieving his aim.
But what makes him change direction and turn into a gangster?
Rajeev and Sameksha's jodi is fresh and their onscreen chemistry is good. The way the emotional graph of Rajeev's character goes and how he gets affected by his father's struggles is touching.
The father-son bond is really heartwarming.
But Khandelwal is not in his element here; we have see him do much better.
Atul Kulkarni, playing an inspector, and Abhimanyu Singh, playing a student leader in college, have interesting characters and stand out. Sadly, they don't get enough screen time.
Pranaam tells its story in two hours but it feels way longer.
It drags and is predictable in parts.
There are too many slow motion scenes in the film.
The direction and writing by Sanjiv Jaiswal is quite shoddy. Some frames are dull and there are some forced scenes. There is unnecessary drama and emotion.
There are no hard-hitting dialogues or scenes.
The climax seems rushed.
Some of the action sequences are far-fetched and the CGI work is not up to the mark.
Composer Vishal Mishra has made good music but some songs could have been avoided.
Khandelwal had said in his interview that the film's tag line -- 'An IAS officer turned gangster' -- tells the whole story.
But the line seems wrong, as his character simply clears the exam, he does not get recruited as one!
No one can save Pranaam. Watch it at your own risk!
Rediff Rating: