Made In China is puerile, flimsy film-making, sighs Sukanya Verma.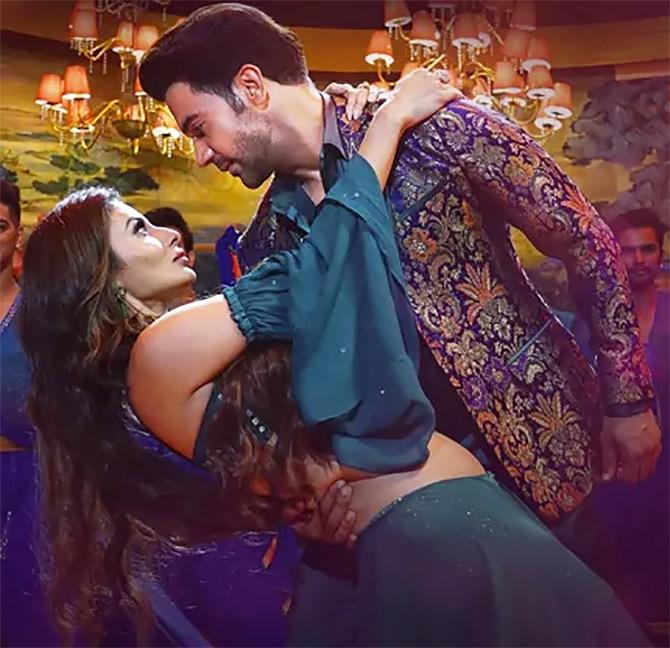 You can only imagine how slippery the ground is when a character belts out entrepreneurial gyaan from a Trimurti song.
Yes, that same Subhash Ghai catastrophe nobody remembers fondly let alone take inspiration from.
The title of Mikhil Musale's Made in China suggests one thing. Its hodgepodge of multiple themes, entirely another.
It wants to show the difficulties of setting up a successful business but its preoccupation with sexual taboos is where it gets its excitement from.
Neither make for compelling viewing.
Alternating between pedestrian comedy and overwrought drama, Made in China's biggest problem is its inclination to repeatedly digress, resulting in fleeting interest in its helter-skelter proceedings.
A Chinese diplomat has dropped dead after consuming a bowl of Magic Soup.
Two tetchy cops are at the helm of the criminal investigation that could spark off an international controversy between the friction-prone nations this movie couldn't give two hoots about.
Instead, a series of flashbacks let us into a small-time businessman's (Rajkummar Rao) silly schemes to make big bucks before he became the patron of Magic Soup, suspected to be the cause of the dignitary's death.
From Emu eggs to Nepali chataais, our man gloriously tries and miserably fails.
By now we are all too familiar with Rao's capabilities as the stuttering, stumbling, smirking underdog with a golden heart to find any joy in yet another reiteration. A tacky moustache and mandatory Gujarati accent gushing of thepla love only caricature it.
It's apparent his character has no acumen for business.
But Musale's script insists you buy into his meteoric rise as a trade genius.
Not before it periodically distracts itself to engage in romantic sessions between Rao and his better half (Mouni Roy).
She threads his eyebrows, he lights her smokes.
Lest we miss the point, they are a liberal, laundry-sharing couple.
It's all hogwash, of course.
Roy is purely in it to flaunt her svelte frame and overcompensate for all the phony reality personified in Rao's made-up paunch.
Throw in some misadventures in China, wherein a local's sobby tales persuade him to pose as his cousin (Sumeet Vyas) or learn marketing mantras from an unusually supportive capitalist (Paresh Rawal).
Gajraj Rao (fine form, utterly wasted) is squeezed into the confused narrative as a marketing guru, spouting shoddy one-liners like 'Sapna sev puri nahi hota. Use sasta mat samjho.'
As soon as Made in China has established itself as a poor cousin of Rocket Singh: Salesman of the Year, its Khandaani Shafakhana-reminiscent moralising instincts take effect after Rao ropes in veteran sexologist (Boman Irani) to endorse his virility enhancing product, Magic Soup.
Bollywood appears to be on some kind of self-appointed sex education mission, what with its conscious attempts to normalise its existence and start a conversation around it.
Noble though that thought may be, in the absence of insight it has the same sloppy impact as the Sonakshi Sinha starrer.
Like that, this one also winds up in a courtroom and goes on and on about how such perversion triggers sexual crimes in the country.
Under nuanced writing, Boman Irani's reasonable appeals (and sensible restraint in a role he could have easily gone bananas with) would make some breakthrough.
But Made in China's own puerility comes forth in how it only finds wit in innuendoes -- repeated mention of Tiger Penis Soup, strategically fused bulbs of Hotel Peninsula or a 3 Idiots-like farcical confusion after Irani mistakes a parent-teacher event for a seminar to discuss sexual problems.
At some point in the latter's interaction, someone complains, 'Bulb jal jaata hai. Aag nahi lagti'.
Made in China's flimsy film-making is akin to that worthless bulb.
Rediff Rating: