Judgementall Hai Kya is a wild move but works because of how assured its cast is before and its crew is behind the camera, says Sukanya Verma.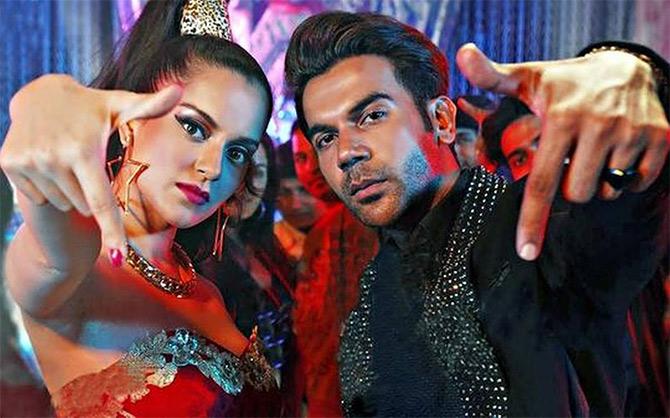 You cannot miss Kangana Ranaut in Judgementall Hai Kya.
This edgy, erratic, turbulent thriller is a glorious manifestation of the contentious star's 'I'll go down but take everybody down with me' attitude known to endear some and enrage others.
Writer Kanika Dhillon and her director husband Prakash Kovelamudi use her notoriety and skills to the script's advantage in a manner so surreal, you'll never know when Kangana takes over and where Bobby Batliwala Grewal comes through.
Blurring the lines between real and reel, actual and imagined, voyeur and violent, Judgementall Hai Kya is an expedition into the unhinged, unstable, unreliable mind of a woman single-handedly refusing to be dictated by patriarchy.
It's also a provocative commentary on society's tendency to label individuals refusing to subscribe to its established norms and decorum.
Referred to as 'bawli' and 'atrangi' at regular intervals through expository dialogues, Bobby doesn't care to live down that reputation what with a bulk of the movie acting as an enamoured profile of numerous tics and mounting hysteria.
From her hyena laugh, unruly hair and bohemian wardrobe to her cockroach phobia, ambiguous asexuality, morbid humour, sleuthing tendencies, fixation with tongue twisters and crafting origami out of disturbing news clippings to her curious interactions around a dispensable boyfriend (Hussain Dalal) and penchant for slipping into the skin of the character she's dubbing for in Judgementall Hai Kya's fascinating movie-within-movie scenario, Bobby is one irresistible mess.
The clutter in her personality extends to her surroundings as well whose self-referential nature is hard to miss.
Be it the pictures of her from Queen and Rangoon plastered on the house walls, her penchant for photo shopping pictures -- an obvious dig on the 'fake' photograph of her and Hrithik Roshan that circulated across media -- or claiming victimisation every time she threatens, 'I'll expose you' sounding a lot like the headlines of her fiery interviews.
Even the use of Mr Natwarlal's Tauba Tauba, coincidentally composed by Hrithik's uncle Rajesh Roshan, seems to point in the direction of their infamous feud.
Judgementall Hai Kya would be something of a Silsila of these times if Producer Ekta Kapoor had managed to rope in Hrithik Roshan to play Rajkummar Rao's role.
As terrifyingly sensational that would be, Rao is a perfect fit for the part. Neither Ranaut nor he are in novel territory, but their intensity and how they feed off each other's energy is what keeps Judgementall Hai Kya exciting and engrossing till the end.
Once Dhillon, also doing a bit role as a stage actor, has laid out all her cards, there's not much by way of intrigue.
There are only two possible scenarios for where all the grimness is headed.
But the staggering shortage of slyness lends Judgementall Hai Kya's feeble cat-and-mouse game a 'template thriller' predictability.
Only this is a movie so consumed by its busy, over stylised creativity, the decline goes largely unnoticed in the ensuing tennis of trust and truth with a little bit of Ramayana-inspired symbolism thrown in.
It's a wild move, but works because of how assured its cast is before and its crew is behind the camera.
Hussain Dalal's desperate-to-get-laid beau, Satish Kaushik's serial-snacker cop, Brijendra Kala's sniggering assistant, Jimmy Sheirgill's unusually patient theatre director, Amrita Puri and Amrya Dastur's tailor-made virtue ably support the action around Rao and Ranaut's relentless game of there's more to this than meets the eye.
Nobody shoots night and darkness like Cinematographer Pankaj Kumar and here, he has a ball reflecting Bobby's spectrum with his own.
David B George's background score, occasionally evoking the enchantment of Alexandre Desplat's The Shape of Water, is perceptive in capturing the momentum.
Kovelamudi has a keen visual style where sound and sight is designed to stay in sync with the plot's excessive mood and ominous plans. Mostly, the flamboyance overkill contributes to vibe of his storytelling.
But there are times when his glamorous depiction of a troubled mind ends up conveying more exuberance than agony.
Judgementall Hai Kya may feel strongly about the repercussions of domestic violence and its impressionable beholders but it never fleshes out beyond cursory.
What lingers on is the sensory overload of wild visual and symbolism -- like a 10-headed Raavan through a mirror maze and blazing flames.
Perhaps these exaggerations are necessary.
Perhaps they are imagined.
Judgementall Hai Kya leaves plenty of room for doubt and even sympathy for the delusional.
Rediff Rating: