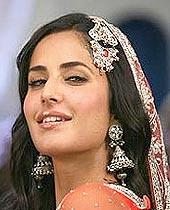 S

ukanya Verma reviews Tees Maar Khan music. Post YOUR reviews here.

The trailer's got all it all. Superstar swagger meets dishy item girl against a backdrop of elated colours, madcap confusion, campy one-liners and a thematic titular tune. All in all, everything you expect from a Farah Khan endeavour.  

The choreographer turned filmmaker with a well-documented penchant for showmanship and pop-culture references (Main Hoon Na, Om Shanti Om) ropes in Akshay Kumar, Katrina Kaif and Akshaye Khanna to play glamorous oddballs in Tees Maar Khan, written and co-produced (alongside Twinkle Khanna and UTV) by hubby Shirish Kunder.



The latter's also at the helm of its grand title track, which resembles a spiraled version of Usher's Yeah-meets-Mission Impossible theme. For all these twisted comparisons, Sonu Nigam does a commendable job, scooping out 54 unique voices, ranging from squeaky, screechy to loopy, throaty to keep the listener entertained.



As soon as you're well-versed with Tees Maar Khan's heroic attributes at being a one-of-a-kind swindler, another loud composition makes a dramatic entrance in the garb of Sheila ki jawani. Quite a smouldering albeit misleading title for a song that reeks of exaggerated cacophony in the name of sexy spunk. Certainly it will earn Ms Kaif some major brownie points for jiggling her smooth belly to Farah Khan's zingy dance moves. The same, however, cannot be said about its off screen credibility. Both Sunidhi Chauhan and Vishal Dadlani are experts of bringing-the-house-down chartbusters but this Vishal-Shekhar concocted sham is a

classic case of all sound, no fury.



The animated tone of the album continues with the spirited qawaali, Wallah re wallah even as Shekhar, Shreya Ghosal, Kamal Khan and Raja Hassan lend the generic notes a blend of spontaneity and dynamism. Considering, this one stars Salman Khan, in a guest appearance, shaking a leg with the film's leading duo, wolf-whistles are a given. And that's about it.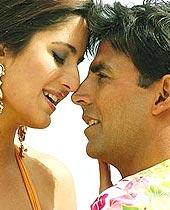 Sukhwinder Singh and Shreya Ghosal slip into a faintly folksy mode with the rhythmic Badey dilwala. Despite their best vocal efforts, there's something off about Vishal-Shekhar's attempt to fuse earthy sincerity with urban cool, which fails to entice or amuse.   
The album concludes with Happy Ending, a cheerful number brimming with optimistic vibes articulated through the upbeat playback of Prajakta Shukre, Debojit, Abhijeet and Harshit Saxena. For all its joie de vivre and blaring gush of bagpipers, there's nothing spectacular about this purported grand finale.   
Excluding Happy Ending, every track is accompanied with its pumped-up remix that's surprisingly a worthwhile doppelganger of its ho-hum original.
Some Tees Maar Khan, huh? A tongue-in-cheek subject like this begs for unbridled, playful imagination in its soundtrack. Instead you're teased with slipshod creativity and pedestrian lyrics. Without doubt, this is a hugely disappointing album from an otherwise promising team.
Rediff Rating: