Street Dancer 3D is only about cardboard central characters and side-lined sensations doing the same old, same old, says Sukanya Verma.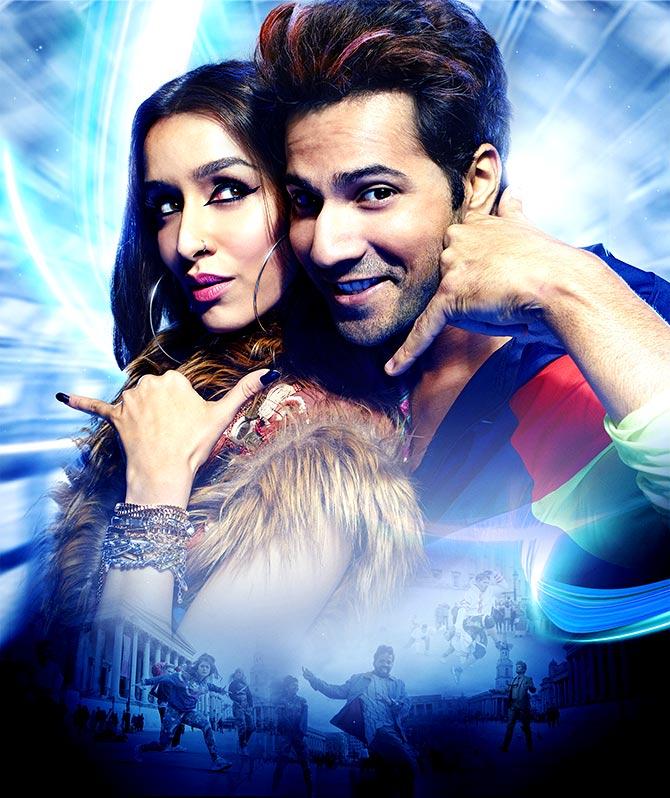 If Varun Dhawan's abs and Shraddha Kapoor's eyeliner ever dreamed of being in their own solo movie, Street Dancer 3D is it.
There's so much focus on the above, they probably deserve separate billing.
As for the 3D in the title, it's nothing but a scam where a donut or drop of sweat flung in your face is the film-maker's idea of paisa vasool.
Choreographer-turned-director Remo D'Souza reunites his ABCD 2 stars for a 150-minute long dance off, but doesn't give them anything besides donuts and dodo logic to work on.
Unlike the predecessors of this franchise ABCD and ABCD 2, which had its moments of snazzy choreography and spectacle, this one is only about cardboard central characters and side-lined sensations doing the same old, same old.
Between their contrived food fights and monotonous foot work lies a sliver of an idea about Britishers of Indian and Pakistani origins joining forces to help hungry illegal immigrants. Except it is so clumsily executed, philanthropy never looked more embarrassing.
If one half of this giant bore revolves around London-based desis Sahej (Varun Dhawan) and Inayat's (Shraddha Kapoor) trivial rivalry over dance battles and cricket teams, the other is a quest to win an absurd dance battle so bereft of rules, you can bat for both teams, change sides right before the final, rope in dholak players as substitute for dub step and it'll still be all good.
What? Looking for logic from a film-maker whose last release was Race 3?
Sahej's arc takes some wishy-washy inspiration from Jo Jeeta Wohi Sikandar where his elder brother's accident compels him to fulfill his dream and win the contest at any cost.
He joins an elite company of gora dancers alongside his super nimble girlfriend (an electric Nora Fatehi). It isn't long before the rest of his troupe resent this.
Lessons are learned while groups disband, reboot, rebound -- all for the greater good of mankind -- in this hack job of a script where intensity reads something like 'you loser' and persuading the prissy Pakistani papa to let his beti dance is just a 'Meri beeji hamesha kehti hain' speech away.
Two negatives make a positive, mumbles Prabhudeva as the cafe runner pushing for Sahej and Inayat's partnership while masterminding Street Dancer 3D's unabashed show of pity and altruism.
But the only impact he makes is when revisiting those groovy Muqabla moves. The movie cashes in on our nostalgia once again with its use of the iconic Mile sur mera tumhara.
But between scenes that seemed to be scribbled on the spot for every song and dance session to follow in few minutes, there's little to talk home about either.
The average display of lock, pop, twerk, breakdance, dub step dancing against loud, cumbersome music with lyrics like Lal dress mein rani bilkul red velvet ka cake lage only adds to the tedium.
The cast may be the ones to do all the grinding but at the end of its torturously long ordeal, it is the viewer who walks out dog tired.
Rediff Rating:

---
Sukanya Verma is the Principal Movie Reviewer for Rediff.com. She can be contacted at mailto_sukanyaverma@rediffmail.com
---