Prakashraj's latest production Mozhi -- directed by Radhamohan -- is supposed to be Jyothika's swan-song, though she plays the role of a deaf and mute girl in it.
Mozhi, which boasts of having one of the best lyrics in recent times by Vairamuthu, has six tracks by Vidyasagar. The composer has eschewed earth-shattering percussion resulting in very fast numbers, though there is no overdose of high decibels or hip-hop and rap.
The track makes an impressive start with Jassey Gift's Sevvanam selaikatti. Vidyasagar has utilised the full potential of Jassey's unique voice. After his Lajjavathiye (in the Malayalam film 4 the people), you get a chance to hear the singer's distinctive voice clearly and in all it's originality. Vairamuthu's lyrics are imaginative and poetic.
In En jannalil therivadhu by Karthik, the composer makes a small concession and goes on a brief spree into the fast lane. The percussion is moderately lively.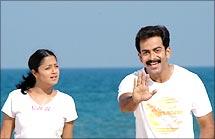 Katrin mozhiyae by Balram is the toast of this album. The song begins with the guitar. Vairamuthu gives a free run to his imagination and the result is breathtakingly beautiful poetry. He seems to be saying that where there is kadhal (love), words are redundant and nature's sounds are more expressive than human vocals. The guitar and dulcimer interludes giving additional dimension to the soft tune and soothing rhythm.
Vidyasagar goes on an excursion into melody realm in this semi-classical track. Balram's singing style perfectly suits this number and the effect is soul-touching.
Tippu's Aazha kannal in western style is brief yet very sweet with guitar strains as accompaniment.
Following this is S P Balasubramaniam's Kannaal pesum penne which is a happy blend of Indian and western tunes. The lover rues his mistake and pleads for forgiveness in a mixture of serious and playful manner. The ascent and descent of beats, rhythmic changes, impressive instrumentation and SPB's expertise in voice modulation makes this a captivating piece.
Pesa madanthayae by the composer's all-time favourite Madhu Balakrishnan again addresses the handicapped girl. The solo is full of pathos and pulls at your heart strings.
Katrin mozhiyae in Sujatha's dulcet voice is soul-stirring. If Balram's rendering is like a soft-flowing rivulet, Sujatha's is like a river in spate echoing the turbulence in the girl's heart.
Srinivas' Mounamae unnidam is lamentably short and very soothing.
Vidyasagar winds up the album with SPB repeating Kannaal pesum penne. Overall, the album provides a soothing experience.
Rediff rating: