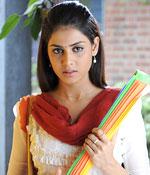 With the Telugu film Katha, producer Gangaraju gives us cinema of a different genre, the kind one would want to see more of than the flood of commercial ones doing the rounds.
It's not that it's totally offbeat but it certainly treads a slightly hatke path. Gangaraju has worked hard along with debutant director Srinivas Raga on this romantic thriller which has its share of thrills, songs, murder et al.
The story is told in two phases.
Phase I, which is set in Jharkhand, shows the ugly side of student politics (to a minimal extent though) wherein the principal of a college gets involved with rowdy student elements.
Fast forward to the next phase and one sees a bubbly Chitra (Genelia) seeking employment as a teacher in a school at Araku Valley. A filmmaker Krishna (newcomer Arun) who is scripting his film runs into Chitra who also in a way provides the inspiration to write his film (he has his friends and co-director also who are working out various things. The murder mystery script written by Krishna has some uncanny resemblance to events in the film). Both befriend each other. Chitra lives in a house alone but has certain fears and hallucinations on account of something in her life which happened a few years ago. She is a witness to a murder being committed while she is out sightseeing. She informs the police. But the body does not turn up.
Then begins Chitra's mental ordeal. She hears all kinds of noises at night and sees shadowy figures at home which leaves her quite traumatised. She even takes Krishna's help but nobody is able to figure out anything about the murder. She is increasingly made to believe that its all hallucinations. Psychologically she's almost a wreck when there is a twist in the tale.
The film is quite interesting to view initially as the ground is being laid for the story to develop. The narration is gripping to a large extent. It's in the second half where it picks up steam though it drags a bit here and there. The suspense, nevertheless is maintained to some extent. The love story bit, however seemed to be half baked.
The film is shot decently against the picturesque Araku Valley backdrop. An effort has been made to make it spellbinding with eerie sound effects and good lighting. The background score is okay though a bit too loud in some places. The songs are quite pleasing to the ear.
The pairing of Genelia and Arun looked a bit mismatched though. 
Genelia steals the show with her tremendous screen presence. She is ideally suited to play the character of Chitra -- as the role requires an actress of maturity -- and is able to portray the 'psychological' trauma well. She is really emerging as a fine actor able to portray complex characters. Newcomer Arun is fairly competent in his debut film while Prakash Raj is a brilliant actor and for him, roles like the one in Katha are an absolute cakewalk. Shafi, another proficient artiste, has done a good job. Raghu Babu provides the humour breaks in the film, which are rather distracting.
All in all, Katha is a film which will cater to a niche audience.
Rediff Rating: