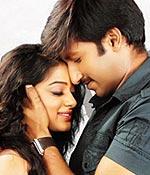 The title Golimaar (Telugu) itself is indicative of violence. And the film supposedly inspired by the famous encounter specialist Daya Nayak (around whom other films like Ab tak Chappan and Kagaar in Hindi and a Kannada film Encounter Daya Nayak were made a few years ago) scripted and directed by Puri Jagannadh, is full of violence.
Puri makes it in his typical style; loads of action, songs and dance, foreign locale (here it's Kuala Lumpur and Lankawi), slickness in technique and the hero mouthing punchy dialogues catering to the masses!
T Gopichand and Priyamani are the lead protagonists. Puri is best at scripting a film with a wafer-thin storyline and Golimaar too is on the same lines. Essentially, it's an action entertainer in the standard format.
Gangaram, (Gopichand) an orphan, dreams of becoming a police officer and seeks employment and refuge from a small hotel owner (MS Narayana). He works by day and studies at night and by sheer dint of hard work joins the police as a sub-inspector. He is soon promoted to an encounter cop by the DGP Bharat Nandan (Nazar). Gangaram sets about his job of finishing off wanted people with dedication thus becoming the darling of the public and the media.
During these daring exploits he runs into Pavithra (Priyamani), an event organiser who is dead against men and marriage thanks to her mother who has brought her up that way. However these two slowly start to like each other. But Gangaram is forced to become Gangudon due to certain circumstances. The twists and turns are small but quite a few and many are expected ones. Will Gangudon change back to Gangaram?
The screenplay has its highs and lows. Puri Jagan adds humour in small doses to break the serious nature of the film. Somehow Puri Jagan cannot get over the Pokkiri hangover which has been looming large in his films. He functions within the same format (run-of-the-mill storylines) and style, and hence his films are pretty predictable. He covers up the deficiencies in the story with slick techniques (sound, camera work, fight orchestration, jump cuts in editing etc). The pitfalls in the police system he has brought out are nothing new.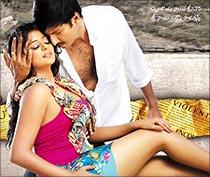 The script is right for Gopichand and the actor breezes through the film with panache. He is cool, casual and caustic where necessary. He's moulded himself to the character well. He plays Gangaram convincingly. Most importantly the action genre is apt for him given his height, body language, good diction etc.
Priyamani adds the chirpy element to the film at least in the first half. For her, such roles are a cakewalk. She balances the glamour (looks quite hot in the song shot at Lankawi) and acting well.
Roja as the headstrong mother who hates men plays her part well. Nazar is believable. Of late he seems to be a regular in Telugu films.
Kelly Dorjee and Shawar Ali are slowly becoming constant 'dons' in Telugu cinema given the villainous role they play. They impart the menacing look and aura which is enhanced by the settings and the henchmen.
The music by Chakri is just about okay; there's more sound than melody. Shyam K Naidu's camera work adds a slick look which is ably enhanced by Marthand K. Venkatesh's editing.
All in all, Golimaar is a full on masala film!
Rediff Rating: