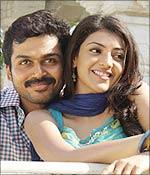 Pavithra Srinivasan reviews the Tamil film, Naan Mahaan Alla.
Chennai as the location, and an ordinary middle-class family as the plot-point have been handled numerous times in Tamil cinema, but it takes someone like Suseendran to bring it all to life in a way that simply draws you in.
If he painted a village convincingly in Vennila Kabaddi Kuzhu, in his latest, Cloud Nine Movie's and Studio Green's Naan Mahaan Alla (I am No Saint) -- the title taken from a yesteryear Rajni-starrer, he portrays an ordinary, happy-go-lucky young man's life to perfection.
The second film of a director who delivered a hit debut film is always looked forward to, and in NMA, Suseendran has been very careful to make sure that no shade of previous film shows in his latest. It's even more difficult to take up a completely different genre and work a story out of it. To give credit where it's due, he's done it. Almost.
The first and foremost reason why the film works is Karthi. He arrives a little later into the film; the first few moments belong to a gang of motley youngsters who work up a sweat during a football game, smoke, do drugs and then molest a young girl on a lonely beach.
Cut to the protagonist, Jeeva (Karthi), as he breezes through Chennai at midnight, yelling "Happy New Year!" to all and sundry, even pacifying a cop who dares to question him. Naturally, he's surrounded by his own, faithful gang (some of them, especially Suri, from Vennila Kabaddi Kuzhu make a mark), greets a college-mate who introduces to him her fiance, attempts to badger a drink out of her during her own marriage and falls head-first into love with Priya (Kajal Aggarwal), whom he meets there.
The instant chemistry between them is very obvious but it's the means Jeeva uses to actually get Priya to fall in love with him are hilarious, and heart-warming. The melodious Iragai Pole is the perfect accompaniment to a truly interesting tale (and it takes a good deal of creativity to pour old wine in a new bottle convincingly) of furtive meets, stolen cell-phone conversations, secret kisses and sweet-nothings.
What's best about the entire first half is the neat characterisation: Jeeva's family is small, compact, with his parents and a sister. He has no job, has parents who supply him unfailingly with funds (this might seem cinematic but its not), which means Jeeva's life pretty much consists of hanging around with friends, the occasional drink, chat-sessions and romancing Priya.
Four months after their first meeting, Jeeva decides that he'll ask for her (considerably rich) hand in marriage but hits opposition big-time. Priya's father, predictably, would like nothing better than the match broken off; Jeeva decides that he'll become responsible.
More hilarity follows as Jeeva turns into a bill collection agent who simply cannot bring himself to actually collect any money. Practically every family has a sob-story to tell; he watches a cricket match in one home and commiserates with the family on India's loss, and ends up buying sweets for the kids of another family. When he ends up emptying his pockets spending instead of collecting, the inevitable happens: he loses his job.
In the meantime, there's a parallel track running alongside. The gang that murdered a girl when the film began, goes about its harmful exploits. One crime leads on to another, two bodies are found by the police cut up in pieces, and an investigation begins in earnest.
Jeeva's father (Jayaprakash), a taxi driver, is as easy-going as his son himself. A genuine love exists between father and son which is a pleasure to watch. Unfortunately, fate has something terrible in store for him, and just as Jeeva's sister's marriage is finalised, disaster strikes.
Karthi has simply had a ball and it shows in every pore of his being. Whether its helping his friends out when he can, cozying up to kids, holding his parents in gentle affection or ragging his sister -- he does it all with aplomb. And it's not just fun and games. When he has to produce hard-core angst and emotion, his performance brings down the roof. It's been a long time since you saw an actor who can be as convincing in sadness and rage, as in happiness. He's convincing in the stunts too. It's hard not to root for him in an adrenaline-fuelled action sequence.
Kajal Aggarwal is pretty and appealing though she over-acts a bit in the beginning. Regrettably, her character's been wasted, post intermission.
Jayaprakash is, as usual, a joy to watch. He's everyone's ideal parent: calm, collected, incredibly affectionate but with a sense of justice that is very appealing. All the secondary characters play their part very well -- Karthi's group of friends, the goonda whom Karthi goes to for help, are all realistic. The villains pass muster.
Rajeevan's art-work is superb; he brings the middle-class family to life, with its tiny quarters and cooped-up spaces. It's almost as though you're with the family itself, watching them live their lives, and credit for that undoubtedly goes to cinematographer Madhi too. Kasi Viswanathan's editing is very slick with the first half moving at break-neck speed.
Baskar Sakthi's dialogues are an incredible strength to a movie of this kind. At no place is it stilted, or artificial. It could well have gone wrong but it never does. And, of course, there's Suseendran himself, so clearly at the helm of affairs that there's no question of boredom.
Does this mean that NMA is a paragon among films, without a single fault? Not really. After nearly three-fourths of glorious story-telling, the speed-bump does arrive in the form of a climax which is so far out from the realistic thread that runs throughout the film that you're left disappointed.
It's an adrenaline rush and satisfies mass elements, yes, but simply doesn't fit with the tone of the film. The end credits arrive abruptly, and you're left with a dozen loose ends, wondering when and how the story vanished. When you've invested a good deal in the characters and their emotions, it doesn't make sense that the climax is full of knuckle-breaking stunt sequences, without any logic backing it up.
On the other hand, when you've got Karthi and Co wreaking hilarious havoc, Kajal for romantic interludes and Chennai's life in complete detail, who really cares? Just have a blast.
Rediff Rating: