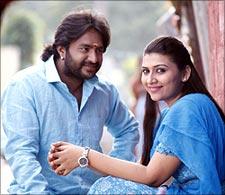 Shruti Indira Lakshminarayan feels the dialogues and humour in Yograj But! lack punch. Post YOUR reviews here!

Astrologers are popular because people believe more in their stars than in their own capabilities. Dayal Padmanabhan's
Yograj But!
, that opened in theatres this week, is the story of one such astrologer.
Yogaraja (Naveen Krishna) is a student of psychology who realises that people are more into fortune-telling than psychological counselling, and so shifts his vocation to astrology, peppered here and there with psychological insights.
While he goes about predicting the lives of others, Yogaraja is clueless about his own future. He falls in love with Sihi (Neethu), a self-made woman. He proposes to her, but before she can give him an answer, he dies. His distraught soul demands an audience with God and questions him about the unfair deal he has got. Now, is God in a mood to give back a man his life…. at least in a film?    
Dayal made Yogaraj But!  after the death of a close friend. The fact that God took away a good-natured young man was something that Dayal could not
digest. Hence the questions to the Almighty. Now, if you're thinking that the film is all about life and death, well, there is a bit on film piracy as well. How it got there is something we'll let you find out.
There are some humorous moments to alleviate this heavy theme, and with an actor like Naveen Krishna at the helm, you would expect the same. But the laugh-out-loud moments are rare, and somehow, neither the philosophy nor the humour is convincing.
The dialogues lack punch and one is left wondering what all that brouhaha surrounding the recital of 70-odd names of Kannada film heroes was all about. The songs are a distraction too.
As for the performances, Naveen Krishna is convincing. Neethu gets to shed her tomboy image and gives a fairly credible performance as the emotional girl-next-door.
A fine actor like Sreenivasa Murthy settles for the role of a sanyasi who is meant to be scary, but doesn't quite pull it off. If Tharun Sudheer as the god of death, Yama, is meant to give us goose-bumps, well, he doesn't.
Dayal has claimed that this is the best film he has done, but viewers might think that is not saying much.
Rediff Rating: