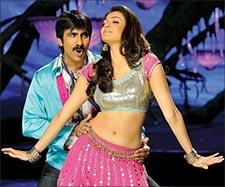 Radhika Rajamani claims Telugu film Veera is a tedious watch. Post YOUR reviews here!

A Ravi Teja film usually promises loads of entertainment as it is a motley of action, comedy, romance etc. The star has an uncanny ability to keep the audience amused with his humour and sometimes dead pan looks while saying hilarious one-liners.

His films work well at the box office keeping the cash registers ringing. Somehow, his latest film Veera does not fall in the same category.
Firstly, it's quite long. Secondly, the film drags, resulting in ennui to a large extent.
Also, the film's weak script, which is essentially a hot-potch, makes things worse. The highlight of the film is the fine camerawork by Chota K Naidu.
The film is a vendetta drama although one doesn't realise that till the interval. The film begins with ACP Shyam Sunder (Shaam), who has a loving family. His son Moksha gets kidnapped from a boarding school by Dhanraj (Rahul Dev) and is killed before his eyes. But he doesn't tell his family.
When he gets beaten up by Dhanraj's henchmen, Shyam is rescued by Deva (Ravi Teja), who purports to be his security guard. And he looks after everyone. He stays in the outhouse with Tiger (Brahmanandam). Shyaam's wife Satya (Sreedevi) doesn't like Deva. Aiki (Taapsee Pannu) falls for him.
There's a twist there. Aiki wonders whether Deva's really a good man or not. A man in sanyasi garb searches for Satya. And he shoots Deva in a scuffle. And the whole past unfolds in the present. The flashback reveals of the antagonism between Veera and Pedda Rayudu (Pradeep Rawat), the man in the garb of sanyasi. There's a woman Chitti (Kajal Agrawal) too. But there's disaster.
The story is pretty mothballish and is a virtual mish-mash. With such a lacklustre story which is so dull and slow what one can expect except tedium. Even the twists are rather predictable and enduring this boredom is torturous more so the second half. The director Ramesh Varma has inserted so many songs which though picturesquely shot do not blend in well. With such a weak script even the actors can't do much to salvage the film.
Ravi Teja fails to make much of an impact despite two different get-ups and one cannot blame him as the script is such.
Kajal Agrawal and Taapsee Pannu increase the glamour quotient by leaps and bounds, Kajal more in the songs as otherwise she is dressed in traditional clothes. But even their acting does nothing much to rescue this film.
Shaam looked every inch a cop and did what was expected of him. Brahmanandam, Sreedevi, Venu Madhav, Ali fitted their roles well.
Like said earlier, Chota K Naidu has done a good job with his camera especially capturing the foreign locales well. Technically, the film is good.
Veera may perhaps go down well in the smaller centres, as it has Mass Maharaja Ravi Teja but the others may gladly give it a miss.
Rediff Rating: