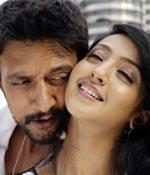 Shruti Indira Lakshminarayana reviews the Kannada film Veera Parampare.

The highlights of S Narayan's Kannada film Veera Parampare are Ambareesh and Sudeep.
The film centers around Varde Gowda (Ambareesh), a village elder who assumes the status of god given his pro-farmer stand. His fight for their cause earns him enemies, but that's no problem when you have a one-man army like Teja (Sudeep) as your right-hand man.

Teja is brought up by Gowda after his father laid down his life to save Gowda. Gowda's wife is not happy about their deep bond, but this doesn't stop Gowda from showering love on Teja and involving him in all his tasks. Will Gowda and Teja be able to protect the innocent farmers and their lands from land sharks?

Ambareesh's role seems like an extension of the politician in him. He carries the son-of-the-soil image well. He is sure to appeal to the audience with his restrained performance. There is even a song, which is an ode to Kannada, its land and people, which is sure to be a hit with his fans. His action scenes will leave them happy too.

Sudeep also seems the perfect choice for the role and together the duo bring the screen alive.

Vijalakshmi Singh has a good role, while Aindrita, who stars opposite Sudeep for the first time, gets to be her bubbly self. Sharan makes you laugh.

The lead actors' performances are the film's strength, but that doesn't compensate for the overdramatic and stretched second half. The status attached to Gowda becomes a little hard to digest especially in a scene where police officers remove their uniform before entering his house as a mark of respect.

The villain is also a big letdown. His pale act does little to ignite fear.
The songs are soothing, but remind you of several Tamil and Telugu chartbusters.
Veera Parampare has nothing extraordinary or new to offer, but Ambareesh and Sudeep fans won't be disappointed.
Rediff Rating: