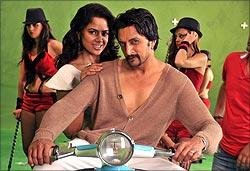 Srikanth Srinivasa says Kannada film Varadanayaka is a visually brilliant film and a treat for those who love action films.
Director Aiyappa Sharma has chosen to remake the Telugu hit Lakshyam as Varadanayaka, a totally action packed film for the masses. It is visually superb too.
The story begins with a flashback. A sincere police officer Varadanayaka (Sudeep) lives happily with his parents, his lovely wife (Sameera Reddy) and his brother Hari (Chiranjeevi Sarja). Hari is a college-going brat who falls in love with Siri (Nikesha Patel).
Section Shankar (Ravishankar) enters the scene as a villain who is notorious for land deals and settlements. He kills anyone who comes in his way and does not leave any evidence behind or witnesses alive. He takes a loan from a bank with the help of a conniving police officer. To avoid repayment of the loan, he gets the chairman of the bank killed.
Varadanayaka is framed for the murder and for embezzlement of the bank's deposits. Varadanayaka tries his best to stop Section Shankar, even as the latter views the former as a threat to his activities.
His brother Hari also gets into a fight with Section Shankar and the film works out these various feuds.
The movie is a visual treat for Sudeep's fans. Sudeep's performance is hard hitting and succinct. Although his role is not similar to his role as the ferocious Kempe Gowda, he does come across as a total action hero in Varadanayaka. He entertains his fans after a long gap.
Chiranjeevi Sarja is good in the climax scene as he fights well to the finish. But, he needs to be more involved and get more under the skin of the character if he is serious about staying in showbiz.
Sameera Reddy is a delight to watch in the song Baite Baite but has not much screen time in the movie. Nikesha Patel looks good and has shown improvement in her performance from her previous outings. Ravishankar is deadly and ferocious and so is Sharath Lohitaswa.
Arjun Janya's music is in tune with what the youngsters want to hear. Cinematography by Rajesh Kata is brilliant and Ravi Varma's stunt sequences are superb.
Varadanayaka is a mass entertainer that should be watched for Sudeep.
Rediff Rating: