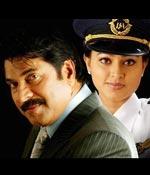 P
avithra Srinivasan reviews the Tamil film Vande Mataram.
On the face of it, Henry's
Vande Mataram
, a bilingual film directed by Aravind T (of
Oomai Vizhigal
fame), has a many things going for it -- a strong star cast, neat cinematography, a great SFX team and a plot that tries to veer away from the standard patriotic formula. Yet, there are plenty of stumbling blocks that destroy the momentum and take the spice from the story.
Initially, you might be forgiven for thinking that this is yet another terrorist drama seen a dozen times in Vijaykanth flicks. It starts with an impassioned speech by India's prime minister (Nasser) to pull together as a nation and march towards prosperity. But a few minutes into the film, and you sit up. Nandhini (Sneha), wife of Gopikrishnan (Mammootty) -- the deputy director of the Research and Analysis Wing (southern region), suits up in a pilot's uniform and leaves for work. Score one for a screenplay that actually shows the wife holding a responsible, unusual and stressful job with elan. It's a pity that she has to immediately drop this avatar and break into a romantic dance, before leaving for a good part of the film.
Fortunately, the SFX guys and a reasonably interesting screenplay take us through the first half. Gopikrishnan is in charge of destroying the biggest terrorist threat India faces; he chooses police officer Anwar Hussein (Arjun), as his partner. The two begin a quick-paced investigation to look for the elusive Malik aka Abul Hasan, who wears many disguises, kills without compunction and has a far more nefarious purpose in mind than anyone has imagined: Creating a vacuum in India's political world.
The means Gopikrishnan and Anwar adopt to track their nemesis is sometimes neat, sometimes sloppy. At certain points, they are the intelligent, resourceful men their positions indicate, judging by the way they trap Manik into a confession. But more often than not, they devolve into filmi heroes who shoot at random, but are never shot, even at close range with machine guns. The biggest minuses in the script are the loopholes in logic.
The second half loses any momentum the first half might have generated. It's steadily downhill from there.
R N R Manohar's dialogues are very simplistic, as though explaining everything to a six-year old.
The movie has been years in the making, and the delay shows. Also, there are too many sudden and terrifying close-ups that serve no purpose except to madden you, courtesy Vetri's camera. D Imman's music leaves no lingering trace.
They art department's work, on the other hand, is commendable; the sets look very convincing.
The more you see of Mammootty and Arjun's efforts to give this rather juvenile film some gloss, the more you feel that they're worthy of much more. Yet, they manage to impress with what they've been given. Sneha appears too briefly to comment.
The plot is a good one, and the movie has its moments. Had Henry's screenplay shored it up with logic, Vande Mataram would have been more than just a choppy bash-fest.
Rediff Rating: