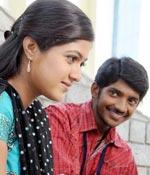 Pavithra Srinivasan reviews the Tamil film, Kadhal Solla Vandhen.
Funny, quirky love stories have always had a unique place in Tamil cinema, and a few directors have managed to pull off the fine balance between hilarity and angst.
Director G Boopathy Pandian, who's given movies like Thiruvilaiyadal Arambam and Malaikkottai, tries to tread the same path with S 3 Films' Kadhal Solla Vandhen (I Came to Tell you My Love). He does run into a few problems, though.
It's all fun and games, to begin with. The story's set in Trichy, and you have flaky, fun-loving youngster Nanu Prabhu (Balaji), stepping into college from school with his friend Petha Perumal (Sabesh Karthik), and the freedom of it all blows him away.
Born into a carpenter's family (R Sundarrajan is his father), for Prabhu, it's as though life has begun all anew. And then, he catches sight of the beautiful Sandhya (Meghna Sundar) as she stands underneath a tree and flowers shower on her. Its love at first sight and he waltzes in new-found happiness, singing to the melodious Oh Shala until he finds out that she's older to him by a couple of years.
But Prabhu is persistent. Ignoring the dictates of his friends, he tumbles headlong into romance, finding ways to turn away Sandhya's other suitors. These sequences are amusing; it's rather nice to watch the lanky kid outwitting others stronger than him.
Sandhya is amused by him, indulgent, and obviously fond of him -- a little too much, judging by her body language. But then, the path of love is never tranquil, and difficulties soon pop up: Sandhya's people have brought her an alliance, and she seems to fall in with their wishes as well.
Up to this point, everything is good. The screenplay's fairly racy, and you're caught up in Prabhu's antics enough to wonder what's going to happen. Post intermission, however things begin to fall apart steadily.
Balaji (from the TV series Kana Kaanum Kalangal) is a neat find; he certainly can carry out the tasks he has been assigned with reasonable fluidity. His eyes dance with mischief and he plays the part of the irrepressible youngster part well, but he does lack screen presence, and can't carry the story on his own. The problem is compounded by the script too.
Meghna Sundar looks mature, pretty, and resembles Nayanthara at certain points, thereby giving away which movie the director has been inspired from, at several points.
Sabesh Karthik, with his antics and one-liners sets the aisles rolling in laughter, while several others appear in blink-and-miss roles.
Director Boopathy Pandian has obviously been influenced by Selvaraghavan: the first half's quirky appeal and mischievous moments have his touches everywhere. Angst and emotion is often alleviated by humour and it looks like the director had no very clear idea about where one ended and the other began. So you have silly conversations suddenly pop up in the middle of serious situations. 
Movies like Manmadhan, Kadhal Konden, 7G Rainbow Colony, Yaradi Nee Mohini have all been liberally inspired from, and the climax, which is supposed to shock you, doesn't.
Yuvan Shankar Raja's music is hum-worthy: Enna Enna Agiren is another delightful addition to Oh Shala. The background score passes muster.
Raana's cinematography is peppy and quick; giving the swiftness necessary for a movie like this, while Praveen-Shrikanth, in charge of the editing, try to make sure the movie progresses reasonable fast.
Now, if only the director had shown some logic and rationale in the story instead of re-working several other earlier films, this movie might have lived up to the promise it generates in the first half.
Rediff Rating: