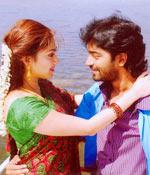 K Vishwanath's films usually have his signature good music and dance, and a solid storyline backed up by strong performances. The thespian director, who turned 80 this year, somehow disappoints with his new film Subhapradam.
The intention of highlighting a burning social issue is good, but the path chosen is so convoluted that the issue doesn't get highlighted. Vishwananth ensures that the music is melodious -- though there are a tad too many songs -- but the film lacks a good storyline.
The film opens with a classical dance performance, which doesn't have any connection to the story, as the titles roll. Then one gets to see Indu (Manjari Fadnis), getting down from a train dressed in wedding finery with her husband Chakri (Allari Naresh). She runs into an old man (Sarath Babu), an ardent Saibaba devotee like her, who eventually plays a significant role in her life.
Indu, a Telugu settled in Kerala, is shown speaking in Telugu, Malayalam, Tamil and Bengali to all her aunts (enforced national integration). On one of his trips to Kerala, Chakri, who pretends to be a singer, is smitten by Indu and asks her father for her hand in marriage. He is refused as he doesn't to have much money. Through a letter, Indu tells him to make something of himself and return. Six months later, while Indu is to be engaged to someone else, Chakri surfaces with lots of gold ornaments and marries her.
Post-interval, the story takes a clichéd turn in an attempt to connect the two halves. The director lets the audience see his trademark dances -- Kuchipudi, Odissi, and Mohiniattam -- and music, but the story seems to be missing. Efforts to rectify this in the second half are made a bit too late.
You are also left wondering if, in today's times, one will find a girl like Indu, who bears her husband's lies and still lives with him happily. It seems unreal and outdated.
The only plus point of the film besides Mani Sharma's music is Fadnis's performance. She brings the screen to life with her presence; she lives the role.
Naresh lends good support with his characteristic style of acting. Sarath Babu adds substance to his role.
Sharma's compositions based on folk, light and classical music display versatility, but the music seems to drown everything else.
The picturesque locales make the film watchable, and the technical aspects are adequate.
Vishwanath sticks to his usual style of filmmaking. Fans will perhaps relate to Subhapradam, but others, particularly the younger generation, will find the film outdated.
Rediff Rating: