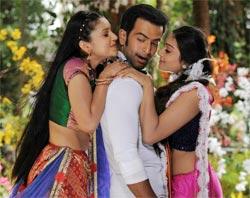 Malayalam film Simhasanam is a major disappointment, writes Paresh C Palicha
It is nearly impossible to find a single redeeming factor in
Simhasanam
, the much-hyped film directed by Shaji Kailas with Prithviraj in the lead.
The celebrated director, who was in the driver's seat of so-called "star vehicles", takes the young actor for a royal ride, to say the least.
Initially, the actor-director duo was said to be remaking the 1989 film
Naduvazhikal
, directed by Joshi with Mohanlal in the lead, a landmark film in Mohanlal's career.
The idea was dropped midway; instead what we get to see is a mixture of the director's hits post-1990s, a patchwork of a story with nothing for the viewer to take back.
The uncrowned ruler of Chandragiri, Madhav Menon (Saikumar), is both rich and has the clout to save the state government from falling by bringing dissenting MLAs back to the fold.
Prithviraj plays Arjun, the only child of Madhav who is doing his post-graduation
in Bangalore. There are the standard villains in the form of Devan, Siddique, Jayan and others.
The plot is predictable as are some of the dialogues (writing credited to the director himself). As has become the trend these days, you see actors settling scores with their off-screen rivals and making their stand clear on certain real-life issues. So,
Prithviraj says that being young and loud-mouthed, he had ruffled many feathers, but now he is more careful about what he says.
We wish he had explained why he, who is aspiring to be the first pan-Indian star from Kerala, has to be associated with such a haphazard project.
There's nothing much to say about the two leading ladies, Vandana and Aishwariya Devan, who vie for the hero's love, and dance with him in a couple of numbers.
It is high time Shaji Kailas reinvented himself rather than just recycling his old films in the hope of repeating their success.  
Final words;
Simhasanam
is a disappointment.
Rediff Rating: