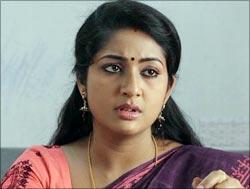 Paresh C Palicha says the lead cast of Malayalam film Scene Onnu Nammude Veedu makes it watchable.
Shaiju Anthikkad's
Scene Onnu Nammude Veedu
is the latest to exploit 'marital bliss', where a supportive wife helps her husband to make it big in the film industry.
On the outset itself, the story looks repetitive and predictable but the fact that this is Navya Nair's comeback of sorts after marriage and motherhood is attraction to watch the movie. She acts as a government school teacher Manju, who supports her husband Unni (Lal) to achieve his dreams in the film world.
Scores of films have been made on this theme after the success of
Udayananu Tharam
with slight variations, and this film is no different.
Unni's career is jinxed as he is unable to become an independent director in spite of being an Associate Director for many years. He even works as a script doctor correcting other people's works before they go on floors without charging anything or even claiming credit. He is a good-hearted man, who goes beyond his limits to help others but has the reputation of being hot-headed, as he had kicked his first producer a day before his film was to hit the floors. 
Manju is always joking about his failures but never discourages him. As for the turning point of this venture, we see Unni packing his bags for Gulf after he fails to return the money he had borrowed with his wife's help for a producer friend of his. And his wife tears his visa at the last moment letting him pursue his dream. And, to his credit, the director has built up a convincing backstory for this to happen.
The plot is borrowed from at least a dozen films made on the same theme. Yet, it is the charm of the lead pair that holds our attention.
Rediff Rating: