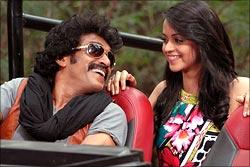 Srikanth Srinivasa says Topiwaala is a political satire that lacks execution and is just a one-time watch for Upendra's fans.
Topiwaala, directed by newcomer M G Srinivas (also known as Srini), with Upendra in the lead, focuses on current affairs and what really ails our political system. It is a kind of political spoof that turns the spotlight on black money stashed away in Swiss banks.
The film plays up the common man who bears the brunt of the taxes and the corruption that pervades Indian society. But it is also an attempt to make us laugh at ourselves for allowing our country to come to this sorry pass.
Basak (Upendra) wants to bring back the black money from a Swiss bank. He goes all out to crack the code required to access the money. He has Malashri (Maithreyi) and Basanti (Bhavana) for company.
The only one who knows the code is a beggar (Biradar), as the politician whose money it is, dies after revealing the password to the beggar. But the beggar loses his memory. The politician's son can only curse his father and is at his wit's end about how to retrieve the password.
There is a police and a thief run between Basak and Ramayana Raghu (Rangayana Raghu) that runs parallel to this plot. The film is about how these plots meet. Whether Basak is able to reach the Swiss bank and crack the password forms the remaining part of the film.
Although Upendra manages to hold our attention, he has deliberately tried to squeeze in dialogues from his earlier films and several other films. Some of the sequences barely raise a laugh.
The film tries to be different from Upendra's earlier films but ends up as a mish-mash. Bhavana looks slightly out of place in this role but just passes muster. Local model Maithreya impresses in her brief role. Neeti Mohan has done a sizzling item number.
Raju Talikote's dialogues are becoming monotonous. Rangayana Raghu shines although he is being given such repetitive roles in many a film.
Sreesha's camerawork is in sync with Upendra's pace. Harikrishna's music has nothing new to offer except for the Malli Malli number which lampoons our political system.
The title credits are quite imaginatively done and the thoughts in the film are also ingenious but the execution could have been a lot better.
Topiwaala is worth a one-time watch only for Upendra's fans. Others may be taking a risk watching it.
Rediff Rating: