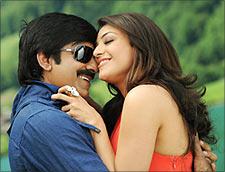 Radhika Rajamani says that Parasuram's story telling in Sarocharu is not up to the mark.
Director Parasuram attempts to give Ravi Teja what he calls a 'class appearance' in
Sarocharu,
given the fact that Ravi Teja is nicknamed the 'Mass Maharaj'.
This love story is in the usual format. Neither is the premise convincing nor is the treatment arresting to watch. The director tries to give some lessons in romance, love and marriage but is not able to come up with an interesting film.
Sandhya (Kajal Aggarwal) falls for Karthik (Ravi Teja) in Italy. They travel to India and she comes to know of his past which contained Vasu (Richa Gangopadhyay).
Karthik is a football coach at a school in Ooty. Despite knowing all this Sandhya still has feelings for Karthik. Gautham (Nara Rohit) is in love with Sandhya and wants to marry her. Then Karthik springs a surprise.
Parasuram tries to spin a different tale with a different image for Ravi Teja. But his story telling could have been better.
His grip on the narration is inconsistent and there are holes in the script. One is not able to identify with the notions and premise he presents. Also, we are not touched emotionally.
The
title seems to have been chosen for want of creative imagination. It doesn't fit in with the story. While Ravi Teja is supposed to be a football coach there's hardly much to support that. The climax seemed to be slightly long drawn out with unnecessary drama. Though Ravi Teja's character is a bit soft, he does all the fighting here too!
Still, he is in a comparatively restrained mode. Gone is his usual energy and those who liked that will miss it in this film. Ravi Teja is in a different avatar, a more subdued one.
A change of image and role is necessary for an actor and Ravi Teja makes the transition fairly well, but he does look a bit jaded in some places.
Kajal is bright and perky as Sandhya. Though Richa doesn't have much screen time, she does make her presence felt. Nara Rohit too has done well in his brief role.
The director has good support from Devisriprasad (music), Vijay Chakravarthi (camera) and Kotagiri Venkateswara Rao.
The production values are rich, as quite a bit of the film was shot in Italy and parts of Europe.
Sarocharu
can be watched once if you are a Ravi Teja fan and to see him in a different avatar.
Rediff Rating: