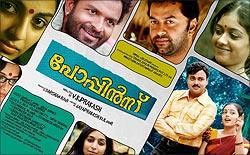 Paresh C Palicha feels director V K Prakash's Malayalam film Poppins is very bland.

The film a director visualises and what he actually makes may differ. This may have happened to
Poppins
, the Malayalam film directed by the prolific V K Prakash.
The film dwells on various aspects of the man-woman relationship, and narrates them in a haphazard manner. It leaves us scratching our heads trying to comprehend what it was all about.
Hari (Shankar Ramakrishnan) decides to take the plunge to realise his dream of becoming a filmmaker and takes one year's leave from his job.
He has a supportive wife in Gauri (Mythili). He conjures up stories, narrates them to producers and we also are privy to them.
We have actors Jayasurya, Indrajith, Siddique and P Balachandran in minuscule but
memorable roles at one end and Padmapriya, Nithya Menen, Meghna Raj, Ann Augustine and others at the other end.
The stories feel like incidents or ideas that are not yet developed. A few have a proper beginning, middle and end, but most lack logical or natural progression.
There is an undercurrent of humour throughout the film, but it feels forced in some places like in the Indrajith-Padmapriya episode where the husband refuses to budge from his bed even when his hut is going to be submerged in a deluge.
Another incident that stands out is the talk that director Priyanandhan has with Hari, where he tells him that winning the National Award for his first two films has ruined his chances of achieving commercial success.
Director V K Prakash promised a vibrant film but ends up delivering a very bland one instead.
Rediff Rating: