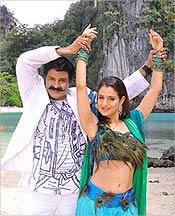 Aditya Vardhan reviews the Telugu movie, Paramveera Chakra. Post YOUR reviews here!

Paramveera Chakra, the first Telugu release of this Sankranti and the 150th film by ace director Dasari Narayana Rao, holds no big surprise for film lovers.

It appears as if he just wanted to make a film to mark the number and goes about the task. He has a great sounding title but no great script to back it up with. He ropes in Balayya (Nandamuri Balakrishna) and together make an insipid khichdi.

Even while the film unfolds, it is quite evident that director has reached a stage where he needs to retire gracefully.

The film opens with a footage of Dasari's earlier film Bobbili Puli starring senior NTR. The character in this film gets a Paramveera Chakra which is the title of the new film. The senior NTR, when sentenced to death says, 'more such heroes would be born who will struggle for the country.' Then Paramveera Chakra begins with Balayya in a period costume mouthing monologues. And before you are wondering what Paramveera chakra has to do with Raavan, the director yells 'cut' and you realise that the protoganist Chakradhar is a filmstar and his mother (Jayasudha) hates him for becoming so instead of a soldier.

So there is ample scope for dances, dramas and action and a very silly comedy track involving Bramhanandam, Ali and Hema running parallel to the main film. A spoof on Robot with Chitti named as cheddi is in bad taste.

The director moves from East Godavari to Jharkhand to Himachal Pradesh for no rhyme or reason. He throws in well-known directors who appear as themselves in the film directing Balayya in the first half. To please the Telangana guys, there is a sequence on Komaram Bheem.
Then enter the army men who want to make a film on a major. They narrate the script to hero Chakradhar and later ask him to accompany them to a place where the actor sees a major who resembles him and gets to know more about the soldier who is now in coma and the terror gang operating as 'Nava Khaeda' and vows to checkmate the bad guys.
The film revolves around Balakrishna. Heavy monologues, thigh slapping and mindless stunts are all part and parcel of Balayya's films and this is no exception. Sheela and Amisha Patel add glamour, while Neha Dupia in a negative role is fine. Music by Mani Sharma is hummable.
Overall the film has nothing much to offer except torture.
Rediff Rating: