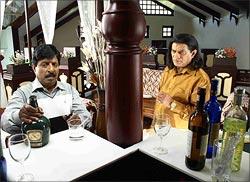 Paresh C Palicha feels Padmasree Bharat Dr Saroj Kumar is a waste of time.
Making a sequel to a successful film is a difficult task.
Padmasree Bharat Dr Saroj Kumar
, written and enacted by Sreenivasan, with newcomer Sajin Raaghavan wielding the megaphone, is said to be an informal second part of the successful
Udayananu Tharam,
though
its makers claim it is not a sequel. Which is just as well, as it turns out to be a disappointment. Sreenivasan's writing, too, reaches its lowest point.
The plot revolves around some of the characters from the original.
Udayananu Tharam
showed how the stranglehold of superstars is slowly killing Malayalam cinema and how an upcoming filmmaker with the help of his producer completes a good film in spite of all the odds. It also had a few inside jokes and incorporated the characteristics of real people in the garb of fiction.
In
Udayananu Tharam
, superstar Saroj Kumar (Sreenivasan) is a cult figure of Malayalam cinema. He was shown stealing a script from his friend and manipulating his way to becoming a star.
In
Padmasree Bharat Dr Saroj Kumar
, Saroj Kumar has become so big that he has got three prefixes to his name --
Padmasree, Bharat and Doctor, and proclaims himself to be a megastar with a fan following in the millions.
In the beginning of the film, we are privy to the climax of his new film with an atrocious title where he lights a flame on his fingertip and deals with scores of bad guys. Need we say which actor is being lampooned?
Saroj Kumar strives for an honorary post in the Armed Forces because his rival has got it by acting in a few films dressed in a uniform. This is followed by some Chaplinsque humour-in-uniform scenes.
Some respectability is brought to the film by the presence of two young actors -- Fahadh Fassil as a young firebrand filmmaker, Alex Samuel, who cares a damn about stars, and Vineeth Sreenivasan, as Shyam, a struggling actor who works as a junior artiste despite being a gold medallist from the Film Institute.
Mamata Mohandas's presence in the film as Saroj Kumar's young wife, who chides him about everything, from his TV commercials for underwear to his age, has no real value.
And will somebody please tell Sreenivasan that he need not stoop to Suraj Venjaramoodu's level to make us laugh?
On the whole,
Padmasree Bharat Dr Saroj Kumar
is disappointing, to say the least.
Rediff Rating
: