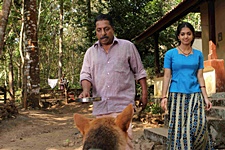 Paresh C Palicha feels Outsider is a confused effort as it falls somewhere between a thriller and an emotional tale.
Director Premlal's new film
Outsider
repeats Sreenivasan, the hero of his first film
Athmakatha,
and follows the theme of vulnerability felt by a single father who has an adolescent daughter.
Shivankutty (Sreenivasan) works as a boat driver in a tourist spot. He has a teenaged daughter who is waiting to begin her college education. It is obvious that he is hiding a mysterious past and is always looking nervously over his shoulder so to speak. But he makes a great effort to make everyone around believe that everything is normal.
A flash back reveals Shivandkutty's past: he had twin daughters and one of them was killed in tragic circumstances. He had to leave the place overnight to save his and his daughter's life.
The ailing daughter was abducted by a psychopathic criminal, Lawrence (Pashupathi), who was hiding from the police and who used Shivankutty and the little girl as a shield to escape. But his plans go haywire when the girl dies and the police raid the hideout.
In the ensuing battle, Shivankutty shoots down Lawrence. He is advised by the police
officer played by Sai Kumar to run away with his other daughter.
Back in the present we feel that the story will now focus on the daughter and her affair with a streetfighter kind of guy, Mukundhan (Indrajith). But, somehow, Lawrence returns to haunt Shivankutty and how the latter deals with this makes up the rest of the tale.
Sreenivasan is in full form as a middle-aged man who has to communicate through his silences. It's good to see him stripped of his trademark self-deprecatory humour.
Pashupathi, on the other hand, has to play a far more theatrical role, showing restless physicality, but overdoes it. He may not be to blame too much as his character is rather inconsistent.
Indrajith should be applauded for being content with a supporting role and holding his ground in the presence of two veteran actors. Nothing much is demanded of Ganga Babu as Shivankutty's teenaged daughter.
Premlal seems to have overworked the plot and is undecided whether to make a thriller or just concentrate on a father's vulnerability. That makes for some confusion.
Outsider
is saved by Sreenivasan to a great extent.
Rediff Rating
: