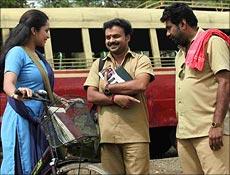 Malayalam film Ordinary is a few notches above ordinary, writes Paresh C Palicha.

Débutant director Sugeeth proves with his Malayalam film
Ordinary
that something simple and ordinary can be engaging and interesting to an extent. The film has Kunchacko Boban and Biju Menon in the lead.
It tells the story of a bus driver and a conductor of the State Transport Corporation who do the daily run to and from the picturesque Gavi forest. The film shows how the two men become an integral part of the lives of the people living there.
Eravikkuttan Pillai (Kunchacko Boban), who aspired to be an important politician, has to lay aside his dreams once he becomes a bus conductor after his father dies. His first posting is in the Gavi forest range with only one service a day.
The driver of the bus Suku (Biju Menon), is a tough looking guy with a wry sense of humour and a weakness for drink. The place lacks basic amenities like proper toilets or telephones. But, slowly Eravi gets accustomed to it as his friendship with Suku grows and he becomes familiar with the inhabitants some of whom are regular commuters in his bus.
The best thing about the first half of the film is that there is no urgency to move things forward. We are allowed to savour life in this beautiful place without any major conflict or danger. The story (credited to the director himself) moves at an even pace as characters take their places in the scheme of things like regular commuters taking their favourite seats in a bus.
There is a retired school principal, Venu (Lalu Alex),
who is now a panchayat member respected by all, and a newly recruited young teacher played by Jishnu. Baburaj as a drunkard provides wisecracks at opportune moments (it feels like he has become indispensable in Malayalam films after his appearance as a cook in the path-breaking
Salt N' Pepper
).
Asif Ali appears as Bhadran, doing odd jobs to help people and is the caretaker of the local dam, a job that he inherited after his father's death.
There are two leading ladies-- Ann Augustine as a post lady delivering letters in the region and Shritha Sivadas as Kalayani, a sales representative selling cell phone connections, who provides the requisite romance.
There are some pointers in the initial stages that could develop into conflict in the later stages. That would have been an intelligent ploy if it was worked on subtly. But, what we get in the second half is utterly disappointing, with murder, mayhem and violence going overboard. It's as if the think-tank behind this film is not confident that non-violent resolution of conflict would work.
Ordinary
proves that Kunchacko Boban has ripened enough to break the chocolate boy image and handle characters that require him to be in his late twenties and early thirties.
Biju Menon continues his good form and virtually carries the film on his shoulders in the first half while Asif Ali becomes a tad repetitive with his screaming bouts.
On the whole, one can safely say that
Ordinary
is a few notches above just being ordinary, but not extraordinary.
Rediff Rating: