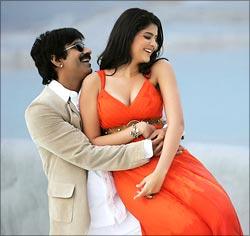 Radhika Rajamani feels that Telugu film Nippu is formulaic and hence, disappoints.
Producer YVS Chowdary and director Gunasekhar team up with Ravi Teja in Nippu (
Fire
). One knows what to expect from a Ravi Teja film, and Gunasekhar provides the usual commercial ingredients for the mass hero.
There's enough action, half-a-dozen songs (
two of them shot in picturesque Turkey
) and a middle-class family set-up.
However, instead of scorching the screen, the fire seems to have been extinguished by the director himself with his cold and lacklustre screenplay. Even Ravi Teja's presence doesn't seem to prop up the film that has a wafer-thin story.
The film revolves around Surya (
Ravi Teja
) who doesn't seem to have any goal in life except bashing up goons who are involved in taking commissions from builders, till he finds one -- to save his friend Sriram (
Sriram
).
Sriram is implicated in a murder case in Saudi Arabia and about to be sent to the gallows accused of killing his girlfriend, who actually dies accidentally while running behind a love letter and falls from a skyscraper!
Sriram can be saved only if his dead girlfriend's parents forgive him and sign the mercy petition. This becomes Surya's goal.
He has to lock horns with Raja Goud (
Pradeep Rawat
), the dead girl's
father, whom he has rubbed the wrong way on a previous occasion. Sriram's family comprises his father (
Rajendra Prasad
), mother and three sisters. One of them, Meghana (
Deeksha Seth
) does not think too highly of Surya. She is an athlete who aims to win a championship. Will Surya save Sriram and make his dreams come true?
Director Gunasekhar grapples with this story but loses his grip over it and thereby the audience's attention. Some of the scenes give you a sense of déjà vu. The linkages and the sub-plots do not help the story. Gunasekhar's script is tedious and predictable and there's not much clarity in the writing.
Ravi Teja has been doing far too many roles of this kind, and though he does it with ease, he has nothing new to add.
Deeksha Seth suits her role and plays her part pretty well. For an actor of his calibre, Rajendra Prasad doesn't have much to do. Sriram is impressive even in a small role. Pradeep Rawat, too, has been enacting similar villainous roles and is quite adept at them. Mukul Dev, Harish Shankar (
the director
) and even Krishnudu make appearances in roles that are not well fleshed out. 
Gunasekhar's last film,
Varudu
, met with a disastrous fate at the box office. So there were expectations for
Nippu
.
Unfortunately, this also follows a formulaic pattern.
Rediff Rating: