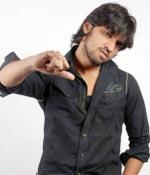 Realistic love stories seem to be the flavour of the season in the Kannada film industry. This week's release Nam Areal Ondina is the latest such offing.
The film takes you through the lives of an educated girl and a Standard 10 failed, jobless boy.
It's love at first sight for hero Anish when he sees heroine Meghana, who lives in the same neighbourhood. A dream and some flattering dialogues later, the girl reciprocates his feelings and agrees to tie the knot -- but only after he finds a job.
Our hero promises to land a job in a day's time and later even goes to his lady love's house to meet her mother with sweets and his 'first salary'. But it's not long before Meghana finds out the truth about his 'job' and all hell breaks loose.
The first half sails smoothly and is entertaining. But the latter part of the second half that makes you agree with the tag line: Kithogiro (sad) love story. In fact, there is a song called Thale novu (On how love is a headache), and you'll probably agree.
The long action sequences establish the hero's action image but halt the film's pace.
What makes up for these flaws is the performances of the lead pair. This was to be Anish Tejeshwar's debut film (but his Police Quarters released first) and it is hard to believe that he is a first-time actor. Be it in action, romantic or sentimental scenes, he does a commendable job. He lets his expressions do the talking. 
Another debutante Meghana Gaonkar comes up with a winning performance too. Her simple look complements her role. Her body language and dialogue delivery style is impressive.
The couple makes a good onscreen pair. Kudos to director Arvind Kaushik for bringing out these performances. 
Cinematographer Ashok Kashyap deserves credit too. He has put the digital camera -- which is being used for the first time in this industry -- to good use.
Colloquial dialogues by Arvind is another strong point. But the film could have had a better screenplay. Also, Mandya Ramesh, who plays a supporting role, could have been used better.
While Nenapu is a melodious composition, the other songs -- by Arjun -- are just okay. Some of them could have been done away with.
Watch this film for the new actors.
Rediff Rating: